A wet spring is once again slowing Arkansas' planting season, with row-crop farmers taking advantage of every dry opportunity to hit the fields.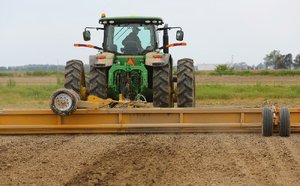 Photo by Stephen B. Thornton
Eric Newberry of Paragould grades a field Tuesday along U.S. 412 west of Walnut Ridge to prepare for planting rice. Good weather is arriving in the nick of time for many Arkansas farmers trying to maximize crop yields, a rice agronomist said Tuesday.
On Tuesday, Derek Haigwood of Newport, who farms 3,200 acres with his brother, was starting his soybeans and getting his fields prepped to start planting cotton. He said he and the rest of his family, who combined farm about 13,000 acres in Independence and Jackson counties, are now pushing hard to get the crops in the ground.
"We started rolling heavily yesterday," Haigwood said, adding that he expects that the family will have most of its rice, corn and grain sorghum planted in the next week or so.
"For my family, we're very late right now, especially on the rice," Haigwood said. "You don't want your corn or your rice maturing in August when it's relentless heat, 100 degrees every day. You want it to be already done and drying down in August" to avoid hurting quality.
Farmers can expect a string of dry days starting today, according to Brian Smith, a senior forecaster with the National Weather Service in North Little Rock. Smith said skies should remain clear into early next week, with daytime highs in the 70s and overnight lows in the 40s.
Over the past 30 days, the south and central parts of Arkansas have had above-average rainfall, while northern counties have been at or slightly above seasonal averages, he said.
The rain meant that between April 6 and Sunday, farmers averaged about 8.5 days suitable for working the fields, according to the U.S. Department of Agriculture's National Agricultural Statistics Service.
State growers got off to a similar slow start in 2014 but still managed to set several yield records, said Jeremy Ross, a soybean agronomist for the University of Arkansas System's Agriculture Division.
"We're kind of sitting where we were last year," Ross said Tuesday, adding that there's still plenty of time for soybean producers to get crops in the ground.
"There's a lot of beans planted in southern Arkansas. Before we started getting all this rain, they hit the ground running," he said. But north of the Interstate 40 corridor, there's hardly any soybeans planted, even though some farmers took advantage of drier weather in January and February to prepare fields.
Statewide, plantings of cotton, rice, soybeans, corn and grain sorghum are running behind five-year averages, according to the USDA's Statistics Service's report Monday on crop progress and conditions.
The service conducts weekly surveys of producers to track major crops. Its latest report said about 81 percent of the state's corn acreage had been planted as of Sunday -- more than was planted at this time a year ago, but still behind the five-year average of 85 percent for this time of year.
The report also said about 37 percent of rice acreage had been planted, compared with 44 percent through the same time last year and a five-year average of 59 percent.
Jarrod Hardke, a rice agronomist with the Agriculture Division, said the good weather is arriving just in time for growers to maximize potential yields. He also said growers south of I-40 managed to get crops in ahead of farmers to the north.
"There are plenty of guys in the Newport area like Derek who haven't put a rice seed in the ground," Hardke said. "They've got quite a bit of rice ground. Here in the next few days, wide open, nonstop, they'll pop in every seed of it they can and you'll probably see those numbers spike by next Monday in terms of our progress."
About 4 percent of the state's cotton acreage had been planted -- the same amount as a year ago -- but behind the five-year average of 14 percent.
Soybean planting, at 16 percent, also was slightly ahead of last year's 15 percent but still behind the five-year average of having 20 percent of the crop planted by this time of year.
Sorghum planting, at 42 percent, was ahead of last year's 33 percent, but behind the five-year planting average of 60 percent.
With forecasts calling for dry weather over the next few days, Ross and others expect planted-acreage figures to jump significantly. "All we need is some sunshine to dry things out."
Despite 2014's slow start, Arkansas producers set per-acre yield records for corn, cotton, rice and soybeans.
In late March, the USDA estimated farmers in the state will plant 3.45 million acres of soybeans; 1.44 million acres of rice; 530,000 acres of corn; 250,000 acres of sorghum; and 230,000 acres of cotton. Those figures could change as the growers adjust to the wet weather.
Bill Robertson, a cotton agronomist with the Agriculture Division, said growers have time to get this year's cotton crop in without hurting yields.
"I'm pretty certain we could get 50 percent of the acreage in over the next two weeks if we get the right conditions," said Robertson. If weather conditions hold, he expects growers to begin pushing planting efforts beginning Monday, since early May is the optimum time to plant cotton.
Unlike other parts of the country that have longer planting spans, Arkansas' planting season has a shorter window, he said. That means the state's producers have more tractors and other equipment on hand to move quickly when necessary.
It's still too soon to predict how the wet spring weather might affect planting plans made earlier this year, Ross and Robertson said. Given the delay, some rice growers might opt for a different seed better suited to a later planting, Hardke said.
Because the planting window for corn is nearly done, some of that acreage might go to soybeans and possibly cotton, Robertson said.
While Ross agreed some corn acreage might go over to soybeans or grain sorghum, he expects growers will hold fast for now.
"Most everybody has their game plan and most try to stick with that game plan as long as they can," he said.
A Section on 04/29/2015