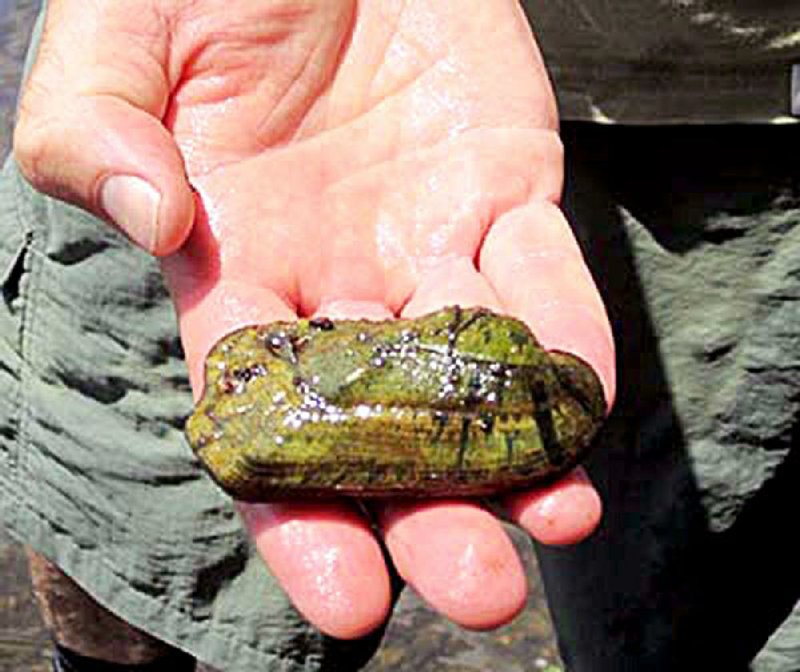 A rabbitsfoot mussel.
WASHINGTON -- Responding to Arkansas groups' concerns, the U.S. Fish and Wildlife Service significantly reduced the number of river miles in Arkansas considered critical habitat for two freshwater mussels in the final designation it announced Wednesday.
Photo by Kirk Montgomery
Map, images and information about Rabbitsfoot mussel and Neosho mucket in Arkansas.
The service has spent nearly three years wrangling with the state's congressional delegation and other elected officials as well as the Arkansas Farm Bureau and the Association of Arkansas Counties about what waters should be included in the designation.
The mussels are less than 6 inches long.
Maps of the final designation show it includes at least 501 miles of Arkansas rivers. Fish and Wildlife officials said they reduced the scope by 27 percent after considering Arkansans' concerns.
Those concerned about the designation said Wednesday that they are happy its scope was reduced, but they are still upset the U.S. Fish and Wildlife Service doesn't consider the costs to farmers, businesses and state and local governments when making decisions.
"We are very, very thankful that it is smaller than it started out to be, but it's still not enough," Arkansas Farm Bureau President Randy Veach said. "There's still too much critical habitat designated in Arkansas for these two mussels."
The Neosho mucket and rabbitsfoot mussel were listed under the Endangered Species Act on Sept. 17, 2013. The Neosho mucket is listed as "endangered," or in danger of extinction, and the rabbitsfoot is listed as "threatened," or likely to become endangered in the foreseeable future.
The Endangered Species Act designation triggered a requirement that the Fish and Wildlife agency identify the animals' "critical habitat," the geographic area essential to the survival of a threatened or endangered species that may need special consideration or protection, Chris Davidson, Endangered Species Program supervisor at the federal agency's Arkansas Ecological Services Field Office, said.
"These mussels are relatively immobile, natural filter feeders that can help clean our water and stabilize river channels," Davidson said. "When we have a diverse, abundant and reproducing mussel population, our rivers are healthy."
Like other freshwater mussels, the Neosho mucket and rabbitsfoot mussel have lost a majority of their range, he said. Nationally, there is only one Neosho mucket population and 11 rabbitsfoot mussel populations considered viable.
"Native freshwater mussels are in peril," Davidson said.
The final rule, which goes into effect in 30 days, designates critical habitat for the Neosho mucket and rabbitsfoot mussels in sections of rivers in 12 states.
The 265-page final rule for the critical-habitat designations will be published in the Federal Register today. The rule and maps can be found online at http://www.regulations.gov by searching Docket No. FWS--R4--ES--2013--0007.
For the Neosho mucket, the service designated critical habitat in seven areas comprising about 483 river miles in Arkansas, Kansas, Missouri and Oklahoma.
For the rabbitsfoot, the service designated critical habitat in 31 areas comprising approximately 1,437 river miles in 12 states including Alabama, Arkansas, Mississippi, Missouri, Oklahoma and Tennessee.
The critical habitat is limited to the river itself, below the normal high-water mark, and not the watersheds, which was a major concern for the Arkansas groups.
Rob Tawes, acting director of Fish and Wildlife's Southeast Region's Conservation and Classification Division, stressed repeatedly that the critical-habitat designation shouldn't affect daily life for most people.
"It is primarily a tool to alert federal agencies and stakeholders of the specific areas important to a species' conservation and recovery. Federal agencies must make a special effort at conservation when they work in an area designated as critical habitat," Tawes said.
Tawes said only actions performed, funded or authorized by the federal government should be affected, such as building a dam or a highway. In that situation, the entity consults with Fish and Wildlife about how to proceed while conserving the mussels, he said.
"For the Neosho mucket and the rabbitsfoot, these conservation efforts would be carried out regardless because the mussels are already protected, they are a listed species," he said.
When the service initially proposed the critical habitat in 2013, it sought public comment, but only received one response initially. But concerns, raised largely by Arkansans, led the service to reopen the comment period three times, for a total of 210 days, rather than the usual single comment period. Many of the 95 comments submitted came from Arkansas, where the service also held several public meetings, including in Batesville and Benton.
The Arkansas Association of Counties questioned whether the designation needed to include the watershed and if the all of the named streams and rivers actually harbored the mussels.
"You could certainly garner from the delay that the U.S. Fish and Wildlife Service took a really hard look at the comments and the science behind what we submitted," association spokesman Scott Perkins said. "This is local, state, federal government, a very diverse group of entities that are involved coming together and we just appreciate the federal government taking a good look at this and designating a more appropriate critical habitat designation."
With the reduced space, the service's revised economic analysis of the designation estimates it will cost federal agencies $4.3 million over 20 years.
Several of those who lobbied against the designation are upset that figure doesn't consider potential costs to farmers, local governments and others.
Veach said the Farm Bureau is looking at the viability of a suit to make the agency consider the broader economy in its designation.
Arkansas Gov. Asa Hutchinson said in a statement he is still worried about the designation.
"We reiterate our concern about the economic impact of these regulatory burdens, and economic analysis should be included in any regulatory decision protecting habitat," he said.
U.S. Rep. Rick Crawford, R-Ark., said in a statement Wednesday that he intends to file legislation that would require the Interior Department to issue a study of how a critical-habitat designation would affect a broad range of economic factors like jobs and state revenue. It would be retroactive to include the two mussels.
He said a cumulative economic study is needed "so we know the real economic costs the critical-habitat designation will have on private landowners and the Arkansas economy."
U.S. Rep. Steve Womack, R-Ark., said in a statement that the drop in habitat size "isn't enough to satisfy my concerns about the potential economic impact of implementation in Arkansas." His staff said he'll support legislation addressing the issue.
The habitat size is still too large and there are too many unknown costs, U.S. Rep. Bruce Westerman, R-Ark., said. His office said he'll co-sponsor Crawford's legislation.
"The agency is only listing cost of compliance and conveniently leaving out the loss of business as a result of this designation. This designation is not only bad for these rivers, but it is bad for the Arkansas economy," he said in a statement.
U.S. Rep. French Hill, R-Ark., said he would support legislation addressing the issue.
"Business owners and farmers in Arkansas and the other eleven states are the ones who will bear the brunt of this decision. While I support conservation and protecting wildlife, I do not believe today's announcement takes into account the true economic costs," he said in a statement.
U.S. Sen. Tom Cotton, R-Ark., also plans to sponsor legislation requiring the broader study.
"Rest assured, I will continue to push the administration to consider the complete cost of these endangered species listings and the impact they have on our state," he said in a statement.
U.S. Sen. John Boozman, R-Ark., is also considering a legislative fix.
"An honest accounting would include all impacts -- not just the costs to federal agencies," he said in a statement. "The cost of federal project delays and federal permitting activities impact development, job creation, and infrastructure construction."
Metro on 04/30/2015
Print Headline: Mussels' critical habitat pared
Sponsor Content