Chuck Haralson is turning his lens away from the Arkansas Department of Parks and Tourism in December after 36 years.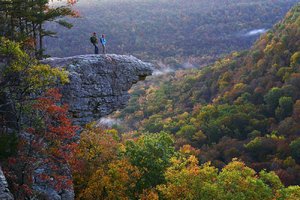 Photo by Special to the Democrat-Gazette
Two people stand on a crag at Whitaker Point on the northern edge of the Upper Buffalo Wilderness in the Ozark National Forest, just south of the Buffalo National River in this photograph taken by Chuck Haralson.
Photo by Special to the Democrat-Gazette
Chuck Haralson, chief photographer of the state Department of Parks and Tourism, took this photograph of a man standing near the waterfall at the Glory Hole in the Ozark National Forest.
But he won't be done taking photos. After retiring, Haralson, the department's chief photographer said he hopes to work with the state Chamber of Commerce, ad agencies and other publications that might be interested in photos of Arkansas.
"I can't just stop taking pictures," he said. "That's not me."
Haralson's career has spanned an era for the Arkansas tourism industry. Joe David Rice, tourism director of the Arkansas Department of Parks and Tourism, said Haralson has seen the state transform from an outdoor destination to a cultural one.
"When Chuck first started working with us, Arkansas was primarily a hunting, fishing and hiking state," Rice said.
Haralson joined the tourism department as a darkroom technician in 1977. By 1982, he had worked his way up to chief photographer.
"I don't think I got to take a photo for a year and a half when someone was gone and the tourism director told me to go outside, put film in my camera and take pictures," he said. "I guess I just lucked up."
His work also is featured in other promotional material for the state, including billboards, postcards and textbooks. Major publications, including National Geographic Traveler, Southern Living and The New York Times, have used his photos.
He said he's always wanted to be a photographer. The first photos he took were with a Polaroid. Since then, the former darkroom tech has helped the department make the transition from film to digital photography.
"I've always wanted to draw, but I can't," he said. "I've always liked architecture, but I can't build things. I can with a camera."
As chief photographer, Haralson travels the state and shoots Arkansas's biggest attractions, including wildlife, festivals and museums. Thousands of his photographs are in the photo library of the Arkansas Department of Parks and Tourism.
He's shot photos from hot air balloons, helicopters, fork lifts, zip lines and fire towers.
"Everything I look at, it's how can I frame this?" he said. "It drives my wife crazy. It's just something I was born with."
Now Rice said the state tourism department is promoting cultural attractions such as the Crystal Bridges Museum of American Art and the Clinton Presidential Center.
"To be competitive in the tourism industry these days, you can't be a one-dimensional state," Rice said. "You've got to have the outdoor attractions, shopping opportunities, dining opportunities."
Even though the landscape is changing, Haralson said his favorite type of photography is outdoors — hiking up mountains, waiting for the light to hit the water in lakes and being face to face with some of the state's most dangerous wildlife.
"I don't think people realize how dangerous his job can be," Rice said. "He's been knee deep in the swamp with alligators."
Tim Ernst, an outdoor photographer based in Boxley in Northwest Arkansas, said he knew Haralson's work before the two met.
"Most photographers seldom get off the beaten path, nor make the extra effort necessary to reach scenic locations at the right time of day when the light is great," he said.
The Arkansas tourism industry has boomed since Haralson started shooting the state's most popular destinations.
Rice said tourism in Arkansas has grown from a $1 billion industry to a $6.7 billion one in the last 25 years.
In just the past year, travel expenditures in the state increased from $6.2 billion to $6.7 billion, according to an annual survey by the Department of Parks and Tourism.
The number of visitors increased from 5 percent, from 24.6 million in 2013 to 25.9 million in 2014, according to the same report.
"One of our biggest challenges is getting people here the first time," Rice said. "That's why it's so important for Chuck's photos to grab people's attention when they're flipping through magazines or the newspapers."
Haralson's experience will make him difficult to replace when he leaves in December, Rice said.
Before retiring, Haralson said he wants to do one last round of the state's classic sites. He said he is working on a new Arkansas image book, a coffee table book to come out sometime in 2016.
"He knows where all the best views are, where the secret waterfalls are," Rice said. "He's like a walking pictorial encyclopedia of the state."
Ernst said he and Haralson used to run into each other at sites in the middle of nowhere when no one else was around. Ernst said one mark of a great photographer is someone who is dedicated to getting a great photo — even if it means trekking into the woods early in the morning or hiking up a mountain to catch good light in the evening.
"The nature photography marketplace is flooded with OK pictures taken by millions of people who happen to have cameras," Ernst said. "Very few people ever reach the heights that Chuck has done with his art, and even with zillions of photos available, the cream still rises to the top."