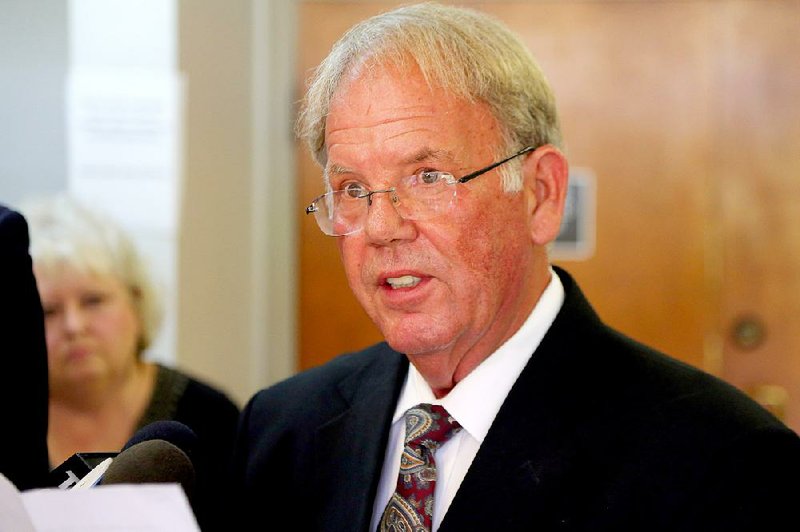 Then-Saline County Sheriff Bruce Pennington is shown in this 2013 file photo. ( Stephen B. Thornton)
Former Saline County Sheriff Bruce Pennington pleaded guilty Monday to a federal wire-fraud charge, admitting that he used about $22,000 in campaign funds for personal expenses such as paying his mortgage and utility bills, buying groceries and gambling.
"The last few years have been hard for me and I have made mistakes that I deeply regret," the 64-year-old Pennington, who now lives in Fayetteville, said later in a news release issued by his attorney, Bill James. "As many of you already know, I have had some problems with alcohol. My attempt to continue to serve the people of Saline County as sheriff, while dealing with these problems, caused a large amount of scrutiny to be placed on myself and my office. This led to the discovery that I had paid personal bills with campaign funds, which is a violation of federal law."
In pleading guilty before U.S. District Judge Kristine Baker to the charge punishable by up to 20 years in prison and a fine of up to $250,000, Pennington admitted converting contributions for his 2012 and 2014 campaigns for his personal use, as well as concealing his actions from the public by filing false campaign contribution and expenditure reports with the county clerk.
Pennington was first elected sheriff in 2008, then was re-elected in 2010 and 2012. He filed to run for re-election again in 2014, but later withdrew his candidacy. He resigned on Oct. 1, 2013.
Pennington and two former employees of the sheriff's office were arrested in mid-May last year after a legislative audit released a month earlier found that the sheriff's office used designated funds inappropriately and failed to account for thousands of dollars, for at least two years. He and his former chief deputy of finance, Jo Nell Mallory, were charged in Saline County Circuit Court with abuse of public trust and theft of property, both felonies, and he was also charged with a misdemeanor theft charge. A third former employee, Mike Frost, who was the lieutenant over the criminal investigation division, was charged with illegal use of a communication facility and delivery of a controlled substance, both felonies.
The audit was requested by special prosecutor Cody Hiland, who was appointed in 2013 to look into allegations about the sheriff's office and asked the Arkansas State Police to open a criminal investigation.
The sheriff's office came under scrutiny after Pennington was arrested on June 29, 2013, on misdemeanor charges of public intoxication and resisting arrest, for which he was later convicted and sentenced to a year of unsupervised probation plus $3,300 in fines and court fees.
The pending state charges accuse Pennington of accepting free granite countertops in 2012 in his Benton home in exchange for voiding a community service penalty for the granite company's owner, who received a speeding ticket in White County. He is also accused of cashing a $1,000 check made out to the sheriff's office and using it for personal expenses, and using money from telephone kiosks in the sheriff's office and the jail to pay his legal fees stemming from the alcohol-related misdemeanors.
Mallory, 61, is accused of waiving court fees and fines in exchange for free tile installation at her home, and taking as much as $3,000 from the kiosks for her personal use. Frost, 60, is accused of giving drugs to a confidential informant.
Hiland, who is Faulkner County's prosecuting attorney, attended Pennington's plea hearing Monday and told reporters afterward that the Saline County charges are still pending, but, "I do anticipate this resolving itself post-sentencing in the federal matter."
He said Pennington's charges were the result of a joint state and federal investigation, and said, "Today is a first step in resolving these issues for Saline County."
Pennington's plea agreement, the terms of which were read aloud in court by Assistant U.S. Attorney Julie Peters, stipulates that federal prosecutors will recommend that any federal sentence Pennington receives will run concurrently with any sentence he receives for his state charges. Peters noted that the agreement isn't binding on state court.
The agreement also stipulates that Pennington will receive penalty enhancements for abusing a position of trust, because there were at least 10 victims and because of the amount of loss involved -- an exact total of which will be determined by the court at sentencing.
The campaign account that is the basis for the wire-fraud charge was opened on Dec. 14, 2007 at the Alcoa Community Federal Credit Union, with Pennington having sole signatory authority. Contributors to his 2010, 2012 and 2014 campaigns paid checks to the campaign that were deposited into the account, with deposits between June 1, 2011 and Sept. 9, 2013 totaling $36,661.80, according to the plea agreement.
In that same time period, it says, he withdrew about $20,969 in cash and effected a $1,000 transfer from the campaign account to his personal account, to pay for personal items and expenses, including mortgage payments, utility bills, household groceries and casino visits. It says he also wrote checks from the campaign account to pay personal expenses he had charged on the sheriff's office's Visa account, including $231.67 for skin-care products.
In his written public statement, Pennington said he takes "full responsibility for what I have done." He added, "I want to apologize to the people of Saline County for letting them down and thank them for their support over the course of my career. I deeply regret the pain and embarrassment I have caused my family and friends."
After accepting Pennington's guilty plea, Baker said she will set a sentencing date after a pre-sentence report has been prepared by the U.S. Probation Office. She said he won't be sentenced for at least 90 days.
Metro on 08/04/2015
Print Headline: Ex-lawman pleads guilty to wire fraud/Former sheriff faces up to 20-year term
Sponsor Content