HARRISON -- Lisa Cavender and her sister Cara Wohlgemuth used to sit in the Harrison office of their family's new company and pretend they were in charge.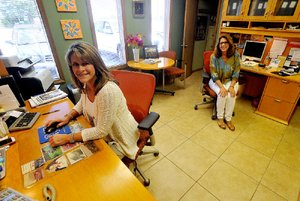 Photo by Michael Woods
Cara Wohlgemuth (left) and her sister Lisa Cavender now run Harrison's S-C Seasoning Co. — the maker of Cavender's All Purpose Greek Seasoning.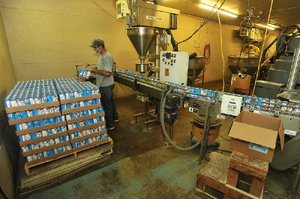 Photo by Michael Woods
Charles Alge loads a pallet of Cavender's seasoning. The company traces its beginnings to 1969, when Spike Cavender and his son, Steve, mixed the first commercial batch of seasoning in a washtub on the back porch of his Harrison home.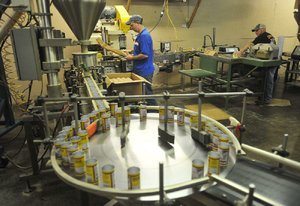 Photo by Michael Woods
Jack Goodall (left) and Wes Waldron work near the automated machines that fill bottles of Cavender's seasoning. The plant manufactures 4 to 5 tons of seasoning daily.
While their parents and grandfather were in the back going through their weekend routine of mixing ingredients, packaging and labeling containers of Cavender's All Purpose Greek Seasoning, the young girls were in the front pretending to answer phones and take orders.
The company has moved into a different facility since those early days and the 13 ingredients that make up the family's secret formula are now mixed and packaged by machines. But the girls certainly aren't pretending any longer, running a company that has maintained a loyal following while changing very little about a product first marketed and sold by their grandfather about 45 years ago.
Cavender and Wohlgemuth are third-generation owners of Harrison's S-C Seasoning Co. Inc., which manufactures 4 to 5 tons of Cavender's Greek Seasoning daily for distribution in the 50 states and Canada. They accomplish it with a 10-person staff housed in a 10,000-square-foot facility, finding success behind their family's business philosophy of sticking to what it does best in order to achieve slow, maintainable growth.
"We're still a small family-owned business and we're still able to fly under the radar. In fact, we don't even fit the definition of a small business because we employ under 50 people," said Lisa Cavender.
"And we like it that way," Wohlgemuth added.
The company traces its beginnings to 1969, when Spike Cavender and his son, Steve, mixed the first commercial batch of seasoning in a washtub on the back porch of his Harrison home. But the Cavenders had been mixing and giving the seasoning blend to friends long before the company started.
The recipe had been passed down to Spike and his brother years earlier by a Greek chef who used the spices to season steaks at his Oklahoma restaurant. With the chef's blessing, they started mixing their own batches to give to friends. Spike eventually moved to Harrison and saw a big opportunity when the popularity of the seasoning spread.
He took the seasoning to grocery stores and the litmus test was simple: If it was gone by the time he went back it was time to dive in full time. It happened. So after first spending weekends mixing and bottling batches to meet the weekly demand, Spike asked Steve to move from Clinton to Harrison to join him in the business full time.
Steve Cavender's daughters remember the move being abrupt.
"We were sitting at the dinner table and my grandfather called," Lisa Cavender said. "By the time we were through with dinner, we were moving. I think the next day we left."
Spike Cavender died in 1992, but in 20 years his company had become a success in Harrison and beyond. It wasn't long after his passing that Steve Cavender persuaded his daughters -- who had moved away from the area -- to return to learn the ins and outs of the family business as well.
When Steve Cavender died suddenly in 2008, his daughters took over in a full-time role.
"Luckily we'd been here for 15 years or so and doing what we do, which is probably why we've succeeded for the last seven years since he passed away," Wohlgemuth said. "We just came back on Monday and did what we did. It was with a heavy heart, but we just kept on going."
Cavender, who had a background in business marketing, is now the president and treasurer of the company. Wohlgemuth, who was an educator, is the vice president and secretary. Her husband, Lance, is the plant manager and oversees the purchase and costs of ingredients.
"It's generation after generation after generation," said Patty Methvin, president of the Harrison Chamber of Commerce. "So many times you'll hear that one generation creates the business, the next spends all the money or something. The Cavender family, they've also taught their children and their children's children work ethic. That's another thing that Harrison is kind of known for.
"So I love that the girls are now carrying on their dad and their grandfather's legacy."
The spices Spike Cavender mixed on the back porch of the family's home are basically the same recipe mixed today and packaged by three machines that fill 3 1/4-ounce, 8-ounce and 5-pound containers. Cavender's introduced a salt-free product in the early 1990s, but that has been the extent of the company's venture into producing additional products.
Lisa Cavender said the company has turned down opportunities to make marinades and salad dressings, ruling out liquids as part of their manufacturing plans. They've decided against moving into a more spacious facility, too, remaining in the small wooden building that has housed the company since 1988. They've turned down other opportunities to expand operations, as well.
The sisters took a week-long trip to China with the Arkansas World Trade Center to explore distribution options through Wal-Mart Stores Inc. But they've decided to keep their focus on the United States for now, emphasizing growth up North where Cavender's hasn't become as much of a staple in the all-purpose seasoning market as it has in the South.
"We've kind of grown a little at a time," Lance Wohlgemuth said. "We're not looking to make a big jump and can't produce. Steve always wanted a slow, maintainable growth. That's what we've done."
Bill Fox, a business consultant for the small-business and technology development center at the University of Arkansas, said it's clear Cavender's ability to do one thing well has benefited the company.
"Focusing on what you do well as a business, I think, is one of the keys to success," said Fox, who has worked with several small businesses in Arkansas. "Their business is so unique and they've done such a great job of creating a niche for themselves, it's really incredible."
Lisa Cavender also credits the company's success to the conscious decision to stay true to the product for its loyal customers who, she said, have "blessed" Cavender's with 45 years of business.
Those customers also are the chief source for new ideas about what to use the product on, calling and emailing the company with their experiences. Cavender's first intended use was on meats, but word of mouth has stretched the product's use to items like popcorn, corn on the cob and cottage cheese.
Cavender's doesn't always say no to something different. It recently teamed with another Arkansas company, Morrilton's Petit Jean Meats, to create a sausage seasoned with Cavender's.
The idea was brought to the Cavender clan by Petit Jean Meats and the product fit. After passing taste tests to ensure Cavender's customers were getting the familiar taste on the seasoned sausage, the Petit Jean and Cavender's sausage hit shelves in a handful of stores in early July.
"It's exciting and something new," Cara Wohlgemuth said. "We're excited to see how it grows."
They're also beginning to ponder the future within the business and whether the seasoning company will be passed down to a fourth generation of Cavenders.
Lisa Cavender has a college-aged son. Lance and Cara Wohlgemuth have one daughter who recently graduated and another in college, as well. Both say they want their children to gain work experience elsewhere, but hope they'll return to continue running the company Spike Cavender started.
"We do really make a lot of our decisions about what we are going to do or not going to do in the interest of our children," Cavender said. "Also, our employees. This is important to them.
"We really pride ourselves on being a small, family-owned business."
SundayMonday Business on 08/09/2015