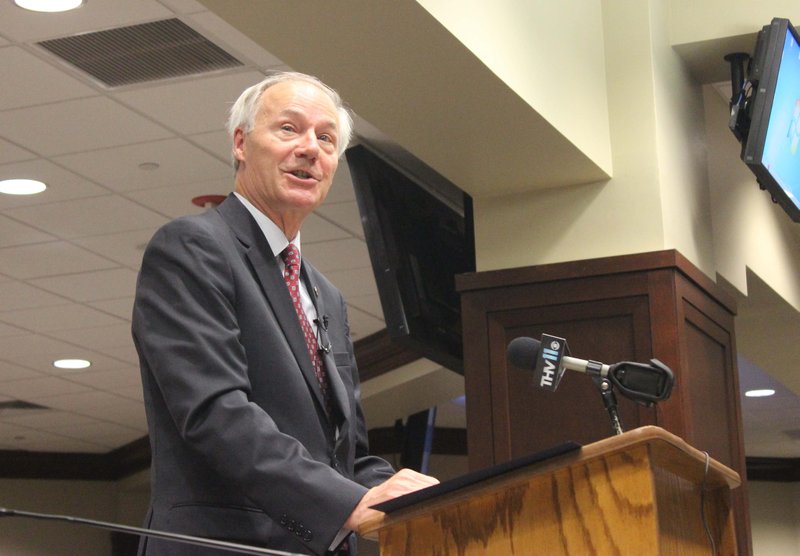 Gov. Asa Hutchinson speaks Wednesday, Aug. 19, 2015, to a joint meeting of the Legislative Healthcare Reform Task Force and the governor's Medicaid Advisory Council. ( Gavin Lesnick)
Gov. Asa Hutchinson said Wednesday that he would support continued Medicaid expansion in Arkansas if the state is allowed changes from the federal government that provide greater flexibility.
Hutchinson outlined elements of what he called a "potential plan" while talking to a joint meeting of the Legislative Healthcare Reform Task Force and the governor's Medicaid Advisory Council. He described seven changes he wants to see for the private option, some of which would require waivers from the federal government before they could be instituted.
"As governor, I will accept the continued expansion dollars from the federal government if we can achieve the [Medicaid] waivers that are needed," he said at the end of his presentation. "These are the requirements that we need to accomplish our objectives, reinforce our values and to afford our future. Business as usual is not acceptable. Washington, D.C., accounting does not work in Arkansas. We have to plan for the future."
Among his proposals were requiring workers to take the insurance provided by their place of employment and then offering them premium assistance; charging premiums to enrollees with incomes greater than 100 percent of the federal poverty level; eliminating non-emergency medical transportation coverage; and limiting enrollment in the private-insurance marketplace.
On the enrollment-limiting change, which Hutchinson described afterward as the most "novel" and likely to spur debate of the potential changes, private-insurance coverage would be restricted to those at or above a variable percent of the federal poverty level.
"It would not be a system where everybody from 0 to 138 percent of the poverty level is automatically granted access to the private insurance market," he said, adding the others would get traditional Medicaid coverage and that the change would create savings and incentivize work.
Hutchinson also proposed finding other Medicaid cost-savings and requiring unemployed and underemployed private-option enrollees be referred for work-training.
"Currently, there is no linkage to work whatsoever under the private option," he said. "There needs to be a linkage to work."
The work change would not require a federal waiver, Hutchinson said.
The governor acknowledged during his speech that legislators will discuss the proposals and may change them or shoot them down. He said afterward that he thinks it's "important to put these ideas out there."
"I think it makes sense," he said. "We'll see if they agree with that."
He said most of the changes have been allowed in other states.
During his remarks, Hutchinson noted that ending Medicaid expansion completely would cause up to $1.7 billion to be removed from the state economy and leave some 220,000 people without care. Continuing it, however, will cost the state $50 million to $60 million a year starting in 2020, he said.
Hutchinson told the panel that if it doesn't want to leave the current enrollees without coverage, then care can be paid for either through Medicaid expansion or through the state's budget.
"I have not talked to many that believe we can absorb the cost of coverage to 220,000 out of state general revenues," he said.
See Thursday's Arkansas Democrat-Gazette for full coverage.
Sponsor Content