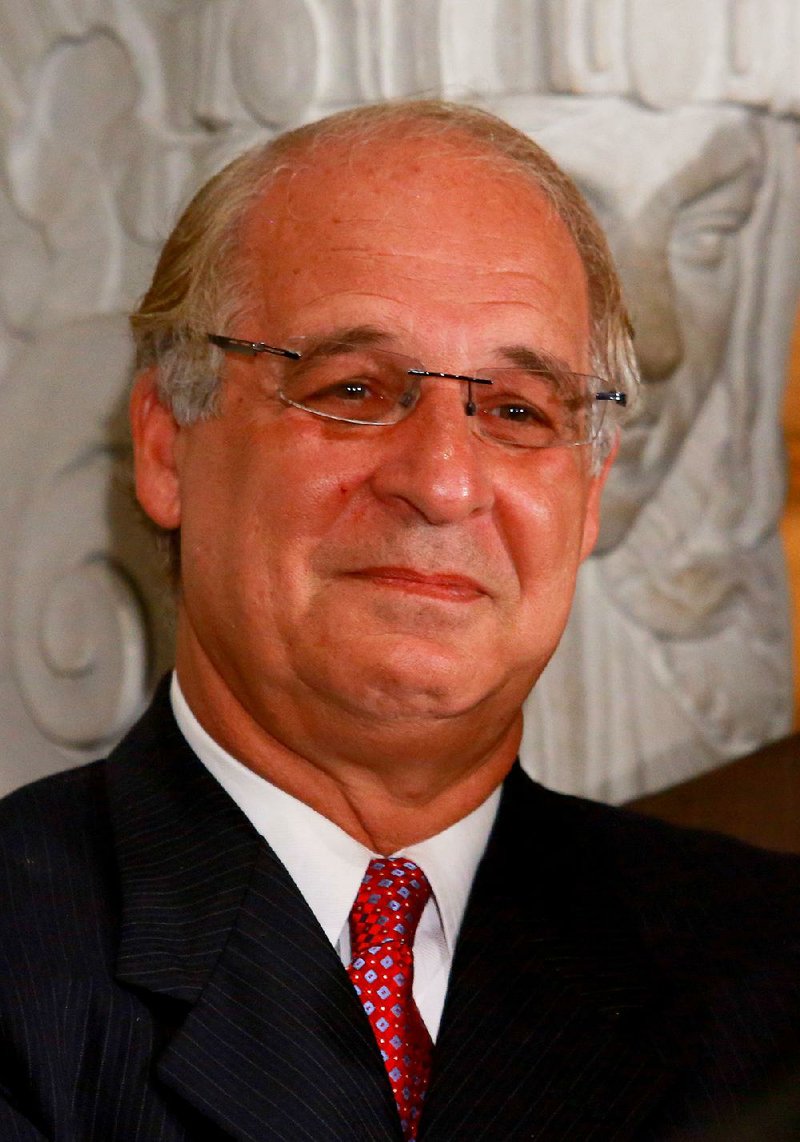 John Correnti, the architect of Big River Steel LLC, is shown in this file photo. ( Stephen B. Thornton)
John Correnti, the visionary who guided the creation of three steel mills in Mississippi County and others outside Arkansas, died Tuesday in Chicago. He was 68.
The cause of death was not immediately known.
Correnti was the architect of Big River Steel LLC, the $1.3 billion plant still under construction near Osceola, but he also developed two Nucor Corp. steel mills near Blytheville, as well as other independent plants.
Correnti was a former chief executive officer for Nucor, based in Charlotte, N.C.
"Today when I heard about it, I just couldn't believe it," said Tom Schueck, chairman and chief executive officer of Little Rock-based Lexicon Inc. and its affiliated companies, including Schueck Steel. "I didn't think John was capable of dying."
Correnti was in Chicago to attend a board meeting of Navistar International Corp., where he was a director.
Correnti had almost 40 years of operations, management and board experience in the steel industry, serving at both large and small companies, according to a Bloomberg News report.
His career began in 1969 with U.S. Steel, where he served in construction management activities until 1980, Bloomberg said.
Correnti founded Serverstal Columbus LLC, a steel mill in Mississippi, in 2005, Bloomberg said.
In 2013, Correnti proposed the Big River Steel mill, saying he planned to build the plant near Osceola to employ more than 525 people who would make about $75,000 in annual salary and bonuses. Eventually, the state legislature approved the issuance of $125 million in general obligation bonds, the first use of Arkansas' Amendment 82 legislation, which was passed in 2004 to provide incentives to attract large industrial projects.
Construction began on the plant last year even as Correnti fought Nucor in court. Nucor tried to derail the construction of the plant, arguing before state agencies and, after being rejected, in federal court.
Correnti's death is not likely to affect the future of Big River Steel, said Schueck, who was good friends with Correnti. He estimated that work on the plant is probably 25 to 30 percent complete.
Correnti was an organizer who took ideas and made them work, said Schueck, who last saw Correnti a few weeks ago and spoke with him Thursday.
"He puts together stockholders and contractors and a board of directors," Schueck said. "And most of that work is done; it's all in place. The people are more than capable of finishing the building and putting that equipment in place. Basically, his job was pretty well done."
Grant Tennille, former executive director of the Arkansas Economic Development Commission, agreed.
"I don't think this is going to put any sort of hiccup into this proceeding," Tennille said.
Correnti recognized that his steel mills provided opportunities for workers, most without college degrees, to make "a real middle-class income," Tennille said.
"John, besides being a great steel man and a really focused businessman who made a lot of money over the course of his career, understood these steel mills always presented opportunities in the communities where he built them for people to change their lives," said Tennille, who said he last saw Correnti a few months ago in Osceola.
"As we were working together to try to figure out how to bring Big River Steel to Arkansas that was always near the front of his mind," Tennille said. "We talked about it every time we got together."
Former Gov. Mike Beebe said Correnti was the driving force in the steel industry in a lot of places, but particularly in Mississippi County.
"I assume the Big River Steel project would continue as planned," Beebe said. "Certainly, he was the driving force but I don't think his death will change the progress."
George Hopkins, executive director of the Arkansas Teacher Retirement System, a major investor in Big River, said Correnti "literally remade the steel industry in the United States."
Information for this article was contributed by Michael R. Wickline of the Arkansas Democrat-Gazette.
Business on 08/19/2015
Print Headline: Steel-industry leader Correnti dies
Sponsor Content