As students at eStem Public Charter School look across Main Street through classroom windows or over the playground fence, they'll see one of their classmates depicted in bright red, orange, blue and yellow.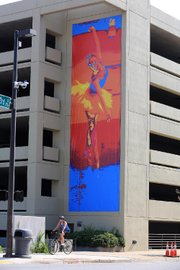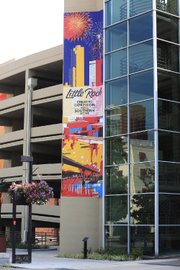 Jordan Young, a 17-year-old senior at the downtown Little Rock school, stands casually holding a saxophone to his lips in a filtered photograph that makes up a 38-foot-tall banner on the side of a public parking deck at Main and Second streets.
His position there was by happenstance. North Little Rock pastel artist Virmarie DePoyster needed a model for her entry into the city's Main Street Creative Corridor banner contest, and Young, her daughter's friend, came to mind.
That banner and another by DePoyster join one by Little Rock artist Steven "Stephano" Sutherlin on the parking deck. Both artists received a $1,000 prize for their winning spots in the city's contest.
Lost in the Moment, the picture of Young, hangs at the corner of Main and Second streets next to Sutherlin's City of Bridges. One block down Main at Third Street is DePoyster's Her Song, a distorted photo depiction of Ballet Arkansas dancer Hannah Bradshaw.
"I wanted to explore how the images of music and dance, when combined with bold color, can seamlessly create exquisite joy," DePoyster said of her work.
She normally uses pastels to draw images by hand. This is this first time she's created art in a digital medium, she said. She took photos of Young and Bradshaw, and then taught herself how to alter them using features in Photoshop by watching YouTube videos for weeks.
Young said when he agreed to model for DePoyster, he originally thought it was a small project she was working on. It wasn't until his friends texted him Tuesday and said there was a huge photo of him on the parking deck that he realized the scale.
"I said, 'What are you talking about?' and they said, 'Everyone's taking pictures of you.' So we sort of ran over that way. I was like, 'Wow!' I didn't know," Young said. "It's really cool, especially because it's someone from eStem, someone they can relate to. Everyone at eStem plays music, so that fits, too."
DePoyster said she hopes that when eStem students view the banner, it inspires them to pursue their dreams and create something meaningful.
"Creating art is like riding a bike. The more you practice, the better you get at it, and one day you are going down the road and doing it intuitively. I hope these pieces brighten their days and bring about hope that it's OK to think outside the box," she said.
That is advice she followed herself growing up. She and her family moved to Arkansas from Puerto Rico when she was 15. Times were tough for a while as she learned a new language and adjusted to a new life and school.
She had always been drawn to color and textures, so she went to college for fashion design. After she had children and stayed at home for a year, she decided to get back into art and began taking classes at the Arkansas Arts Center in Little Rock.
The teachers would always tell her that her pieces were too bold and that she needed to tone down her colors, she said.
Then she read about a study that said when people are from a tropical climate, their eyes become accustomed to bolder colors. She decided to forgo her instructors' advice, and bold colors have become her signature. Now she's an art teacher herself.
Sutherlin's banner depicts the downtown Little Rock landscape in the same color scheme as DePoyster's banners. Red, orange, yellow and blue are the colors the city chose for its Creative Corridor project -- an effort to revitalize Main Street and make it a home for the arts.
A private ArtPlace grant and public funding from the Little Rock Convention and Visitors Bureau paid for the parking garage banners.
Little Rock Mayor Mark Stodola said the banners will make Main Street "a very alive and vibrant" place.
"Public art is very, very important. It creates a dimension, a value, a character about a city," he said.
Metro on 08/31/2015