In high heels that crunched on a mixture of gravel and recently fallen snow, the real estate agent teetered as she climbed a hill on the property about 25 miles from Fayetteville, Diana Rivers recalls.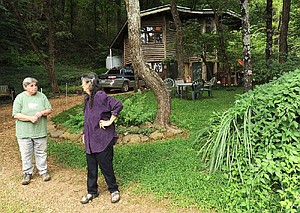 Photo by Andy Shupe
Nancy Vaughn (left) and Diana Rivers speak Aug. 21 outside Vaughn's home on Ozark Land Holding Association property.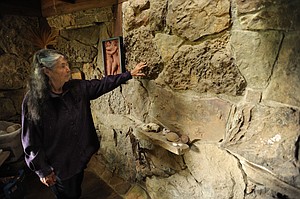 Photo by Andy Shupe
Diana Rivers explains Aug. 21 the process she used to construct the native stone wall while building her home in the mid-1980s on the Ozark Land Holding Association land.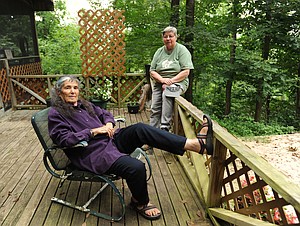 Photo by Andy Shupe
Diana Rivers (left) and Nancy Vaughn, seen Aug. 21, are both founding residents at the Ozark Land Holding Association in Madison County.
It was the 1980s, and Rivers, an unemployed Arkansas transplant at the time, had taken it upon herself to look for land close to Fayetteville that would become the Ozark Land Holding Association.
Rivers said the name was deliberately ambiguous to keep locals in the dark about the organization's intentions: to create a community for lesbians.
The Ozark Land Holding Association is an "intentional community" -- a catchall term for a communal living arrangement that's based on shared values and common interests.
Out of six known intentional communities created in Northwest Arkansas in the mid-1970s with the aim of empowering women, the 280-acre Ozark Land Holding Association is the only one that remains, and its membership has dwindled.
But Rivers and Suzanne Pharr, founder and former director of the Little Rock-based Arkansas Women's Project, see the potential for a resurgence of such communities.
Pharr said having land set aside for women only is "one piece of self-determination and autonomy and full authority over our bodies and lives, without relying on men for our well-being."
The Arkansas Women's Project, a grass-roots organization founded in 1980, focused on such issues as fighting violence and rape and promoting minority rights.
When Pharr was in her 30s in the early 1970s, she drove to Northwest Arkansas in a Volkswagen camper to stay with female friends at an intentional community on 110 acres outside of Huntsville. She thought she'd only be there for the summer to write the next great American novel, but she ended up staying longer.
"There was a great lesbian migration," she said of that time, and "people were always coming through, sharing [various] skills and ideas."
But the intentional-community movement fizzled in the early 1980s as people began to tire of sharing their finances, said Pharr, an author and political activist who now lives in Knoxville, Tenn.
President Ronald Reagan was in his first term, and he reduced taxes and controlled inflation, she said, which led to the creation of more jobs and more emphasis on financial success.
"People began to think, 'What about my retirement?'" Pharr said.
Jared Phillips, a University of Arkansas historian who is working on a book about the back-to-the-land movement in the Ozarks in the 1970s, said intentional communities and communes -- which are similar -- were "pie-in-the-sky ideas" that people tried to make work until they learned that farming can be financially and physically draining.
But Pharr, 76, believes that people nationwide are again moving toward the intentional-community model because of their fears about food safety and climate change. Economic decline also has sparked in some a re-evaluation of the American dream, she said.
"It's needed now more than ever," she said of such communities.
A distinct difference
Although intentional communities have existed for decades throughout the United States, those created in Northwest Arkansas emerged in the context of the feminist movement, said Rivers, a spry 86-year-old with a purple streak in her long, gray hair.
Some of the community members in Arkansas were active in the state and nationwide women's, lesbian and labor-rights movements, Pharr said.
During the 1970s, land in rural Arkansas was relatively inexpensive, and it attracted men and women from across the country -- including Rivers -- who were interested in sustainable communal living, Rivers said.
"I thought the land had a lot of potential," said Rivers, who had previous experience starting and living in intentional communities.
Rivers was born in New York City and raised in New Jersey. Initially, she moved with her now-ex-husband and sons to Gate Hill Coop, an intentional community for creative types in Stony Point, N.Y.
In 1970, after Rivers' divorce, she traveled throughout the Southwest, visiting friends at various rural communes.
"I thought they were crazy," she said.
In communes, residents all live in the same building, eat together, and share finances and household chores.
In intentional communities, residents live in separate houses. Rivers said that distinction was important when she eventually decided to form her own such community.
After previous visits to Arkansas, the then-30-something eventually settled in Boxley Valley near Jasper in Newton County and started an intentional community called Sassafras on about 500 acres.
There, Rivers built her own cabin, and began writing short stories and her first novel.
A series of conflicts over who should be allowed to be members of the community led to the exit of the men who had lived on the land. Sassafras became the state's second community for women only. Yellowhammer in Madison County was the first.
That contentious period left the remaining Sassafras members divided and led to discussions of forming other women's land communities.
Rivers and her domestic partner used some of the Sassafras land to start the short-lived intentional women's community Wild Magnolia. Most of that Wild Magnolia land, though, was later deeded over by Rivers and her partner specifically to women members of minority groups.
That land now is home to Arco Iris Inc., a work-in-progress sustainable community. Supporters plan to build a natural-health center and school on the almost 400 acres near the Buffalo National River.
Under the tutelage of Maria "SunHawk" Christina Moroles, Arco Iris was established to preserve the land and empower minority-group women and children.
Rivers and her partner still own 10 acres with a cabin there and plan to give that land to Arco Iris when they both die, Rivers said.
How it started
Today, Rivers and her partner live in separate houses on Ozark Land Holding Association property.
The story about how that land was purchased is complicated, Rivers said.
After her meeting with the high-heeled real estate agent, Rivers had to persuade 19 other women to emotionally and financially buy into the Ozark Land Holding Association concept, which arose from the Sassafras split.
"I can't get 19 other women to agree on anything," Rivers remembers telling the land's former owner, who wanted the organization to buy the land, fearing that otherwise it would be used as a salvage yard.
At that time, the land had a house, two barns and a couple of dilapidated log buildings.
The decision to buy the land was made after three potential Ozark Land Holding Association members decided to walk to a nearby swimming hole, a place Rivers described as a beautiful, sacred spot.
"We started looking at each other and saying, 'What is it that we want? If this isn't it, what are we waiting for?'" Rivers said.
It was settled. For $100,000, the 20 women collectively bought the land in May 1981.
They divided the property into 5-acre parcels, some of which had electrical service and running well water. On other parcels, the residents had to use solar power, and haul in or collect water and use composting toilets.
While waiting for her house to be built -- mostly by women craftsmen -- on a parcel deemed by other members to reek of chickens, Rivers built a cabin that later became a women's shelter for almost a decade, she said.
It took two years for Rivers' dream house to become a reality, said Nancy Vaughn, a fellow member of the Ozark Land Holding Association.
Vaughn helped build Rivers' house in 1984 -- a two-story, rock-and-wood structure on a hill with a view of lush oak trees and rolling pastures.
Solar panels and a rainwater-holding tank supply Rivers with most of her electricity and water. There is no heating or cooling system. A bathtub sits tucked in a corner of her living room.
"It'll never be complete," Rivers said of her house.
The home Vaughn built for herself on Ozark Land Holding Association property in 1992 does have grid electricity and running water.
Vaughn, 70, was initially introduced to the organization after she was hired to build "a little place for somebody" who was a member. At the time, Vaughn was a member of the now-defunct women's intentional community Whippoorwillow.
A former Sassafras member who wanted to live near Eureka Springs had started Whippoorwillow in 1980 on about 320 mountainous acres.
Vaughn remembers that treacherous terrain with a shake of her head.
"The land wasn't speaking to me," the Texas native said.
But after working for a while on the Ozark Land Holding Association property, "All a sudden it hit me. I just realized I was so excited to go to work every day," Vaughn said.
So she left Whippoorwillow and joined the association, which now has 12 active members.
The organization is looking to add eight members to replace those who have left and is revamping its land-use agreement. Membership is approved by current members, Vaughn said.
"This is lesbian land," she said, meaning that men and heterosexual women can't become members of the Ozark Land Holding Association.
Men weren't allowed on the property at all until 1998, and then only when supervised by an association member and after notifying everyone who lived there, she said.
Boys and girls can live on the property until they're 18, though that hasn't happened yet, Vaughn said.
To ensure that members work cooperatively and maintain the land, the organization established bylaws and runs on a "consensus-minus-one" basis. It holds meetings throughout the year, Rivers and Vaughn said.
All decisions center on a "triangle of interest," taking into account the effect on the individual, the community and the land, Rivers said.
"We depend on each other," Vaughn said.
State Desk on 08/31/2015