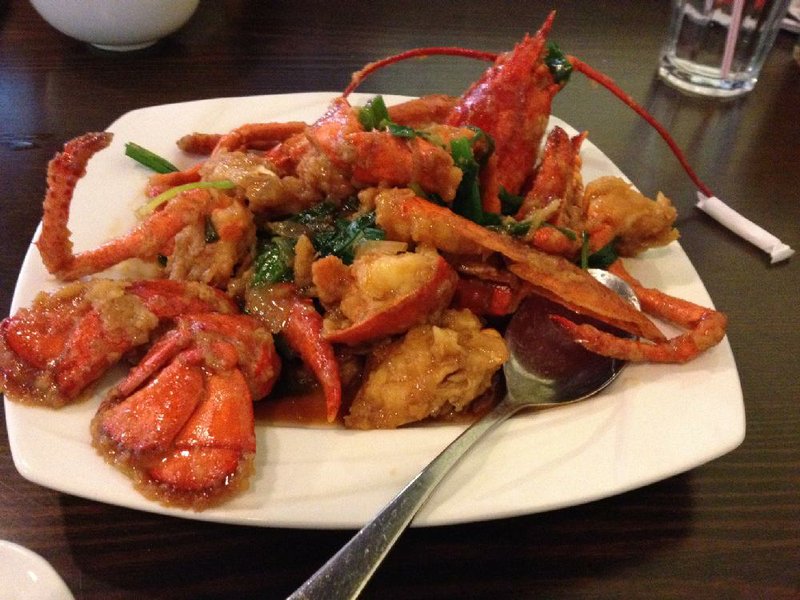 The Ginger & Onion Lobster was alive in a tank at Mr. Cheng's Authentic Chinese Cooking in North Little Rock a few minutes before the kitchen applied the ginger, the onion, the sauce and a little coating. (Arkansas Democrat-Gazette / ERIC E. HARRISON )
It is understandable to confuse Mr. Cheng's Authentic Chinese Cooking, which took over the former Lemongrass storefronts in an East McCain Boulevard strip center, with Mr. Chen's Authentic Chinese Cooking, in south central Little Rock's Village Shopping Center.
They are not quite two outlets of the same chain, although they share an identical menu made from the same recipes; they have separate managements and chefs, and operate on separate franchises from the same Alabama-based mini-chain.
Mr. Cheng's Authentic Chinese Cooking
Address: 4629 E. McCain Blvd., North Little Rock
Hours: 11 a.m.-9 p.m. Sunday-Thursday, 11 a.m.-9:30 p.m. Friday-Saturday
Cuisine: Authentic Chinese
Credit cards: V, MC, D
Alcoholic beverages: Wine, beer
Reservations: No
Wheelchair accessible: Yes
Carryout: Yes; online ordering system available
(501) 955-9988
mrchengslittlerock.com
The principal difference, other than the additional consonant and about 15 miles of separation, is that the older Mr. Chen's, at Asher and University avenues, is contained within and is a part of an Asian grocery store, and the newer North Little Rock Mr. Cheng's -- isn't.
Mr. Cheng's decor bears more of a resemblance to the older restaurant -- mostly in the dark wood paneling -- than it does to the brighter, more open Lemongrass, an upscale Thai restaurant that closed last summer. Some of the bamboo that Lemongrass used as an accent survives as part of a divider from the entranceway to the main dining room; what had been the Lemongrass bar area is now a small overflow dining room and small party room.
The register area doubles as wine storage; a large tank wherein customers can see several large fish and a couple of claw-banded lobsters, dominates the field of view -- that is, if you can tear your sight away from the flat-screen TV, on which sometimes there is sports programming (over a handful of visits, we watched everything from football to bowling) and sometimes infomercials, because the staff apparently turns on the TV and doesn't pay very close attention to what's on the screen.
Seating is at booths along the western wall, at tables that seat four and six in the middle of the floor. The walls bear more or less accurate photos (more accurate, actually, than the ones in the menu) of many of the dishes. Plate presentation varies; some dishes are artfully arranged while others look as if they'd just been dumped out of the wok and onto the plate.
You may need those photos in making your choices, because there are no menu descriptions for any of the more than 120 dishes. Nor will asking the server guarantee that you understand what's likely to appear on your plate.
Prices are about on par with the area's Chinese restaurant spectrum, including almost two dozen $6.95-$7.50 lunch specials (which include egg roll and fried or steamed rice).
That the cuisine is indeed authentic we established a couple of years ago at the place in Little Rock, where you can be assured that the seafood in particular is fresh because you can go into the back of the grocery store and see it alive in tanks. Presumably it's equally fresh here, although the only visible tank is the one in the dining room.
We can certainly vouch for the freshness of our Ginger & Onion Lobster because after we ordered it, there was one less lobster in the tank. We allowed our rather pushy waiter to upsell us into it in part because it had already piqued or interest, and the $19.99 market-price tag for a 1-pound-plus lobster wasn't so exorbitant because it serves two.
The lobster arrived at the table already dismembered, which made extracting the lightly breaded and subtly sauced lobster meat from the shell only slightly easier. The ginger and onion flavors were also subtle but we enjoyed the dish, even though Intrepid Companion was initially put off by the lobster head glaring at her from a corner of the plate.
We were best pleased by the Orange Duck, a $12.95 off-menu special, duck breast sliced into about two dozen 1-inch segments and served with broccoli along the rim of the plate, all slightly awash in a tangy, slightly more sweet than sour, orange sauce.
There was some fat on the duck but less than we'd expected, and for the most part the duck was boneless -- one of the several dozen slices did contain a small bone, but unfortunately it was the first piece we sampled, so we went all the way through the dish half expecting to find another one.
(It's a marked contrast to the tasty, but difficult to negotiate, Roast Duck cold-plate appetizer, $6.95, which contains quite a bit of duck meat but also a lot of duck bones.)
There was more pork than squid in the Stir Fry Pork With Squid ($9.95), one of the less attractively plated entrees. We were pleasantly surprised to discover, however, that the pork had been slightly marinated before being stir-fried with the bits of squid and the cabbage that made up at least half the dish; we were also pleasantly surprised to find that it all came in a variant of black bean sauce, and we have always been suckers for black bean sauce.
Do check out Mr. Cheng's appetizers. The Crab Rangoon ($4.95) is nicely crisp-fried with a cream-cheese filling that, as is pretty usual, doesn't contain any crab, or even any quasi-crab surimi. We also enjoyed our Pan Fried Dumplings ($4.95) and, though it takes a little extra time to prepare, the Small Steamed Buns ($5.95, originally for 10, but now only eight), similar to steamed pork dumplings but delightfully oozing a sort of pork-dumpling broth, with a nicely zingy garlic-soy sauce for dipping.
Service was generally good, however we did feel a little pressured occasionally by our initial waiter. A couple of to-go orders were ready quickly; ordering online helps ensure it'll be waiting for you when you get there.
Weekend on 02/12/2015
Print Headline: Mr. Cheng's authentic, fresh
Sponsor Content