Unemployment in Arkansas fell to 5.7 percent in December -- marking the fourth-straight month of declines, the U.S. Bureau of Labor Statistics said Tuesday.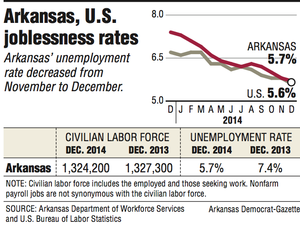 Photo by Source: Arkansas Department of Workforce Services and U.S. Bureau of Labor Statistics / Arkansas Democrat-Gazette
Graphs and information about the Arkansas and U.S. joblessness rates.
Arkansas' drop followed the national trend as the U.S. unemployment rate overall fell to 5.6 percent, the bureau reported. A year ago, the state's unemployment rate stood at 7.4 percent and the national rate was 6.7 percent.
Employers in Arkansas added 8,500 jobs in December. While the number of people with jobs in the civilian labor force rose by 9,700 to 1,248,400, the number of unemployed workers fell 1,200 to 75,800.
John Shelnutt, administrator for economic analysis and tax research for the state Department of Finance and Administration, said the increase in the number of nonfarm payroll jobs, not including government workers, over the past 12 months is a sign that the economy has moved past the recession.
"We're at the point were we've got good growth occurring," Shelnutt said. Nonfarm payroll figures are compiled from data submitted by thousands of Arkansas employers.
The labor force is defined as those working or looking for work. It does not include people who have stopped looking for work, such as retirees or people looking for work out of state.
The Arkansas Department of Workforce Services said that in the past 12 months, the number of nonfarm payroll jobs have risen by 22,600, reaching 1.21 million.
The food-services industry saw the majority of the growth in the past year, adding 6,200 jobs. The leisure and hospitality industry reported 109,900 jobs around the state as of December. Construction businesses added 5,800 jobs, reaching 51,000, while the number of manufacturing jobs rose by 5,500 to 157,500.
However, compared with a year ago, there were 1,300 fewer retail trade jobs in December; 800 fewer jobs at information-related companies; and 500 fewer workers in financial fields, which include insurance and real estate.
Michael Pakko, chief economist at the Institute for Economic Advancement at the University of Arkansas at Little Rock, said the most positive signs over the past few months have been the gains in construction and manufacturing, two sectors that have been slow to recover in Arkansas since the recession ended nearly six years ago.
Pakko said that in Arkansas, the biggest engine of job growth in the past year has been services in general. He said sectors such as financial, professional, education, health and leisure, and hospitality have seen the most job growth.
"This is the fourth month in a row we've had a very strong jobs report. And, both halves of the survey, both the household survey and the payroll survey, have been pretty strong through all those months. So when you start to put together all those pieces of information, it's pretty clear that the labor market situation in Arkansas is improving pretty dramatically."
Pakko said the first part of 2014 was a little disturbing because the state saw a decline in labor force participation, which likely meant people were no longer seeking work. That meant a declining unemployment rate at the time may not have reflected an improving economy. But he said that given the turnaround in the past four months, "it's hard not to conclude that things are on [the] upswing."
He said economists are trying to get a better understanding of how wages are changing. He said they recognize that many of the new jobs being reported in the payroll side of the report are part time and that generally jobs in the service sector don't pay as well as jobs in construction and manufacturing.
Pakko said manufacturing jobs had been on the decline before the recession but that the state is now seeing "a little bit of a bounce" in manufacturing employment that may mean industries are no longer shrinking and may be growing even if the overall job count doesn't reach pre-recession levels.
While employment in some sectors, such as retail trade, remains weak compared with a year ago, Shelnutt said this is being offset by other sectors, such as construction and manufacturing, which he called good news because such jobs typically pay higher wages.
"These are some of the first really good numbers in manufacturing in this economic cycle, which has been slow to rebound, but looks good now," Shelnutt said. He was unsure why the retail part of the survey, which reflects the lowest average wage, is flat or down compared with a year ago, saying retailers could be dealing with the effects of competition from online sales or losing workers to higher-paying jobs in other sectors.
From November to December, the number of nonfarm payroll jobs fell by 1,500, according to the Workforce Services Department. Month-to-month gains in some sectors, such as construction, wholesale trade and professional and technical companies, were offset by losses in educational and health services, government and companies that provide services to manufacturers. The number of education and health-services jobs fell by 1,100 to 177,700 from November to December, while the number of jobs in all levels of government fell by 900 to 219,600.
The department attributed the decline in education employment largely to winter breaks at private educational facilities, while the government-job losses were tied to seasonal public school closings. It said construction employment has increased, in part, because of several large-scale projects in Arkansas.
Pakko said he was struck by how many jobs have been created in Arkansas in the past three months: 7,400 in October, 10,300 in November and 8,500 in December, according to the household survey.
"Any one of those three monthly increases would have set a record before this year," Pakko said. "Three months in a row with that kind of strength is pretty phenomenal."
Business on 01/28/2015