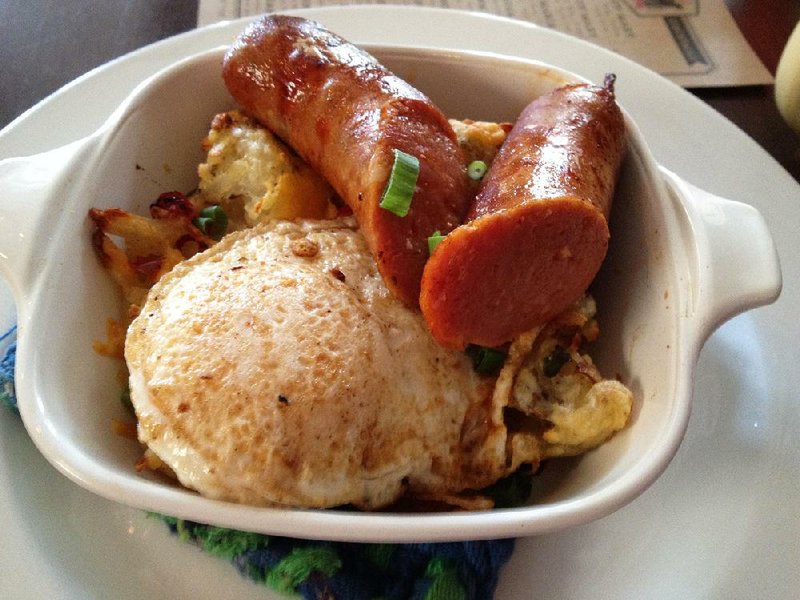 Andouille sausage and an egg come over a hashbrown casserole at South on Main. ( Arkansas Democrat-Gazette / Eric E. Harrison)
Clarification: South on Main does not take reservations for their brunch service. Our story misidentified the restaurant's first-come, first-served seating policy.
Once upon a time, Sunday brunch appeared to be the exclusive property of west Little Rock, Hillcrest and the Heights. Elsewhere, brunches were scarcer than the proverbial teeth of domesticated fowl who laid the eggs for Eggs Benedict.
Photo by Eric E. Harrison
One Eleven at the Capital's Steak and Eggs consists of a 4-ounce Delmonico steak served with two eggs, home-style potatoes and a grilled tomato.
Now, however, Sunday brunch is finding its way into the downtown dining culture, with fine examples coming out of the kitchens of South on Main and the Capital Hotel's One Eleven at the Capital.
South on Main
Address: 1304 Main St., Little Rock
Brunch hours: 10 a.m.-2 p.m. Sunday
Cuisine: Southern accent
Credit cards: V, MC, AE, D
Alcoholic beverages: Full bar
Reservations: Yes
Wheelchair accessible: Yes
Carryout: Yes
(501) 244-9660
southonmain.com
One Eleven at the Capital
Address: Capital Hotel, 111 W. Markham St., Little Rock
Brunch hours: 10 a.m.-2 p.m. Sunday
Cuisine: French accent
Credit cards: V, MC, AE, D
Alcoholic beverages: Full bar
Reservations: Yes
Wheelchair accessible: Yes
Carryout: Yes
(501) 370-7011
oneelevenatthecapital.com
SOUTH ON MAIN
At South on Main, chef Matthew Bell has extended the same high-class Southern accent to his Sunday brunch offerings as he has to his lunch and dinner menus, recasting such staples as grits, biscuits and gravy, French toast and Eggs Benedict in new, mostly exciting molds.
Take, for example, that French toast ($8), which South on Main serves up with a thick topping of caramelized bananas, reminiscent of but not quite bananas Foster (because there's neither rum nor ice cream involved). It was delicious, though the underlying toasted bread was disappointingly mushy.
Then there's South on Main's superb and surprisingly light take on biscuits and gravy ($7), big, fluffy chunks of biscuit topped with an herbed cream gravy. If you're looking for something a little more filling, try the Sausage & Egg ($10), pieces of andouille sausage and a plump fried egg served atop a tasty hashbrown casserole ($3 as a stand-alone side).
Other entree options include Breakfast Tacos ($8), Veggie Hash ($8), Fried Oyster Eggs Benedict ($11), Smoked Sunburst Trout ($13) and Steak & Egg ($11).
"Snacks & Sides" include Cheese Grits ($3), Skillet Bread With Black Eyed Pea Hummus ($6), Biscuit Plate With Sorghum Butter & Jam ($3), Home Fries ($4), Mac & Cheese ($4), Chicken Liver Mousse With Multi-Grain Bread ($6) and sides of bacon, sock sausage or sausage, chocolate or onion gravy ($5).
"Light Plates" include a salad of mixed greens ($7), Duck Confit & Kale Salad ($10), Avocado Toast ($9), Country Ham & Cheese Toast ($9) and a Veggie Pot Pie ($9).
The restaurant interior is kind of dim even when the sun is bright outside. Tables in the front dining area group around the stage, where entertainers perform in the evenings; more tables are available toward the back and booths are available near the bar. Service was excellent on both our brunch visits.
ONE ELEVEN
The brunch menu at One Eleven seems simple and even ordinary -- pancakes, biscuits and gravy, omelets, bacon and eggs, steak and eggs, Eggs Benedict.
But as we've seen with lunch and dinner, Capital Hotel executive chef Joel Antunes specializes in making the ordinary special.
We made a reservation for early one recent Sunday afternoon, but the place wasn't particularly full when we got there.
As one might expect, One Eleven's brunch prices are a bit steeper than its competitors across the area's brunch spectrum, but we felt like we got our money's worth in terms of food quantity and quality.
There was more, and more to enjoy, on our plate than we expected when we ordered the Traditional Heartland ($17), on the menu's "Signature" list -- two eggs (any style), a choice of stone-ground grits or home-style potatoes, choice of homemade sausage or Nueske's bacon (Nueske is a Wisconsin-based purveyor of smoked meats, including a "Triple-Thick Bacon Ideal for Grilling"), and choice of bread and preserves.
The bacon slices were certainly thick, and a bit chewy -- if you prefer your bacon crisp, you might instead opt for the sausage.
We also enjoyed the Steak and Eggs ($19), also a "Signature" item, a perfectly prepared 4-ounce Delmonico steak (though the spice blend was perhaps a bit much) served with two eggs (any style), home-style potatoes, choice of bread and preserves.
The home-style potatoes were a good choice, and both of us wisely chose biscuits for our bread -- square chunks from a biscuit pan rather than individual round ones, that looked like and was almost the consistency of light cornbread. The preserves are small-jar commercial.
Our appetizers were delightful -- the Gruyere-topped white onion soup ($10) that Antunes serves in the warm-weather months (you get the more traditional brown-broth in late autumn and winter), and sushi-grade, house-smoked salmon ($14) served with diced pickled cucumber and a mustard dipping sauce.
Other "Signature" items include the Razorback ($12), buttermilk biscuits with house-made sausage and spicy sausage gravy; the Chef's Special ($14), "light & fluffy" pancakes topped with fresh strawberries and Chantilly whipped cream, with choice of Nueske's bacon or house-made sausage; the Southwest Omelet ($15) with house-made sausage, jalapeno, onion, red and green peppers, sharp cheddar and fresh salsa on the side, choice of home-style potatoes or grits and of bread and preserves; and the Petit Dejeuner de Paris ($15), a basket of fresh breakfast pastries and a selection of seasonal fruits, plus house-made yogurt and granola, brie cheese and coffee or tea.
Daytime dining in the restaurant, on the hotel's Markham Street frontage, is bright and cheery, adjectives that also apply to our waitress for the occasion.
Weekend on 07/23/2015
Print Headline: Downtowners join brunch bunch
Sponsor Content