Arkansas Gov. Asa Hutchinson sent a letter to U.S. Agriculture Secretary Tom Vilsack on Tuesday requesting that 37 counties be declared agricultural disaster areas so farmers and ranchers affected by flooding and poor spring weather can apply for low-interest emergency loans.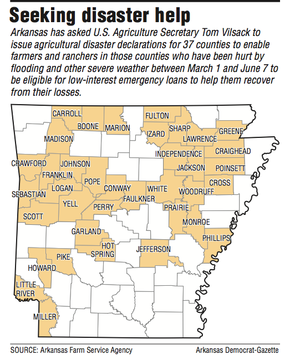 Photo by Source: Arkansas Farm Service Agency / Arkansas Democrat-Gazette
A map showing Arkansas counties seeking disaster help.
With many fields along the Arkansas and Red rivers still underwater or too wet to plant, affected producers are increasingly worried about this year's crops, said Wes Ward, Arkansas' agriculture secretary.
On Tuesday, Ward said it may be the end of June or early July before the rivers return to their normal levels and fields dry out enough to plant. "Those fields may be flooded for another month."
While it's too soon to put a dollar estimate on crop losses, Ward said much will depend on whether farmers purchased federal crop insurance.
"Did they have those sort of risk-management measures in place prior to that?" he said. "And beyond that, are they going to be eligible for some of the specific programs available through the Farm Service Agency?"
On Monday, the Arkansas Food and Agricultural Council recommended that Hutchinson request a "secretarial disaster declaration" from Vilsack. The council is made up of representatives of various U.S. Department of Agriculture agencies that do work in Arkansas.
"Up to this date, there have been 37 counties reporting damage of livestock, crops, equipment and farm structures due to excessive rainfall, flash flooding, flooding, hail, high winds, lightning and tornadoes from March 1 through June 7th," Linda Newkirk, executive director of the Farm Service Agency's Arkansas office, wrote in response to a request for details from the agency's initial damage surveys.
Newkirk couldn't provide county-by-county information, however, saying that reports are still incomplete, while other counties haven't submitted damage reports.
If Vilsack issues a disaster declaration, producers in affected counties will be eligible to apply for financial help from the USDA's Emergency Loan Program. The low-interest loans are designed to help producers recover from production or property losses caused by flooding or droughts.
Other federal programs available without the disaster declaration include Non-Insured Crop Disaster Assistance; Livestock Indemnity; Tree Assistance; Emergency Assistance for Livestock; Honeybees and Farm-Raised Fish; Emergency Conservation; and HayNet, which helps farmers and ranchers buy or sell hay as well as inform others about the availability of grazing land. To be eligible for these programs, producers must file a notice of loss with their county Farm Service Agency office.
On Tuesday, Hutchinson toured by helicopter areas in southwest Arkansas damaged by flooding along the Red River. In his letter, dated Monday, Hutchinson wrote that the state "has suffered agricultural devastation," and he asked Vilsack to give the state's request "the highest priority so that assistance to the affected farmers might be expedited."
"Such a designation will allow the Farm Service Agency to make emergency loans available to eligible farmers whose lives and livelihoods have been detrimentally affected by this natural disaster," the letter said.
Ward said it might take two to three weeks for Vilsack to make the declaration, adding that disaster aid for farmers is dependent on federal programs. Ward said he'll meet with the governor today to talk about the situation.
"Most of the state-level disaster response is more geared toward residential and geared away from agriculture," Ward said. He said there hasn't been any discussion of whether the state should step in with disaster aid. "And to be honest, I'm not sure where exactly that money would come from."
What the future holds for farmers hurt by flooding and wet weather will depend on the next few weeks, said Scott Stiles, an economist with the University of Arkansas System Division of Agriculture.
With the current low level of commodity prices, many growers headed into this year's planting season knowing that every bushel at harvest time would be needed to finish the year in the black, Stiles said.
"It's going to be a real struggle for them if they don't get something planted by the end of the month," Stiles said. Soybeans are the only option left for growers, but the optimum date to ensure maximum yields has passed and yields typically fall off the later in June that soybeans are planted.
Producers also must wait for their fields to dry out once floodwaters recede, further delaying planting. Stiles said growers have few options. If they purchased federal crop insurance, they might get some reimbursement for their losses. The other option is a low-interest disaster loan to keep them going until next year.
"Nobody wants to take out another loan, but they may not have a choice," Stiles said.
Business on 06/10/2015