I did not think a documentary about The Who could possibly surprise me.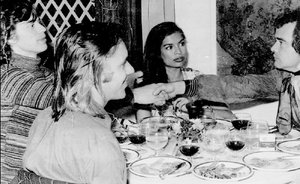 Mick Jagger, Chris Stamp, Bianca Jagger and Kit Lambert have dinner in a scene from Lambert & Stamp.
But James D. Cooper's Lambert & Stamp isn't really about The Who, it's about Chris Stamp and Kit Lambert, the two mismatched impresarios who oversaw the first stage of the band's career. Their names were familiar to me, but in the opening minutes of the film I was amazed to learn that Chris, who died in 2012, is the brother of actor Terence Stamp. And that their original plan was to use the band as a way to break into the movie business. What Lambert and Stamp really wanted to do was direct.
Lambert & Stamp
88 Cast: Documentary with Chris Stamp, Pete Townshend, Roger Daltrey, Terence Stamp, Heather Daltrey, "Irish" Jack Lyons
Director: James D. Cooper
Rating: R, for language, some drug content and brief nudity
Running time: 117 minutes
I imagine this information can be found in any number of books about the band that I have read, from David Marsh's Before I Get Old (1983) to Pete Townshend's 2012 autobiography Who I Am, but I never understood how much of The Who was directly attributable to the willfulness of working-class Stamp and aristocratic Lambert, the son of composer/conductor Constant Lambert. The two found each other while they were aspiring filmmakers working as go-fers at Shepperton Studios (in which, ironically, The Who would eventually acquire an interest). They recognized in each other a love for French nouvelle vague and hit on a plan to find a promising rock band and manage them to fame and fortune while documenting the experiment on film.
I did know that Lambert -- who died in 1981 -- was gay, and that homosexuality was illegal in Great Britain until 1967 and that for a time he moved Townshend into his flat in the posh Belgravia section of London. I did not know that Townshend, who has written candidly and sensitively about his own semi-fluid sexuality, was a little hurt that Lambert never made a play for him. (Nor did I know one of the perks of having a fancy address in London was that one could tap into a practically unlimited line of credit.)
But don't get the idea that Lambert & Stamp is a didactic movie, or even primarily a history lesson. It is a blast, a perfect complement to the other great films about The Who, 1979's The Kids Are Alright and 2007's Amazing Journey: The Story of The Who, the one in which Roger Daltrey sheepishly confessed "I like to fight." (Fighting Roger is back for this one, too. I knew that he had gotten into a fistfight with Keith Moon onstage --"Thank God it wasn't wasted in a backroom," the impish Stamp recalls -- but I didn't know that Daltrey was allowed to stay in the band only after he agreed not to use violence to win arguments.)
Lambert & Stamp makes no attempt to be definitive; there are only nine interviewees and there's no mention of the landmark album The Who Sell Out. (Though, refreshingly, "Magic Bus" gets called out as "mediocre" and not up to the band's standards.) Yet it is a remarkably illuminating film that explains a lot of The Who's early appeal and the design behind the apparent onstage chaos. Lambert especially had a lot of influence on Townshend's songwriting; he groomed him to think along the lines of classical composers such as Henry Purcell and articulated what was the band's most prominent quality: their ability to reflect their audience onstage.
Townshend didn't write confessional songs about himself; he wrote about his audience, validating their street style and post-war angst. The band's managers cast their first London showcase concert with sharp-dressed mods (one of whom, the semi-legendary Irish Jack, who was allegedly the inspiration for Quadrophenia's Jimmy Cooper, shows up to give his thoughts on the band's beginnings).
Because of Lambert and Stamp's preoccupation with film, there's some outstanding archival footage of the band and its managers, most of it in snappy black and white, but the film's more touching moment has the intellectual Townshend -- one of the more articulate and interesting figures to emerge from rock 'n' roll -- tenderly discussing Moon's decline with Daltrey, visibly remorseful that he couldn't show the manic drummer a bit more patience.
While Lambert isn't around to take up for himself, he emerges as the hero of the piece, a witty, urbane mod with an Oxford education, fluent in French and German, who was as much a musical mentor as string-puller. Lambert and Townshend differ on how much Lambert contributed to Tommy, the rock opera that finally freed the band and its agents from financial worries, but even the songwriter concedes he helped a lot. Townshend remembers him as a frustrated composer, but in retrospect it's clear Lambert's instrument was The Who itself, a scruffy, ugly quartet of rough boys given to doing violence to their instruments, gobsmacking the punters.
MovieStyle on 06/12/2015