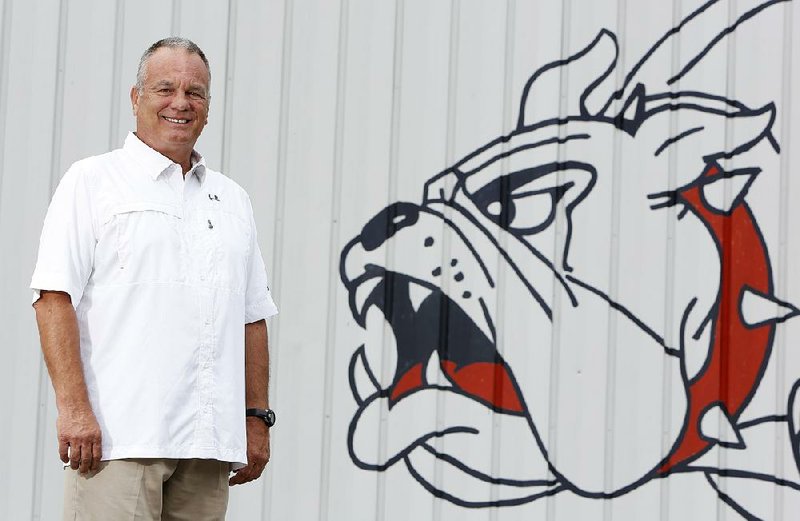 Rick Jones, head football coach at Greenwood High School, outside the football facility on the campus of the Greenwood School District Tuesday, June 16, 2015. Jones has lead his teams to six state championship wins and was 2012 Football Coach of the Year by the National Federation of State High School Associations. ( NWA Democrat-Gazette / David Gottschalk)
Jason Allen, Arkansas Razorbacks quarterback for three seasons in the early 1990s, got his first taste of football success on Aug. 9, 1988, at a team meeting for Edmond Memorial High School in Edmond, Okla.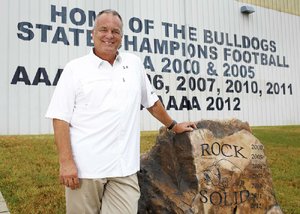 Photo by David Gottschalk
Rick Jones, head football coach at Greenwood High School, outside the football facility on the campus of the Greenwood School District Tuesday, June 16, 2015.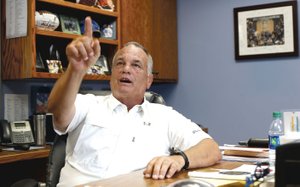 Photo by David Gottschalk
Rick Jones, head football coach at Greenwood High School, outside the football facility on the campus of the Greenwood School District Tuesday, June 16, 2015.
Coach Rick Jones shut off the lights in the auditorium and asked the players to shut their eyes as he painted a mental picture of winning a state championship.
Ricky Don Jones
Date and place of birth: Feb. 13, 1955, Denver City, Texas (I don't claim it, though.)
Family: wife Mona, son Kevin 18, daughters Allyson 18, Regan 17
What I always tell my athletes: You control two major things in your life, your attitude and your effort. How you decide to handle those two things will determine your success or failure in football and in life.
I know I've done my job as coach when a third-teamer comes back to visit us.
I don't plan on retiring but if I ever do, I'm going to buy the Diners, Drive-Ins and Dives Cookbook, start on the east coast and try every one of the joints.
A scent that makes me nostalgic: bacon. It reminds me of my grandmother making one of her great breakfasts.
My greatest fear: becoming a bitter old coach.
If I could change one thing in the world, it'd be: Children who suffer through no fault of their own.
Fantasy dinner guests: Abraham Lincoln (a great leader), Chip Kelley (I have questions about spread offense), Vince Lombardi (best coach ever), Lenny Kravitz (coolest man alive), and my Dad (someone has to talk to Lenny).
If I were stranded on a desert island, I'd have to have: Good coffee and some good books
My favorite meal: Fettucini Carbonara from Flip's Wine Bar and Grill—Oklahoma City, Oklahoma
A word to sum me up: still-trying-to-get-better
He described the Oklahoma State University campus and Boone Pickens Stadium -- where the championship game is played -- and the Edmond Bulldogs on its green turf. They visualized the team there, watching the scoreboard as the seconds ticked down while being ahead.
Once players were fully lost in the daydream, Jones switched the light back on and jolted them out of it.
"You're state champions," Jones said. "Never forget that. When you walk, from this day forward, think of yourself as a state champion."
They did. And when the team walked away from the 1988-89 Oklahoma State Championship with a 23-6 victory, the players were more than champions. It was the school's first such victory and its 11th straight win.
"Edmond flat-out dominated Oklahoma's Class 5A football program," Mike Sherman of The Oklahoman wrote following the game. "Pass, run, block, tackle, you name it, Edmond's Bulldogs did it better than Tulsa Washington's Hornets."
It was the first in a long series of victories for Jones, who in 11 seasons as head coach for Arkansas' Greenwood High School has led the team to six state championships and an 87 percent victory rate.
MORE THAN Xs AND Os
The man who was named Coach of the Year by the National Federation of State High School Associations' Coaches Association in 2012 and elected to the Oklahoma Sports Hall of Fame in 2013 is more than a coach. He's often the most influential figure in the players' lives.
"He pushed us not [just] to be winners in football, but winners in life," says Allen, now executive director of sales for Pace Industries of Fayetteville. Allen says those years of football gave him the background that made for a successful career.
"He parallels the game of football -- the preparation and commitment to excellence -- to out- work your competition. He helps young men understand that's to be translated into their life completely."
Jones gets excellent results by pushing students to do their best work daily, not comparing their accomplishments to other teams' results, and showing them he cares.
"He spends time with the players away from the football field. That's why he wins championships," says Darren Melton, head coach for Lincoln Christian High School in Tulsa, who was an assistant coach under Jones at Broken Arrow (Okla.) High in 1995-96. "He gets to know the player, invests in their lives and cares about character.
"He's a good coach, but coaches the whole person."
"If all you learn playing football with us is how to outrun [someone], you've wasted your time," Jones says. "I hope that when they finish the program that they're better men and better prepared for what's ahead."
MARRIED TO THE GAME
Rick Jones began his coaching career as a graduate assistant for the Harding University Bison football team in Searcy, where he learned dedication, a love of research and a taste for training in new and unconventional ways. He was a starter for the Bison for two years in the mid-1970s, and turned to coaching after a shoulder injury his junior year.
"He was always very focused and very competitive," says Ronnie Huckeba, head coach at Harding and Jones' college roommate and teammate. "He was willing to do whatever it took. He took that approach and was willing to do what others were not."
Jones had time for the extra mile, Huckeba says, in part because Jones won a bet he had with Huckeba and another college buddy to see who could go the longest without getting hitched.
Waiting for marriage until 40 gave Jones two decades solely for football.
"He was married to football for 20 years and gained tremendous knowledge," Huckeba says. "He's a student of the game, an avid reader, and got his [education] in football ... he's continued to stay on top of things to be current in the game."
Jones wanted to be among the famed high school football coaches in Texas. But an offer from Del City High School in Oklahoma City looked appealing. He could work with Henry Manning, who had coached plenty in Texas, and remain in a place that felt like home.
"I thought I would get the best of both worlds," Jones says. For him, working with quality coaches trumped securing any particular job title. "I could coach high school football and learn the Texas way of doing things. I've never cared about [being] coordinator or head coach, I just wanted to be the best coach I could. The whole secret is finding and working for the best coaches."
Jones immersed himself in the game. When he wasn't coaching football, he was reading about it, watching old footage or going to other teams' games -- a habit he maintains today. During the season, he watches countless games. Out of season, he scours books for ways to improve performance.
He spent five years under Manning's direction while keeping an eye out for the next big learning opportunity. After watching the coaches at Putnam City West (also in Oklahoma City), Jones knew he needed their expertise, too.
"I found a guy on the west side of town who was throwing a football with the quarterback of USC," he says. Watching Putnam City Coach Mike Little work was like magic. "I told a buddy of mine on his staff that I'd sweep the floors there if he could get me a job because I wanted to learn how [Little] does his deal."
It took a couple of years for Jones to make his way on to the staff, and once he did, he found Little's direction was harsh. He pushed players and coaches equally hard. He took Jones off the field one day, and fired him twice. He might have been tough, but Little's style ingrained in Jones the importance of attention to detail.
"Rick is highly motivated and organized. There's no one more organized or who pays more attention to detail," Melton says. "Beneath his exterior of gruffness and intensity is compassion for the human condition. He does things behind the scenes that no one will know about."
Once Little retired, Jones applied for the head coaching job and was denied. Only 27 or 28, it was a blow to his ego, so he moved on to Edmond Memorial in 1986.
Edmond Memorial High was the third largest school in Oklahoma at the time, "a great job with good players, wonderful parents," Jones says.
It was the first time he had been a part of a team that cared about the whole person and whole community, not just the game, and things clicked. He landed the head coaching job and set to work getting the team on the road to the championship.
The first time the school went to the finals, in 1988, "I hammered that into them," he says. "'We're going to win that playoff game. We're going to win that playoff game.'"
But Edmond didn't win.
That devastating loss is Jones' self-described worst loss of his career. Leaving the OSU stadium that night, Jones thought "that's it, we'll never be back," he says. "At that point in my life, on that day, at that time, I thought, 'well, that's it.'"
But it was the game that inspired Edmond's players to get up the next day and begin training for the '89 championship game, a victory.
A similar game transpired when Jones arrived at Greenwood High in 2004.
"That first year at Greenwood they lost the state final," says Jeff Williams, coach for Fort Smith Southside, who has followed Jones throughout his career.
Greenwood let Wynne score and take a 28-20 lead with 44 seconds left. The plan was for Greenwood to score, then tie the game with a two-point conversion to send it into overtime. But, with just 7 seconds remaining, the conversion pass fell short, leaving Wynne with a 28-26 victory.
"They were down and Jones' team let [Wynne] score so they could have an opportunity to win the game [in overtime].
"That's a great coaching move and it left a great impression," Williams said.
Only an exceptional coach, and one who fully believes in the capability of his players, would take that risk, others say.
"He had some great ideas and was really ahead of the game as far as structure and things he did," says Scott Reed, El Dorado football coach, who has coached against Jones' team twice. "He's hard to defend against. I was impressed with the discipline and how hard his kids play. His teams are well coached, they play hard and they don't make many mistakes."
NEVER SURRENDER
Jones coached briefly at Tulsa Union High School (1990-91), drawn by its status as a large school with lots of resources that hadn't won a championship in some years. Soon after, he moved to Missouri State University in Springfield.
Jones had it in mind that if he could coach college, he could find his way into the National Football League as an assistant. At Missouri State, though, he realized he was just crossing something off his list.
"I didn't want to look back and wish I had coached college football," Jones says. The guys around him were either an expert at something or a good recruiter, and he knew he wasn't really either. He was a good offensive coach, and he liked it.
"My only goal as a coach is to win the games we can. If [coaches] make every right decision and our kids play their hearts out and we lose, I can deal with that.
"All I want is to win all the games we can."
In Missouri, he got more than a sharpened focus. His bachelor days came to an end when he sold some season tickets to a beautiful, athletic woman named Mona. He challenged her to putt-putt golf, with the loser buying dinner. One year later, they were married.
They returned to Oklahoma in 1995, where he continued his high school coaching career and added administrative duties at Broken Arrow. One of the largest schools in the state, the Tigers were a mediocre team that he wanted to turn around. In 2002, his Tigers won 11 games, setting a school record and making it to the state 6A championship, where the Tigers lost to Tulsa Union High.
The arrival of children Kevin and Reagan inspired him and Mona to search for a smaller town in which to raise a family. Besides, with 29 coaches on eight campuses under his supervision, Jones was more of an administrator than a coach, and he wanted to get back to the real deal.
Jones had an interview with a school in Illinois lined up when recently retired Bentonville Coach Barry Lunney Sr., who was coaching at Fort Smith Southside at the time, suggested he consider the Greenwood job. He trusted Lunney's opinion and knew Ronnie Peacock, the coach he'd be taking over for, plus he'd been getting an earful about Greenwood football for years. Each time Jones got a haircut his barber, who was from Greenwood, wouldn't shut up about it.
Out of mild curiosity, Jones drove to Greenwood and once he got there, he knew it was the place for his family. The staff was friendly and worked together. Being a smaller school, he might have to coach both sides of the ball again, but this place was worth it. Mona picked out a house before she even visited.
What has transpired since 2004 is an emotional investment and confidence in his players, who meet his contributions with hard work and respect.
Through his rigorous training program FASDOGS (Fundamentals, Agility and Speed), Jones gives his Bulldogs the skills they'll use on the football field. They learn alongside the volleyball players, soccer team, cheerleaders and basketball teams, which are invited to train with them to encourage school spirit. In a perfect world, Jones would have the whole school work out together.
More than 600 students went through FASDOGS last year. It's the impact that encouraging young people to bond, build community and learn has that Jones would like as his legacy.
"The winning has just been the icing on the cake," Allen says. "He's proud of seeing young men develop from the time they come into the program to when they leave. Their development as people keeps him going."
With hundreds of teenagers rising before dawn to do hard physical work, it seems Jones has achieved that with thousands of people.
"I hope [I've used] football to help them learn how to respond when times are tough, to handle the ups and downs of everyday life," Jones says. "I hope that kids look back when they're down and out and find a certain amount of reservoir there."
High Profile on 06/28/2015
Print Headline: Ricky Don Jones
Sponsor Content