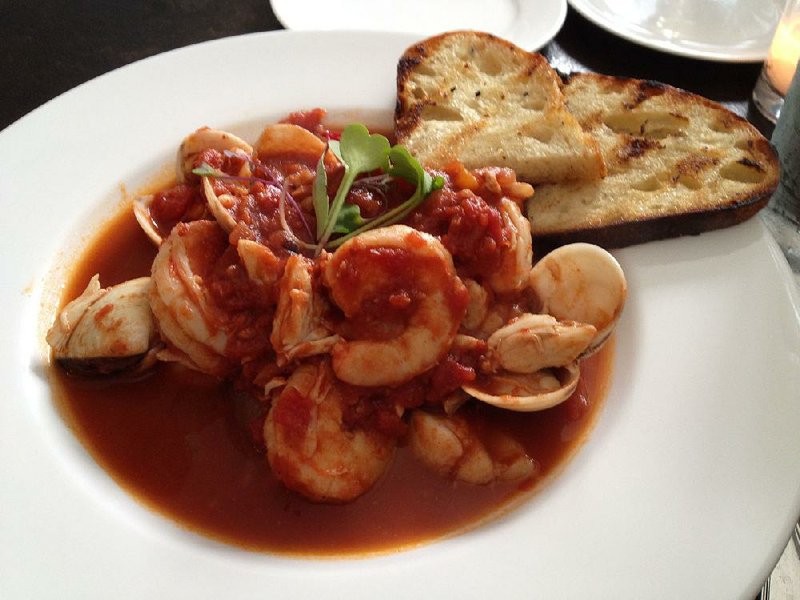 Cioppino, a seafood-stew special at Ira's Park Hill Grill in North Little Rock, featured more seafood than nicely seasoned broth. (Arkansas Democrat-Gazette / ERIC E. HARRISON )
There's much to like at Ira's Park Hill Grill, but not everything.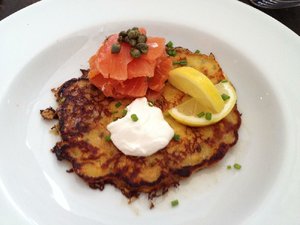 Photo by ERIC E. HARRISON / Arkansas Democrat-Gazette
House-cured Gravlax comes on a corn pancake with lemon-infused creme fraiche at Ira's Park Hill Grill.
We liked its Park Hill predecessor, E's Bistro, and mourned a little when owner-chef Elizabeth McMullen decided to hang up her apron and turn everything in the Lakehill Village restaurant over to new chef/owner Ira Mittleman. (McMullen was to have kept a finger in the business as Mittleman's pastry chef, but if that happened, it apparently didn't last very long.)
Ira's Park Hill Grill
Address: 3812 John F. Kennedy Blvd., North Little Rock
Hours: 11 a.m.-2 p.m. and 4-9 p.m. Tuesday-Saturday
Cuisine: Mediterranean/New American
Credit cards: V, MC, D, AE
Alcoholic beverages: Full bar
Reservations: Yes
Wheelchair accessible: Yes
Carryout: Yes
(501) 771-6900
irasparkhillgrill.com
Mittleman, with previous chef credits at Anderson House in Heber Springs and most recently as chef/owner at Ira's at the Gibson Inn in Apalachicola, Fla., has expanded the restaurant's hours and menu, which he has given more of a Mediterranean accent and which features local ingredients "when available."
He has given the dining room a face-lift, going with a bit more of a masculine tone (the color scheme, no longer white on off-white, now is mostly black on gray, with earth tones, including quasi-antiqued table tops, bronzed to match, featuring fresh-cut flowers in water glasses but no salt and pepper shakers).
It also includes a repositioned, granite-topped bar, which, now that the liquor license has come through, is the first Park Hill establishment in many decades to serve mixed drinks. (McMullen wisely was the first Park Hill restaurateur to obtain a beer and wine license after residents voted the long-dry area "wet" in a recent local election. Mittleman has maintained a pretty decent wine list.)
But (small sigh), Ira's Park Hill Grill still has a long, uphill climb before we'd fully recommend it. Its strengths include good service and a pleasant atmosphere. Its flaws include inconsistent preparation and plate presentation; as a whole, the appetizers outclass the entrees, and so do the off-menu specials.
There are few competitors at this level in the North Little Rock vicinity, but across the metropolitan area there are too many restaurants at this price point with similar menus that "adequate" and "pretty good" just aren't good enough to draw customers from outside the neighborhood.
We liked our three starters. The Mushroom Spring Rolls ($8), thin, crisp-shelled, bias-cut rolls, filled with shiitake mushrooms, carrots and Chinese vegetables, were a bit sloppy-drippy but were nicely flavorful. They came with a minimal amount of sake-based dipping sauce, artfully served in a Chinese soup-spoon ladle.
We also enjoyed the Gravlax ($9), a small amount of house-cured smoked salmon occupying a corner of a corn pancake, with a topping of lemon-infused creme fraiche.
Our excellent flash-fried Brussels sprouts ($7, $6 lunch) arrived in a thin-glass goblet, which was a little difficult to access (we ended up flipping sprouts onto a side plate). They came with what the menu says is a "pepperconcini basil vinaigrette" and what the waiter said was a "pecorino basil vinaigrette"; it was very similar to, though thinner and not as strong as, Mittleman's signature pesto. It did nicely accent the sprouts but there was just enough to cover the large portion.
We were distinctly not pleased, however, by our Shrimp Tacos ($13 as a dinner appetizer or a lunch entree). The three large shrimp per taco, with halved cherry tomatoes, made even the doubled-flour tortillas too difficult to lift without spilling their contents, so we ended up having to use a knife and fork. The coconut curry sauce that over-coated the shrimp and tomatoes failed to provide much, if any, flavor enhancement, nor did we notice any of the garlic the menu promised.
What we did notice was that all six shrimp produced a slight but distinctive ammonia aftertaste and waft up the back of our sinuses, which could be a sign that they might not have been exactly fresh. The lunch-accompanying corn and black bean salsa -- more of a salad, actually -- was too salty and a bit astringent.
Our Ahi Tuna special ($26), the market-price fish of the day, came out medium-rare as we ordered it, lightly seared outside but reddish pink within, and was pleasant enough. The portions of strong pesto and salsa on top would have been better served on the side, since Intrepid Companion, who ended up not liking either much, scraped them off to get at the fish. Plate presentation was our biggest issue with this dish. It came on a bed-side of what we thought was couscous but turned out to be Mittleman's special seven-grain starch (a mix that includes couscous, orzo and corn, notable for its uniqueness: peculiarly chewy and not especially tasty), plus a few not-quite-artfully arranged grilled asparagus spears, and even then half the plate was practically empty.
We would have liked a little more of the the orange Grand Marnier sauce on our excellently lean and tender grilled duck breast ($27), since we really didn't notice it until the last couple of slices. The duck came atop a pleasant mushroom risotto with a quartet of lightly grilled, top-and-root-filament-on baby carrots. The portion size was just right, but the plate was too large for it, making it look like less food than we actually got.
The one unquestioned Ira's triumph was the off-menu Cioppino ($24), a seafood stew with its origins, not in Italy, but in San Francisco, and pretty rare in this area, more's the pity. It featured a lot more seafood -- several of the large shrimp, fish, crab meat and clams -- than the delicious, perfectly spiced broth. Kudos to Mittleman for bucking a lamentable culinary trend; the kitchen removed the tails from the shrimp. That alleviated a lot of messily having to dip one's hands in the dish, but not all of it, since a couple of the clams failed to completely open. We got the impression this is something Mittleman will keep around, since it was available on a later visit as the soup of the day.
Dinner comes with complementary bread and a portion of a tangy red-pepper pesto, but you'll have to pay for it as a $4 appetizer at lunch. Ira's lunch menu has some carryovers from dinner -- pasta and pesto, spaghetti and meat sauce, the Brussels sprouts and Poblano Pepper Cheesecake appetizers; it also features several salads and burger and sandwich options.
Desserts aren't listed on the menu. Nora, who waited on us at our most recent dinner visit, recommended the Key Lime Tart, a suggestion we took since she is also the pastry chef. It had a nice balance between tart and sweet and came on a somewhat crunchy graham-cracker crust, but $7 was pretty steep for the size of the wedge we got.
Weekend on 05/07/2015
Print Headline: Ira's Grill has a hill to climb
Sponsor Content