Gov. Asa Hutchinson on Wednesday night signed a proclamation calling lawmakers to a special session starting Tuesday to consider authorizing a bond issue to lure a defense contract to south Arkansas, shift the state's presidential and other primary elections from May to March and merge four agencies into other agencies.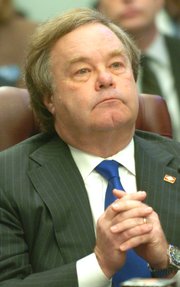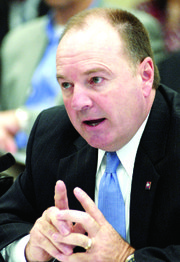 Senate Democratic leader Keith Ingram of West Memphis said he expects the governor to call on the Republican-dominated Legislature to authorize a bond issue of roughly $85 million for the Lockheed Martin project under Amendment 82 to the Arkansas Constitution.
Hutchinson spokesman J.R. Davis declined to confirm or deny that figure Wednesday, saying the governor will hold a news conference this morning to address such questions.
Hutchinson canceled a Wednesday afternoon news conference after his commercial flight from Dallas, where he attended a Republican Governors Association meeting, was canceled and he couldn't return to Little Rock until Wednesday night, Davis said.
House Speaker Jeremy Gillam, R-Judsonia, acknowledged that the proposed bond issue for the Lockheed Martin project will be less than the $125 million bond issue that the 2013 Legislature authorized for a steel mill project near Osceola, which was the first use of that authority under Amendment 82.
"You never say that anything is a slam dunk in this building," Gillam said of the proposed bond issue. "But based on the feedback we have been getting from the members, it's very positive. So we are encouraged at this point."
During the special session, Hutchinson said that he also wants lawmakers to consider "a minor fix" to the law on driving while intoxicated to assure continuation of federal funds.
Other topics on the agenda include aligning state law with potential changes in federal law regarding farm-equipment traffic on a new section of interstate highway near Jonesboro; correcting technical errors made to bills when amendments were added to them; honoring Johnson County sheriff's Deputy Sonny Smith, who was killed in the line of duty last week; and confirming gubernatorial appointments.
"This limited agenda focuses on job creation and economic development, while highlighting government efficiencies that will ultimately result in savings to all Arkansas taxpayers," the governor said in his written statement.
Senate President Pro Tempore Jonathan Dismang, R-Searcy, said he hopes the bills for next week's special session are in the final form to be filed soon.
Senate Republican leader Jim Hendren of Sulphur Springs said the number of items on the governor's agenda will be difficult to complete in three days.
But he added, "I hope we can do it and think we can."
LOCKHEED MARTIN
In seeking authorization for a bond issue under Amendment 82, Hutchinson seeks to strengthen a bid from Lockheed Martin, which has a facility in Camden, to win a contract with the Department of Defense to build the Joint Light Tactical Vehicle (JLTV) for the Army and Marine Corps.
The vehicles would replace the line of military vehicles known as Humvees, for High Mobility Multipurpose Wheeled Vehicle, made by Indiana-based AM General LLC.
Lockheed Martin officials have said that if they win the contract, production would happen in Arkansas.
Hutchinson said last week that the project would create more than 500 jobs over the next few years as well as protect 500 existing jobs.
Danny Games, deputy director of the Arkansas Economic Development Commission, told the House and Senate Agricultural, Forestry and Economic Development Committees on Wednesday morning that lawmakers will be provided details of the state's incentives for Lockheed Martin on Friday.
But if lawmakers approve the incentives, the defense contractor would have to maintain jobs at the Joint Light Tactical Vehicle plant for 25 years, he said. That's a record claw-back for the state, he said.
The company also would have to maintain employment at its current facility in Camden, where about 600 people work, Games said.
"We don't want the claw-backs [of the state's incentive]. We want the jobs. We want the capital investments," he said.
Lockheed Martin is competing with Oshkosh Defense and AM General for the defense contract.
The Defense Department could award the contract as soon as July 26, and vehicles could start rolling off an assembly line during the first half of next year, Games said.
On May 11, the Bureau of Legislative Research signed a $48,377 contract with IHS Global Insight to conduct a cost-benefit economic analysis of the proposed project.
The final report from IHS Global Insight is due today, according to a copy of the contract provided by the bureau.
Election, FISCAL SESSION
Hutchinson also wants lawmakers next week to move Arkansas' primary elections from May to March and move the start of the General Assembly's fiscal session from February to April.
The General Assembly meets in regular sessions in odd-numbered years and shorter fiscal sessions in even-numbered years.
The election proposal would allow Arkansas to join some other Southern states in a regional presidential primary called the SEC primary by some of its supporters. The SEC is the Southeastern Conference, a college athletic conference that covers most of the South.
When asked whether moving the state's presidential primary would benefit former Arkansas Republican Gov. Mike Huckabee's candidacy, Davis said, "I don't believe that was the sole issue."
Hutchinson supports moving both the presidential primary and other primary elections to March because it's an opportunity for Arkansas to have a more relevant place in presidential politics with an earlier primary and save the $2 million cost of holding a presidential primary separate from the other primary elections, Davis said.
During the regular session earlier this year, legislation to shift the presidential primary from May to March 1 sailed through the Senate, but it failed to clear the House State Agencies and Governmental Affairs Committee.
Ingram said that moving all the state's primaries from May to March will create problems, lead to campaigning during the Thanksgiving and Christmas holidays and devastate state and local primary races if an ice storm occurs on primary day.
But Gillam said that "we are doing it early enough that everybody will have plenty of time to adjust the calendars, whether it be just on making a decision to run for office or how to conduct the elections.
"I think the county election commissions will rise to the challenge," he said.
Gillam said Republican presidential candidates other than Huckabee have encouraged Arkansas to participate in a regional presidential primary.
AGENCY MERGERS
The governor also is asking the Legislature to consider merging the Arkansas Department of Rural Services and the Arkansas Science and Technology Authority with the Arkansas Economic Development Commission.
Also targeted for consolidation are the Arkansas Building Authority with the Department of Finance and Administration and the Land Survey Division with the Arkansas Geographic Information Office.
A state Department of Finance and Administration preliminary estimate of the proposed reorganization shows that 19 positions could be eliminated immediately with total immediate savings of $1.4 million and that 15 positions could be eliminated through attrition with possible total savings of $1.08 million, according to a department document obtained under the Arkansas Freedom of Information Act.
The governor is proposing merging the Rural Services Department into the Economic Development Commission after rural services director Amy Fecher was promoted to a deputy director at the commission and given a pay raise from $90,200 to $119,839 a year on April 26. Alex Johnston was appointed the department's director and given a pay raise from $50,200 to $60,000 on April 27, according to the Office of Personnel Management.
Fecher told the House and Senate Agricultural, Forestry and Economic Development Committee that the department has only five employees.
"We're one of those agencies that doesn't have [a human resources] person or personnel or someone to help with the budget or a communications director or anything like that," she said. "We just do it all. So joining in AEDC is really going to help us organizationally be able to utilize the staff that are in there and have that capacity.
"What the governor wants to make sure of is that we're not losing any of these services," Fecher said.
Sen. Bruce Maloch, D-Magnolia, told Fecher that "I just want you to know that my comment and my response when I first had that discussion with the governor's office was to make certain that we still have at least the same or increased emphasis on our rural communities and on the services that you all provide and the grant programs that you have.
"I was assured that's the case," Maloch said.
DWI law FIX
In late April, the Arkansas Supreme Court reversed the DWI conviction for a Springdale man who was arrested when he was caught "sleep driving" after he had been prescribed a sleep-aid drug.
The court's decision found that to be guilty, a DWI offender needed to have a "culpable mental state" to be prosecuted and that there had to be a degree of intent in getting behind the wheel.
Danny Straessle, a spokesman for the Arkansas Highways and Transportation Department, said the ruling exposed a problem in state law that could result in the loss of federal funding.
The ruling could jeopardize more than $50 million in federal funding due to DWI requirements from the federal government.
"Federal dollars are at a premium right now... any federal dollars that are at risk we want to minimize that risk so we don't miss out," Straessle said.
"I'm not sure what the [statutory] fix is exactly. ... Our legal division is working on some suggestions to some proposed changes to the state law that would remedy this."
House Judiciary Committee Chairman Matthew Shepherd, R-El Dorado, said that he's studying the problem and will be working with fellow lawmakers to draft any changes that are needed.
A Section on 05/21/2015