Bruce Holland was surprised by one thing when avian influenza struck in Arkansas earlier this year: Backyard flocks seemed to have escaped the "bird flu" virus that can wipe out flocks large and small.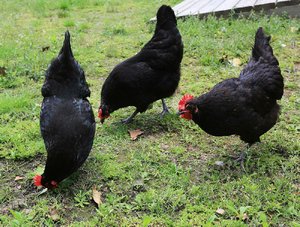 Photo by Rick McFarland
Chickens forage in the backyard of the home of George and Terri Cobb in Sherwood. Backyard chickens are becoming popular as pets and for their fresh eggs and meat.
Holland, as executive director of the state Livestock and Poultry Commission, helps oversee efforts to keep avian flu away from poultry houses around the state. On March 11, it was announced that a highly contagious strain had infected a flock of 40,000 turkeys in Boone County. Infected birds that didn't die outright were killed.
Investigators quickly moved to locate and check any poultry within 6 miles of the infected flock.
"We went and physically knocked on every door to make sure whether they had any chickens, ducks, geese, whatever, and tested them," Holland said. "We didn't find anything outside of that one premises."
While chicken processors are now taking steps such as disinfecting delivery trucks, having workers wear clean coveralls and barring outsiders, home-based poultry fanciers seem to be doing fine without those precautions.
State Veterinarian Dr. George Badley said backyard flocks aren't immune to avian flu, noting that a handful of backyard flocks in states such as Kansas, California and Oregon have been infected.
After the March avian influenza in Arkansas, his office fielded a few calls from backyard flock owners who had one or two birds unexpectedly get sick or die. But, in testing, no avian flu was found.
Given the mortality rate among infected birds, avian flu would be easy to detect, he said.
Since December, the bird flu virus has decimated chicken, turkey and other poultry flocks in 15 states along the Mississippi, Central and Pacific flyways -- the migratory routes used by waterfowl -- according to the U.S. Department of Agriculture. Minnesota has seen more than 80 outbreaks, mostly in commercial turkey houses.
The USDA said 18 of the 181 outbreaks reported through Tuesday involved backyard flocks of mixed poultry, with four of those occurring in Iowa and four in Washington state. While deadly to poultry, bird flu is considered low risk for humans, the department said.
Wild waterfowl can carry the virus and survive, and no one knows how the virus is transmitted to domestic poultry, Badley said.
"The big commercial poultry houses have excellent biosecurity, but it still seems to not stop it," he said. "It is a puzzling virus indeed."
Firm numbers on how many people raise chickens in their backyards for eggs and meat, or even as pets, are unavailable. However, growing interest in backyard chickens has some cities considering how to regulate the practice.
In North Little Rock, for example, 23 people held $10 permits to raise chickens at their residences as of Thursday. In November, the City Council defeated a proposal to reduce the distance that coops must be from neighboring houses from 75 to 50 feet. Maumelle is considering an ordinance to allow backyard chickens.
Badley said as a precaution, backyard-flock owners should keep their chickens from interacting with waterfowl and use well water rather than pond water for them, since pond water is much more likely to be infected with the avian flu virus from wild birds.
The threat posed by avian influenza and other diseases illustrates the need for backyard poultry fanciers to adopt biosecurity precautions of some kind, said P. Allen Smith, the television personality, gardener and horticulturalist who breeds heritage poultry at his Moss Mountain Farm in Roland.
"Biosecurity is not just about avian influenza. Biosecurity is about keeping your flock free of any pathogens that might cause disease," Smith said.
While he agreed that backyard flocks are at low risk for contracting avian flu, interaction with wild birds combined with contact with domestic birds that are contaminated with diseases such as salmonella, also need to be taken into account.
Smith said he sells several hundred heritage chickens to people with backyard flocks each year. Moss Mountain Farm's focus is on maintaining heritage poultry breeds and works with about 40 different breeds of chickens, ducks, geese and turkeys. Smith also conducts workshops on how to raise and care for poultry and sponsors an online community called "Chicken Chat" where owners can share pictures, tips and stories about their birds.
He recommended that people interested in buying eggs for hatching or getting or adding chickens to their flocks deal with farms that are National Poultry Improvement Plan-certified so they'll know from the outset that their birds are disease-free. The program tests flocks for the presence of diseases.
Smith said backyard flock owners are generally pretty casual about their backyard birds and are relatively unconcerned that their chickens might contract avian flu.
Cat Donnelly of Elkins, who has raised backyard chickens for the past 14 years, said the backyard flock owners she knows aren't talking much about the threat posed by avian flu.
Donnelly, who is moving to Fayetteville, said she isn't surprised that small flocks seem to be escaping the virus, given that backyard birds tend to be healthier and better-fed than chickens kept in commercial poultry houses.
"It's a different dynamic," said Donnelly, who has worked as a pet nutritionist. "There is a huge difference in the health of birds grown in backyards." She said backyard chickens tend to be plump but not overweight because most have access to insects and grass when they roam a yard. With more room to move about, they are also more physically active, with some able to fly short distances. She said commercially raised chickens comparatively are weaker, which she thought makes them more susceptible to the virus.
Another backyard poultry advocate, Neil McConnell, said that neither he nor those he knows who have backyard chickens are concerned about avian flu.
McConnell, who lives in rural Saline County near Lake Norrell, breeds and raises chickens that he sells to people interested in having their own backyard flocks.
Even though there's minimal risk, owners need to take steps to ensure that their birds have clean food and water, he said. And, if they visit people with other flocks or go to places where birds are bought and sold, they need to take precautions such as cleaning their shoes and changing their clothes to minimize the risk of transmitting any infection.
Arkansas' position in the Mississippi Flyway -- the migration route followed by millions of wild waterfowl each year -- means that the virus threat won't be going away, Smith said.
Holland and Badley said avian influenza doesn't survive very long in high summer temperatures.
Holland said wild birds along the Mississippi Flyway have been found to carry avian influenza, but they don't become as sick from it as domesticated birds do.
More northerly states in the flyway, such as Iowa and Minnesota, are now dealing with outbreaks that are expected to ease over the summer, Badley said. But he cautioned that the situation in Arkansas could worsen this fall when temperatures drop and migration begins.
"There's very little we can do about that," Badley said. "The ducks are going to come down here."
SundayMonday Business on 05/31/2015