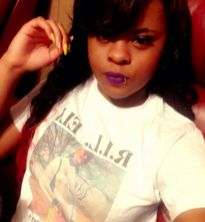 Tatyana Hicks, 16.
Authorities are searching for a 16-year-old Jacksonville girl who didn't return to her foster home after visiting her cousin on Halloween.
Tatyana Hicks was last seen Saturday before she went to visit her cousin. She was supposed to return to her residence at about 8 p.m. but never did, the Pulaski County sheriff's office said Monday.
Hicks weighs about 120 pounds and stands about 5 feet 11 inches tall with brown eyes and brown hair with red ends. She was last seen wearing a black dress.
She was picked up at her home in North Little Rock on Saturday by someone, possibly her cousin, in a black Ford Mustang, according to a report.
Anyone with information about Hicks' whereabouts is asked to contact the sheriff's office at 501-340-6963.
Sponsor Content