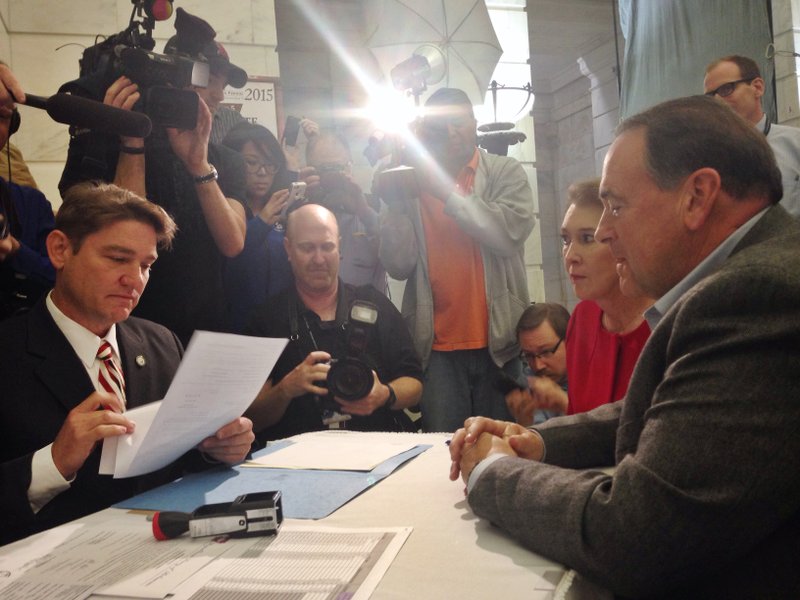 Arkansas Secretary of State Mark Martin reviews paperwork filed by Republican presidential candidate and former Arkansas Gov. Mike Huckabee at the state Capitol on Monday, Nov. 2, 2015. ( Sara Janak)
Former Gov. Mike Huckabee traveled from Iowa on Monday to be the first to file paperwork at the start of Arkansas' one-week candidate filing period at the state Capitol in Little Rock, making his bid for the White House official.
Accompanied by his wife Janet, Huckabee, 60, signed the paperwork for his U.S. presidential bid at noon as the filing period kicked off for candidates seeking state, federal and nonpartisan judicial offices in 2016.
The Republican presidential contender served as governor of Arkansas from 1996 to 2007.
Huckabee said he's "thrilled that Arkansas is one of the early SEC states, as it's being called, because it's going to be an important part of our strategy in winning the nomination and on to the white house."
Arkansas shifted its primary elections from May 24 to March 1 to join several Southern states in what's been dubbed the "SEC primary" because many of the participating states have university athletic teams in the Southeastern Conference.
Speaking after making his candidacy official, Huckabee contrasted the "diverse" Republican field with the "not very robust" Democratic field.
"The Democrats basically have three choices — all of whom are considerably left of center, and all are vying to see if they can get even further left of center," he said, adding that "it's pretty much decided that instead of having a nomination, they'll have a coronation," alluding to Democratic candidate Hillary Rodham Clinton.
The former Arkansas governor also said he wasn't pleased with the substance and time allocation of last week's GOP debate on CNBC.
"What we don't want is for our [GOP] debates to be turned into something akin to a game show where we're asked silly questions, like what's your weakness, what do you think of fantasy football," he said. "I got three questions all night … no one got as few as me."
Later in the day, Huckabee is set to headline the Arkansas Republican Party's Raise the Roof Rally in Little Rock, which is also scheduled to feature Gov. Asa Hutchinson.
Candidate filing ends at noon Nov. 9. The party primary election and nonpartisan judicial and prosecuting attorney general election are set for March 1, followed by the general election Nov. 8, 2016.
Check back with ArkansasOnline for updates on the candidate filing period and read Tuesday's Arkansas Democrat-Gazette for full details.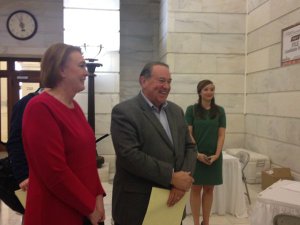 Photo by Sara Janak
Former Arkansas Gov. Mike Huckabee stands with his wife, Janet, right, as he prepares to file at the state Capitol on Monday, Nov. 2, 2015.
Sponsor Content