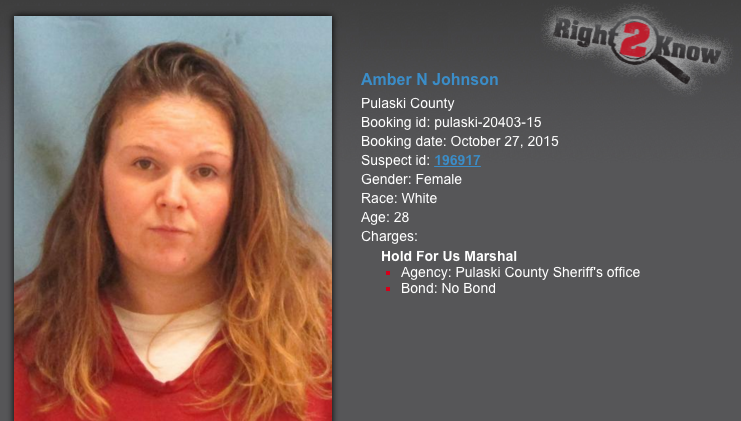 Amber N. Johnson ( Pulaski County sheriff's office )
A 28-year-old Cross County woman admitted Tuesday to a federal judge that she forced her female cousins, ages 15 and 17, into prostituting themselves out of hotel rooms in Jonesboro and North Little Rock earlier this year.
Appearing in the Little Rock courtroom of U.S. District Judge D. Price Marshall Jr., Amber Nicole Johnson of Wynne pleaded guilty to a single charge of sex trafficking of children, for which she faces at least 10 years in prison when sentenced May 25.
A pre-sentence investigation that Marshall ordered U.S. probation officers to begin will determine the penalty range within the statutory framework of 10 years to life, as suggested by federal sentencing guidelines. The statute also allows for a fine of up to $250,000 and requires the judge to impose restitution for any monetary losses suffered by the victims.
Authorities said in May that the FBI had begun an investigation into human trafficking in Arkansas after Johnson was arrested April 29 on a Craighead County warrant at a central Arkansas motel. State troopers who served the arrest warrant reported finding the 15-year-old girl, who they said had been sexually exploited, in the motel room, along with two other children, ages 2 and 3.
In court Tuesday, Assistant U.S. Attorney Allison Bragg told the judge that the 15- and 17-year-old girls, who are sisters, had run away from a foster home in November 2014 and went to live with Johnson, her boyfriend and her two young children in Jonesboro.
Bragg said that beginning in February, Johnson started taking her cousins to motels in Jonesboro and North Little Rock, where she would leave them to baby-sit her two children while she left to solicit prostitution business.
Bragg said Johnson would allow the "johns" to decide whether to have sex with her, the 15-year-old or the 17-year-old. When the men chose one of the minors, Johnson accompanied them, Bragg said. She said the men usually paid $20, but sometimes paid $50 or even occasionally $100.
Sometimes, the prosecutor said, Johnson kept the money. Other times, she said, Johnson gave the money to whichever teen had the sex.
Standing at a courtroom lectern in navy-blue jail clothing and a chain around her waist, Johnson told the judge that everything Bragg said was true -- that she had recruited her cousins to have sex for money.
When Marshall asked what she used the money for, Johnson said she used it to pay for the motel rooms and meals.
In a plea agreement that Johnson negotiated through defense attorney Molly Sullivan of the federal public defender's office, she agreed that she recruited the girls "in reckless disregard" of the fact they were under age 18. The agreement calls for a sentencing enhancement because Johnson is related to the girls and had supervisory control of them.
Arkansas State Police Col. Bill Bryant said troopers were led to Johnson and her children, despite having "little to work with; only allegations of a runaway child somewhere in Arkansas held against her will." He said the troopers worked with the agency's Crimes Against Children Division to "rescue a child lost in the vicious world of human traffickers."
Although court documents said the 15-year-old was at least the third underage girl that Johnson was accused of forcing into prostitution, no details were provided in court Tuesday about a third victim.
An affidavit filed in Craighead County District Court on April 13 said state police civilian investigators began investigating Johnson in February after a girl, then 14, was taken to the Arkansas Children's Hospital and told a social worker that she had been placed with a foster family in August but ran away around Thanksgiving.
"The victim reported that she was having sexual intercourse with four to six men each day and was told that Amber Johnson's children would not be able to eat if she stopped prostituting," Jonesboro detective Jason Simpkins wrote in the affidavit.
It said the girl's older sister, then 17, also told investigators that she ran away from foster care and that Johnson forced both sisters to have sex for money with men, whom she described only as "Mexicans."
Authorities later confirmed that the 15-year-old girl was held in a juvenile detention center for five days on prostitution charges as a way to keep her safe until she was released into the custody of the Arkansas Department of Human Services.
The law enforcement practice of charging and jailing juvenile sex-crime victims because there is no place else to hold them is common across the country, according to a report prepared for members of Congress last year. The report criticized the practice because it treats victims as criminals.
The August 2014 report by the Congressional Research Service said locking up child victims of sex crimes can further traumatize them and leave them with criminal records for crimes they were forced to commit. State police said they didn't intend to pursue the charges against the 15-year-old.
It was unclear Tuesday whether Johnson is still facing any state charges in addition to the federal charge.
Metro on 11/04/2015
Print Headline: Cousin: Forced 2 teens to have sex
Sponsor Content