What need have we of houses? We need shelter from the elements, certainly, and maybe, as George Carlin observed, a place to stow "our stuff." But in recent years, economic factors have disrupted the American idea of a house as a prime asset, a chief -- if not the major -- repository of one's wealth.
Photo by Jason Ivester
The front of the house has a privacy-ensuring concrete-block masonry wall at the front.
Photo by Jason Ivester
An Interior view of the home shows the value Wright places on interior beauty over curb appeal.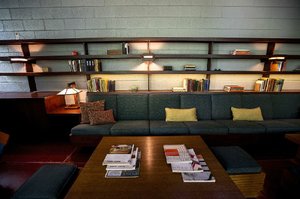 Photo by Jason Ivester
An Interior view of the home shows the value Wright places on interior beauty over curb appeal.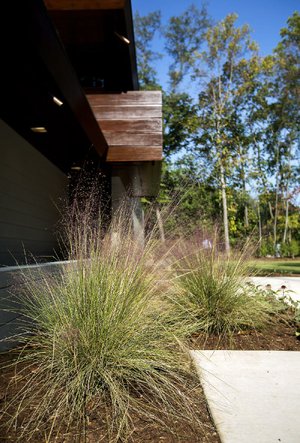 Photo by Jason Ivester
The Bachman-Wilson House, designed by Frank Lloyd Wright, embraces its natural surroundings.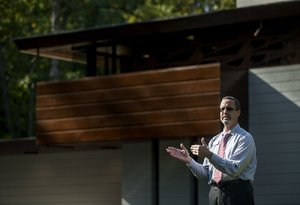 Photo by Jason Ivester
Scott Eccleston is director of grounds and facilities at Crystal Bridges Museum of American Art, which opens the Frank Lloyd Wright-designed Bachman-Wilson House to the public Wednesday.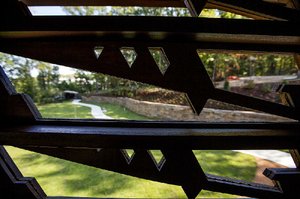 Photo by Jason Ivester
Hand-sawed plywood cutouts in the clerestory windows enhance the Bachman-Wilson House's design.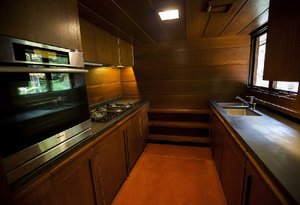 Photo by Jason Ivester
The kitchen inside the Bachman-Wilson House at Crystal Bridges Museum of American Art has a 6 ½ -foot ceiling.
In Walden, Henry David Thoreau, the existential scold who meant to show us how we could live better with not so much, wrote:
Bachman-Wilson House
Opens Wednesday, Crystal Bridges Museum of American Art, 600 Museum Way, Bentonville
Hours: 11 a.m.-6 p.m. Monday and Thursday, 11 a.m.-9 p.m. Wednesday and Friday, 10 a.m.-6 p.m. Saturday-Sunday. Closed Tuesday
Tours: Self-guided tours available each day except Tuesday; one-hour guided tours available except on Tuesday and Friday
Admission: free, but advance tickets are required
Information: Guest services, (479) 657-2335 or crystalbridges.org
"Consider first how slight a shelter is absolutely necessary. I have seen Penobscot Indians ... living in tents of thin cotton cloth, while the snow was nearly a foot deep around them, and I thought that they would be glad to have it deeper to keep out the wind. ... I used to see a large box by the railroad, six feet long by three wide, in which the laborers locked up their tools at night; and it suggested to me that every man who was hard pushed might get such a one for a dollar, and, having bored a few auger holes in it, to admit the air at least, get into it when it rained and at night, and hook down the lid, and so have freedom in his love, and in his soul be free. This did not appear the worst, nor by any means a despicable alternative."
Thoreau seems an unlikely model for Frank Lloyd Wright, who is alleged to have said: "Give me the luxuries of life and I will willingly do without the necessities." (The quote was reported in Life magazine in 1946, but it sounds like Oscar Wilde to me.) But growing up, the future architect read deeply in the works of the Transcendentalists, Ralph Waldo Emerson and Thoreau. He shared their view of Nature as a kind of deity, and abhorred the incursions of civilization into her realm. Wright incorporated their ideas into his organic architecture.
Elsewhere in Walden, Thoreau wrote: "Not that all architectural ornament is to be neglected even in the rudest periods; but let our houses first be lined with beauty, where they come in contact with our lives." Wright sought not just to bring art into the home, but to make the home itself art.
This might seem pretentious to the modern homeowner, given that Americans began thinking of houses less as temples of family life and more as economical instruments and class signifiers. After World War II, it was widely considered wise for a family to buy "as much house" as they could afford as a hedge against inflation and the vagaries of the market. This is probably the main reason that the average square footage of a new single-family house grew from 983 square feet in 1950 to 2,662 square feet in 2013, even as there was a decrease in the size of the average American family.
A MACHINE FOR LIVING
Maybe this is why Wright's Bachman-Wilson House, which is nearly 1,800 square feet, seems so modest and approachable to modern visitors. Scott Eccleston, the director of grounds and facilities at Crystal Bridges Museum of American Art in Bentonville, says the most common reaction from early visitors to the house has been "I could live here." By that he means they are not awestruck by the structure, which reveals its genius in the details, or discomfited by the squeeziness that sometimes afflicts Wright's smaller houses. They mean they could imagine themselves actually waking up and having coffee in a house like this.
That said, the house, which was originally sited along the banks of a tributary of the Raritan River in Millstone, N.J., and was painstakingly taken apart and rebuilt on the grounds of the museum, where it will open to the public Wednesday, does have some of the hallmarks of a Wright construction. It is anchored around a concrete hearth, with long eaves and a hidden entryway.
Narrow hallways -- one is just a little over 22 inches wide -- and low ceilings (6 1/2 feet in the kitchen) release into an open great room measuring 28 by 35 feet with a built-in banquette that resembles a church pew facing a wall of glass looking onto the woods. Above the glass wall is a line of clerestory windows that wrap around the perimeter. A cantilevered balcony clad in Philippine mahogany overlooks the main area.
Wright always thought a house's interior more important than how it looked from the street, and from the front Bachman-Wilson has an almost military aspect, presenting a privacy-ensuring concrete-block masonry wall to the street. The more attractive face is the wood and glass arrangement the house turns to the forest, and the nearby creek that echoes the original site's river.
While Wright is known for the sprawling houses he built for wealthy clients, such as Fallingwater in Pennsylvania and the Frederick C. Robie House in Chicago, Bachman-Wilson is a late example of Wright's Usonian style -- an attempt to create a democratic, distinctly national style of housing for the middle class. He built about 100 of these houses around the country, using simple materials like concrete, wood and glass, and pioneering cost-containment measures like the use of passive solar energy and radiant heat.
(Usonian was the adjective Wright preferred over American, which he thought was too imprecise, since North and South America comprise many nations. He mistakenly believed he borrowed it from the 1872 novel Erewhon by British author Samuel Butler. While the word Usonian doesn't appear in Erewhon, it was briefly in vogue in Europe after four former British colonies in Africa were unified into the Union of South Africa in 1910. Some suggested that to eliminate confusion, the United States be referred to as Usona -- United States of North America -- to avoid confusion with the new U.S.A. L.L. Zamenhof, the inventor of Esperanto, used Usono to refer to the U.S. in a 1910 speech at World Congress of Esperanto in Washington. Wright picked it up somewhere, just not from Butler.)
Bachman-Wright is exceptional among Wright's Usonian designs because it incorporates a second floor (which will be closed to museumgoers). It's fairly large for a Usonian, and probably far more expensive to build than most Usonian designs, which were by and large constructed of site-pressed bricks that were ornamental and functional. While it's not hard to imagine one of those Lego blocklike Usonians disassembled and moved across the country, moving the Bachman-Wright House was a remarkable engineering feat that required the careful labeling of boards and screws.
If we don't know exactly where Wright picked up the term Usonian, we do know when and where he started applying the concept to actual building. In 1936 he accepted a challenge issued by Herbert Jacobs, a reporter for the Milwaukee Journal, to design and construct a house for $5,000 (about $87,000 today). Wright designed and built an L-shaped structure with an open floor plan and two small bedrooms he called "sleeping chambers."
To save money, Wright declined to include a dining room and replaced the garage with an overhang he called a "carport." (He also may have diverted some brick from his Johnson Wax Building commission to try to make the budget, which he eventually overran by $500.) This Ur-Usonian bears a family resemblance to the Bachman-Wright House, especially in its largest room, the "active space" with a glass curtain wall looking into the back.
Wright's Usonian houses were quite similar to their Prairie predecessors -- flat roofs, open floor plans, native materials, clerestory windows and a ground-hugging horizontalness. (Fay Jones, the Arkansas architect who studied with Wright and is considered perhaps his greatest disciple, once noted that the difference between him and Wright was that while Wright built "like this" -- here Jones waved his back and forth in the air -- he built "like this" -- chopping his hands up and down.)
But they were smaller and, the Bachman-Wilson House excepted, generally one story.
Wright believed that architecture could change people's lives, that better houses make better people. His remarkably long and rich career was marked by a willingness to redefine and reinterpret the American Dream even as it was evolving. When he started out in the 19th century, that dream was largely bucolic. It was about having your own land, living in communion with nature. By the time he died, it had become more about people living in close proximity, milling through public spaces, working in offices. Wright distrusted urbanization. The Usonian houses were another way of building for, and toward, a big, open country.
UNRULY ORNAMENTALISM
Wright looked around and saw a landscape of mongrel, borrowed and overly ornamented design. He was less determined to make inexpensive houses than to remake America to his own specs.
In one sense, he never quite got there. Wright was 70 years old when his first Usonian design was completed, and almost every one of the Usonians ran significantly over budget. They were relatively expensive houses in practice. Some encountered structural problems -- his flat roofs famously leaked, and he hated load-bearing interior walls, so sometimes those roofs sagged. A plan to sell modular houses (Usonian Automatic) in a kit to be assembled by the homeowner never caught on. The few that were sold proved too complicated for most homeowners, who ended up hiring contractors to put the pieces together.
Sure, if you look around any modern suburb you'll see plenty of ugly houses -- examples of unruly ornamentalism and soggy nostalgia. But you could make the case that Wright's designs are the basis for the American ranch house. It wouldn't be difficult to argue that Wright is the father of mid-20th-century modern design. He may have been the only great architect who ever envisioned his clientele as the middle class.
He didn't succeed in making inexpensive architecture for the masses. What the Usonian houses became were special places, beautiful works of art inhabited by people of comfortable means.
The sort of artifacts that belong in museums.
Email:
pmartin@arkansasonline.com
blooddirtangels.com
Style on 11/08/2015