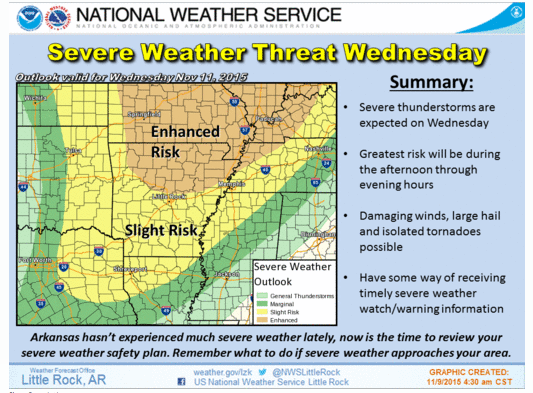 National Weather Service graphic details chances of severe weather in Arkansas on Wednesday, Nov. 11, 2015.
Severe weather is possible for much of the state this week, according to the National Weather Service in Little Rock.
Jeff Hood, a meteorologist with the agency's North Little Rock office, said northern parts of Arkansas will experience the brunt of a system moving west through the region, which will bring the possibility of tornadoes. He noted, however, that a chance of showers and thunderstorms covers all of the state.
"The main threat on Wednesday is going to be damaging winds," Hood said.
Showers and thunderstorms will arrive early Wednesday as the system tracks from Kansas to Iowa and drags a cold front through Arkansas, according to the weather service.
"On Wednesday we will have a threat of isolated tornadoes," Hood said.
The storms will clear from west to east by Wednesday evening, he said.
"As we go into the day early Thursday morning most of the state should be dry."
Conditions on Monday and Tuesday will be clear, Hood said. Temperatures in Little Rock on Monday will hover in the 60s with nighttime lows in the 40s. Tuesday will be slightly warmer with a high of 70 degrees and a low of 57 degrees.
Sponsor Content