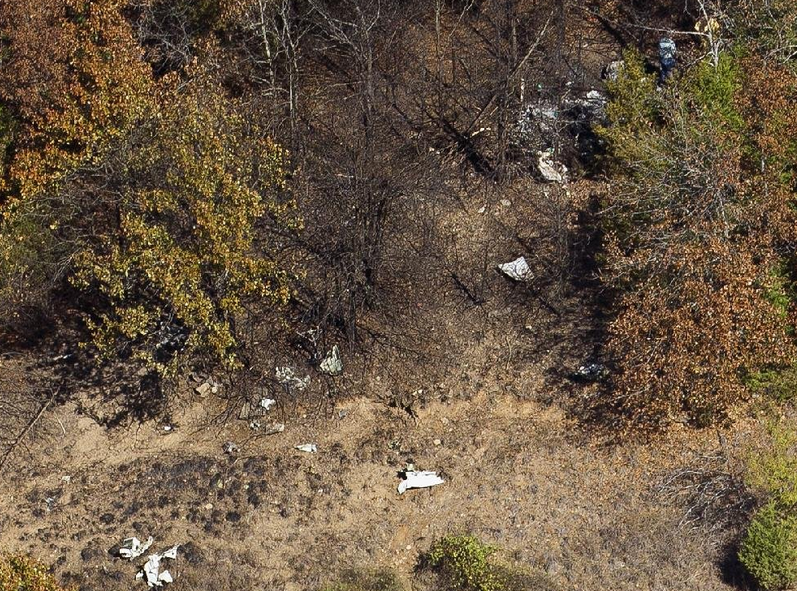 The burnt wreckage of a single-engine airplane lays among the trees on Crow Mountain in Russellville. ( Benjamin Krain)
All four people aboard a single-engine plane that crashed into Crow Mountain last month died from the wreck's impact.
Gallery: Pope County plane crash
The state medical examiner's office has ruled that multiple instances of blunt force killed the pilot and his passengers, who were on their way to a relative's funeral in Knoxville, Tenn., Pope County Coroner Danny White said Tuesday.
White said the finding meant that the victims likely died instantly or almost instantly. Also, if the pilot had suffered a severe medical problem such as a heart attack just before the crash, that would have shown up in the autopsy, the coroner said.
A post-impact fire destroyed the plane after it ran into treetops on the mountain between Pottsville and Russellville just after takeoff from the Russellville Regional Airport on a foggy morning on Oct. 29.
Using DNA, the medical examiner's office earlier identified the dead as the Beechcraft Bonanza's pilot, Philip Cowger, 65, of Dardanelle; and siblings Robert Harris, 48, of Russellville, Wesley Harris, 43, of Pottsville and Julie Harris Lefevre, 41, of Dover, according to the Pope County sheriff's office and their obituaries.
The siblings' parents, John and Carol Harris of Russellville, were already in Knoxville for the funeral of Edward Harris, who was buried the same day the plane crash occurred.
Cowger had flown the plane before and was familiar with Crow Mountain. At just a mile from the airport, the mountain is visible from it.
Because of the fog, the plane was flying at 216 feet above the ground, just a few feet into the clouds, which were at 200 feet above ground level and accompanied by mist, said a preliminary report released last week by the National Transportation Safety Board.
Visibility at the airport at the time of the takeoff was 4 miles, though it would have been less as the plane approached the clouds.
It usually takes 12-18 months for the board to determine the cause of a plane crash, safety board spokesman Keith Holloway said.
The plane wreckage has been inspected by investigators and has been moved off the mountain to another site.
State Desk on 11/11/2015
Print Headline: 4 in plane crash died on impact, examiner finds
Sponsor Content