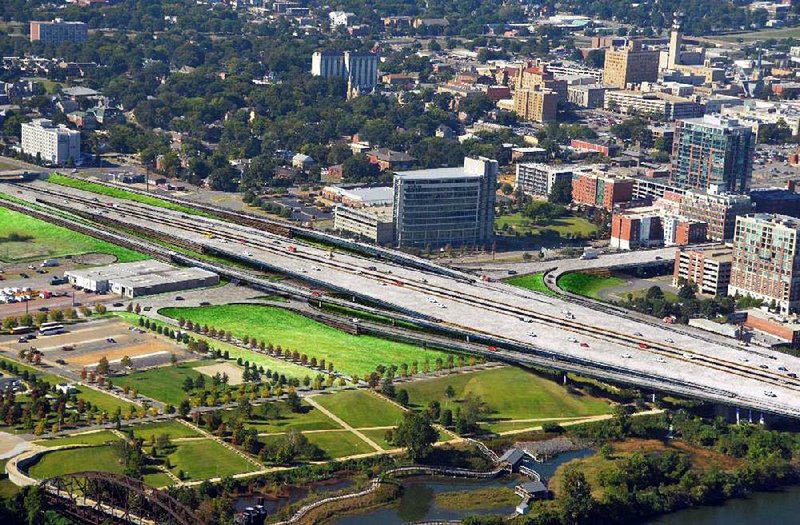 Special to the Arkansas Democrat-Gazette - 10-13-2015 - Artist rendering of the Interstate 30 interchange serving downtown Little Rock as it would look after a proposed widening of the interstate through the downtown area..
Little Rock city directors are divided on whether to adopt a resolution directing the Arkansas Highway and Transportation Department to consider alternatives to a proposed Interstate 30 lane expansion project.
City Director Kathy Webb moved Tuesday for a resolution she drafted to be added to next week's Board of Directors agenda for a vote. It calls for the Highway Department to consider Metroplan's Imagine Central Arkansas Plan, to invest in other public transportation such as light rails and street cars, and to evaluate alternative options used in other cities.
The resolution would have no direct impact on the Highway Department, because the department doesn't answer to the city, but it would make the city's stance known.
The resolution says, "favoring one mode of travel at the expense of all others tends to make communities less competitive, less resilient, and more dependent on larger future government subsidies, while degrading quality of life, and limiting citizens' choice."
Vice Mayor and City Director Lance Hines said he won't be voting in favor of the document.
"This seems like a very one-sided resolution to me. I think the Highway Department could come in and refute every one of these points with facts and figures," Hines said.
Both he and Little Rock Mayor Mark Stodola also said it might be premature to present any resolution, because the Highway Department has a public meeting on the project planned for 6 p.m. Monday at the Clinton Presidential Center.
"I think there'll be more information, more visualization on this on Monday," Stodola said.
The work proposed under the I-30 project include replacing the 50-year-old bridge over the Arkansas River and widening the interstate up to five lanes in each direction on part of a 6.7-mile corridor through Little Rock and North Little Rock. Another option includes four lanes in each direction. The crossing over the Arkansas River right now has three lanes in each direction.
Webb's resolution states that expanding road capacity "as a response to congestion tends to increase congestion and shift it elsewhere in the system." It also says other communities have replaced urban freeways "with more responsive infrastructure."
Highway Department officials told city leaders at a public meeting last week that public input has continued to alter the plans for the I-30 lane expansion, which has been estimated to cost $600 million.
At that meeting, city leaders wanted engineers to look at steering traffic away from accessing LaHarpe Boulevard via Cumberland Avenue and its intersection with East Markham Street/President Clinton Avenue when entering and exiting the interstate in downtown Little Rock. They cited the high volume of pedestrians at the intersection, which is within the city's popular River Market District.
Garver LLC engineers is working on the $1.8 billion Connecting Arkansas Program of which the I-30 corridor project is a part. The company told the city board that new options would be put forward as soon as January to address how traffic gets into and out of downtown Little Rock.
One option it unveiled last month would close LaHarpe at Cumberland and Markham/President Clinton and would steer traffic exiting and entering I-30 onto Second and Fourth streets instead.
Even with the proposed changes to the plan, Webb told fellow board members Tuesday it was important for city leaders to voice their opinions on the highly debated project.
"I was really struck by all the thought that people put into their remarks at the meeting last week," she said. "One of the people who talked spoke about how this is one thing that's going to be in place for decades to come, and for people who are going to be crossing this bridge and working and playing in this area long after we're gone, and for us to really think about the vision we have for not only next year, but the next 50 years."
Webb's resolution is scheduled for a vote at Tuesday's 6 p.m. city board meeting in the second-floor boardroom at City Hall, 500 W. Markham St.
Information for this article was contributed by Noel Oman of the Arkansas Democrat-Gazette.
Metro on 11/12/2015
Print Headline: LR directors disagree on I-30 project stance
Sponsor Content