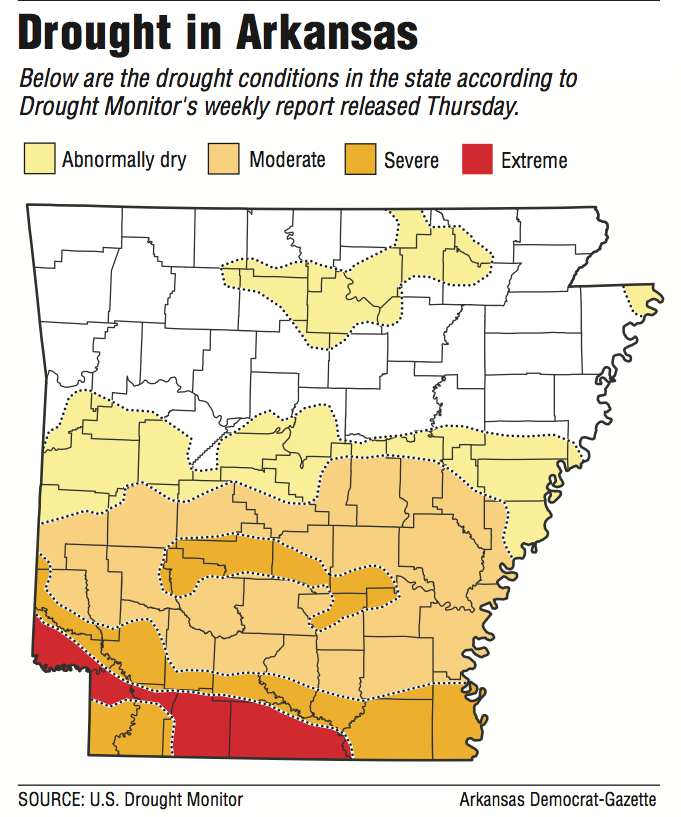 A map showing the drought conditions in Arkansas. (Arkansas Democrat-Gazette / Source: U.S. Drought Monitor )
A lack of rainfall for the past month, dry winds from the north and low humidity have increased drought conditions in southern Arkansas to the point that cattle farmers are worried about hay and pasturelands.
All but 22 counties in the northwest quarter of the state are considered to be in danger of wildfires, according to the Arkansas Forestry Commission.
The National Weather Service in North Little Rock said that there is little chance for any rain over the next several days and that the arid climate, especially on the southern border of the state, will worsen quickly.
"It's not a pretty picture for Arkansas," said Eric Luebehusen, a climatologist with the U.S. Department of Agriculture in Washington, D.C. "The whole area is awful. If I were a betting person, I would bet that the drought is going to intensify rapidly."
Luebehusen wrote the weekly drought report for the National Drought Mitigation Center at the University of Nebraska-Lincoln.
He said scientists are focusing primarily on southern Arkansas, northwestern Louisiana and eastern Texas this week because of the declining conditions.
Officials won't consider the Arkansas drought as a "flash drought" yet. That designation is given to areas that see a short-term, severe event with abnormally high temperatures.
According to the center's report, 60.7 percent of Arkansas is in some form of drought, an increase from last week's 49.6 percent.
Three months ago, the state was drought-free, Luebehusen said.
The report says parts of Ashley, Columbia, Lafayette, Little River, Miller, Ouachita and Union counties -- 4.6 percent of the state -- are rated as being in "extreme drought." That means the area has had a rainfall deficit of 4 to 5 inches over a 30-day period.
Seventeen percent of the state, mostly in the southern tier counties, is in "severe drought," and has had a rain shortfall of 3 to 4 inches over 30 days.
Other areas of the southern half of the state are considered "abnormally dry" or in "moderate drought" and are from 1 to 3 inches short of normal rainfall over a 30-day period.
Northeast Texas is considered to be in a "flash drought," Luebehusen said.
"As we head into next week, I think there is a strong argument that south Arkansas can be called the same thing," he said. "The whole area is awful."
Farther north in the state, cattle farmers are seeing the effects of dry conditions.
Stone County farmers are concerned about running out of pastureland too soon this year.
Heavy rains kept farmers from cutting hay earlier in the spring; the hay they were finally able to cut was good because of the moisture, but it was later than normal.
The dry conditions are now limiting October hay production.
"I don't know if many farmers can cut another [crop]," said Mindy Sloan, the president of the Stone County Cattlemen's Association. "They may have to start feeding [stored] hay if they run out of pasture.
"It's getting dry and dusty," she said.
Sen. Bruce Maloch, D-Magnolia, said Columbia County has not seen much rainfall since the Fourth of July.
"We're close to feeding hay, instead of pasture, and that doesn't happen until at least the middle of November or the first of December.
"It's so dry now that if we planted hay, it may not come up. It's a desperate situation."
The USDA designated Little River County as a primary natural disaster area Wednesday because of the drought. Farmers and ranchers in Hempstead, Howard, Miller and Sevier counties also qualify for disaster assistance because their counties are contiguous to Little River County.
"Our hearts go out to those Arkansas farmers and ranchers affected by recent natural disasters," Agriculture Secretary Tom Vilsack said in a news release.
Rainfall was scarce in southern Arkansas in September. El Dorado measured 0.04 inches of rain during the month, compared with a normal 3.11 inches over the same period.
Other areas along the southern edge of the state saw only 2 percent to 3 percent of normal rainfall over the past 30 days and only about 20 percent over 60 days, which contributed to the rapid deterioration of conditions, Luebehusen said.
Eight counties in western Arkansas -- Howard, Little River, Montgomery, Pike, Polk, Sevier, Scott and Yell -- are considered to be in "high danger," meaning all burning of trash, brush and debris is discouraged because of winds and low humidity.
Another 45 Arkansas counties are classified as being in "moderate" wildfire danger.
County judges in 30 counties in the southern and central part of the state have issued burn bans.
"We've seen a large increase in wildfires over the last two to three weeks," said Josh Smith, acting district forester for District 4 of the Arkansas Forestry Commission, which covers seven counties in the southern edge of the state.
"We got some rain earlier this week, but it wasn't enough to settle the dust," he said. "When something gets going, it burns quickly."
Forest rangers spotted a large fire by plane in Lafayette County on Thursday afternoon, he said.
Smith said the area's Keetch-Byram Drought Index, which measures the soil's capability of holding water, was rated at 731. The highest, or worst, rating is 800.
"Conditions are rapidly decreasing," said National Weather Service meteorologist Jeff Hood of North Little Rock. "It looks like another week of continuing the dry pattern."
Lower temperatures, northerly winds and plummeting dew points have left the area very dry, he said. Some areas in southern Arkansas reported only 20 to 40 percent humidity Thursday.
"It's making drying conditions worse," he said. "The fuels [for fire] are drying out and summer vegetation is already dying."
Hurricane Joaquin, which is chugging up the eastern U.S. coast and may hit land by early next week won't deliver rain to Arkansas, Hood said.
An increased El Nino -- the warming of the Pacific waters that diverts the northern jet stream deeper south -- should produce more moisture for the state by December, but that won't help now, he said.
"We have a frontal system coming by the middle of next week, but it doesn't look to be overwhelming," Hood said. "I don't think conditions will improve."
A Section on 10/02/2015
Print Headline: State dries out as rainfall lags
Sponsor Content