Each time teen-aged Tom Walton passed through the downtown Bentonville square, he drove it backwards, entertaining his friends as they drove the empty streets.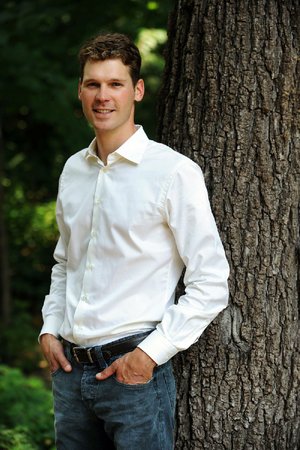 Photo by Andy Shupe
Tom Walton, son of Jim Walton and grandson of Sam Walton, has been very active in developing the mountain bike trails in the area and is the co-chair of the national Just Communities conference.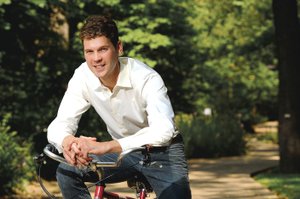 Photo by Andy Shupe
"Honestly, our thought was that this is the only trail we'll ever have in this town, so let's make it the best we possibly can."
The son of Jim Walton and grandson of Wal-Mart founder Sam Walton could do that back then, before the population exploded and the downtown became a destination.
DATE AND PLACE OF BIRTH: Sept. 25, 1983, Rogers. I spent my most recent birthday in Marfa, Texas, a small town that pushes the envelope and is rethinking its branding.
Fantasy dinner guests: Richard Branson, Elon Musk, Eckhart Tolle and President Obama
My bikes are: an electric bike, a mountain bike and a road bike
A typical ride of mine: a mountain bike ride in Bentonville before work
A scent that makes me nostalgic: The forest floor tones from a good French red. It takes me back to the deep woods behind my house where I played in the dirt as a kid.
What gets me energized: Building a community, helping people live healthier and better lives, the urban mountain biking culture, working with people who challenge the status quo, and studying things that disrupt or cut against the grain
People always ask me: "What's the formula for a successful downtown community?" More than the food and the culture. Having a strong, active and healthy community
Someone who inspires me: Bob Chapman
What I've been reading lately: The Places in Between by Rory Stewart and Everybody Matters by Bob Chapman
A self indulgence of mine: My Jawbone Big Jambox — I take it everywhere I go
What I love about Bentonville: It has an intellectual business side that is global and unlimited. We have cultural happenings in art and music. We are a collaborative city with community members and government that fight complacency. We have a great local food movement, an active lifestyle with a strong cycling culture and incredible urban mountain biking trails. We are a ski town for bikes. Bentonville is a great place for lifestyle entrepreneurs and startups. We are a city with great quality of life full of talented people.
Something you may be surprised to learn about me: I never watch TV.
What's always in my refrigerator: Dark Chocolate — 70 percent
A WORD TO SUM ME UP: Grateful
"I love that story because now I spend a lot of my passion and energy on downtowns and revitalization," Walton says. "When you look at it [now] it's hard to think it was ever so empty ... but that was the truth."
These days, he walks and cycles those streets more than he drives them. On a recent September day, he strolls them -- waving to familiar faces, like a doorman who used to be his history teacher -- and points out the developments he's had a hand in since his return to Arkansas.
There's Flying Fish, which added a Southern, homespun flavor to the mix of restaurants on the square. And the Bentonville Farmers Market that gives the perception of more happening in downtown. There's Downtown Bentonville Inc., which brings people together for shared fun. 21c Museum Hotel's steady stream of modern works brings art visitors downtown. And a number of food trucks, like Crepes Paulette, activate little pockets of space that would otherwise go unnoticed.
As managing principal of RopeSwing, a Bentonville-based hospitality company, Walton spends his time brainstorming what would suit his hometown best and making the first leap to invest in those visions.
"We work on partnerships to bring in local food restaurateurs to open restaurants and bring in local food ... to figure out downtowns," Walton says, as he steps through the Lawrence Plaza Splash Park and onto one of the beginner-level trails that leads to Crystal Bridges Museum of American Art.
Among those first partnerships was one with Rob Apple and his wife, who ran a little espresso cart. Not long after they met Tom and heard his vision for downtown, they opened the Pressroom in the Massey building. Their location has since become a gathering hot spot.
"It's been a really great experience to work with so many people who genuinely love what they do," says Apple, now in business development and operations for RopeSwing. He helps enable other success stories like his own. "Every project brings in new people who are eager to put their talents to work.
"Tom has been incredibly supportive and encourages the team to indulge their creativity as much as possible."
When selecting businesses to enhance the downtown experience, Walton starts by asking one question: Does it add something to the overall quality of life in Northwest Arkansas?
"Tom has big ideas," says Mike Malone, president of the Northwest Arkansas Council. "He forces all of us to think bigger about how we're doing as a region, not just economically but especially quality of life.
"He gets that for a place to be interesting, it has to offer a lot of great things to do, great experiences. And if those aren't in place, young professionals seek somewhere else."
AN UNDULATING PATH
Among the most critical missing pieces to the region, Walton saw, was a trail system that could be accessed by cyclists and runners of all levels of experience at all hours of the day.
"A counter here shows 1,200 people a day come through this section," Walton says, hopping up on a wooden ladder bridge, an alternate line that allows more traffic on the narrow trail. "There have been people who've said to us 'Why do you need to build more trails? Do people really need it?' When I look at that number, I know there's a high demand."
Walton, 32, is a cyclist through and through. He spent his college years pumping through the mountainous region of Flagstaff while studying history and business at Northern Arizona University and was amazed at what the miles of open trail and fresh air did for his disposition.
Always sunny and clear, it was wildly different from the harsh winters he'd recently spent at a boarding school in Charlottesville, Va.
For him, cycling wasn't a hobby. It was a way of life. He calls his bike "horse," takes it wherever he goes and often rides it an hour each day. On travels he frequents Colorado for its trails with steep climbs and deep drops ideal for the advanced rider like himself.
Walton felt comfort knowing he could access those trails at any time.
"Before work, in the middle [of the day], after class or post-work," Walton says. "I saw that as a real attractive element to the overall quality of life there. People gravitated to that lifestyle, and I said, 'Man, I want this.'"
The early years of his career were spent in downtown developments in Denver and Austin, and when he began to think of returning home, it was investment in trail systems that made the most sense as a starting place.
His family's business had grown to an empire, bringing thousands of people and their families to the Northwest Arkansas region for a strong economy. But without trails, restaurants and extracurricular activity, Walton thought it difficult to attract fresh business talent and even harder to keep them around.
"There's a yin and yang," Walton says. "Where you have a high intensity business culture that is very driven ... [you need] to relieve that stress."
Trails were his answer.
As a board member for the Walton Family Foundation, Walton made himself comfortable within the Home Region Program to drum up support to get the funding, bicycles and equipment needed to create at least one good trail.
"I think he kind of knew he wanted to build a cycling culture," says Steuart Walton, his brother. "It was one of those things that he looked at for down the road, saw the kinds of investments and building blocks needed for that culture to flourish.
"He was the one leading the charge."
What came of it was the Slaughter Pen Trail, a single-track bike path just wide enough for one cyclist, mostly smooth with occasional patches of rocks and roots and just challenging enough to keep it interesting.
At first, it was just a five mile stretch.
"Honestly, our thought was that this is the only trail we'll ever have in this town, so let's make it the best we possibly can," Tom Walton says. "We built an amazing little section and we've added on ... to piece together one of the best mountain bike trail systems in the country."
"He pushed for more," Steuart Walton says. "He wasn't satisfied with the first [few] miles of single-track. Phase two, he said, 'That's not good enough.' Phase three, 'Not good enough.'
"He had the vision to see beyond not just the next project but three, four projects down the road."
Now a nationally recognized trail that spans more than 30 miles and has status as a silver level ride center by the International Mountain Bike Association, it was really just the tip of the iceberg.
The Walton Family Foundation has since enabled 300 miles of multi-use trails in Northwest Arkansas through the Home Region Program. That includes the 36-mile off-road Razorback Regional Greenway, the improvement of the Lake Atalanta trails and a public school bicycle program that provided nearly 3,000 bikes and more than $561,000 in grants for 27,000 students from all four of the biggest school districts in Northwest Arkansas.
"Tom's been a champion of trail investments and was one of the early visionaries for how that developed throughout the region," says Karen Minkel, Home Region Program director for the Walton Family Foundation. "He had passion in natural surface trails and ideas to create access to the beautiful natural assets and protect them."
The trails are scattered throughout the area and generally on a "stacked loop" system, which means getting the most out of miles within a limited area of urban space.
"It put us on the map," Walton says, emphasizing that his hope is for Northwest Arkansas to become a destination for cycling. "We can give out to the community a diversity of trail options and for all different ride levels -- everything from the more advanced stuff to beginner stuff."
GREAT TRAILS BUILD GREAT COMMUNITIES
With many miles of trails comes much responsibility. As the pathways have popped up, so too have an army of volunteers, bicycle shops, nonprofit organizations and group rides. The biking community and trails are growing and feeding off each other, thanks in part to Tom Walton's vision and leadership.
It was a broad and inclusive vision, big enough for a community.
"It's more than 'I like cycling, everyone else should like cycling,'" Steuart Walton says. "He saw it as a great way to get people involved and build the strength of the community as a fitness component, transportation and community bonding ... a great way to engage people."
The group FAST, Friends of Arkansas Single Track, cropped up from the Slaughter Pen days and organizations like the Bentonville/Bella Vista Trailblazers Association, Bike Bentonville and Girls Bike Bentonville, as well as Pedal It Forward, followed shortly after. And Walton supports them all.
"FAST is the group of the year with over 4,000 volunteer hours dedicated to the city of Bentonville," Walton says. "They are, without question, the most impressive volunteer group I've ever witnessed ... wanting to build more trails and taking off to do maintenance on them to make them as attractive as they are."
Nonprofit Pedal It Forward partnered with the Wal-Mart return group and makes use of the thousands of bicycles returned to the retail store each year by getting its volunteers to first rebuild and repair them, then give them to people in need.
A number of city initiatives, bike education and safe routes are the work of Bike Bentonville. And Girls Bike Bentonville boasts an impressive turnout -- 70 and 80 women -- who assemble a few times a week for group rides, sometimes on their lunch breaks.
Having these groups and implementing bike share programs are the meaningful little touches, Walton says, that make a difference in retaining young talent at Wal-Mart and other Arkansas companies. And it has a startling effect on the local economy.
"A lot of the investment [by Tom privately] and the Walton Foundation's philanthropic support is going to pay huge dividends and already is," Malone says. "All over, there are shops and access to the Razorback Greenway. The increase in bike- and bike-related expenditures is dramatic."
In 2012, Northwest Arkansas consumers spent just shy of $5 million on bicycles, according to consumer spending surveys done by the Bureau of Labor Statistics.
"Even as big as that figure is, I think we'll continue to see that amount grow as the data updates to reflect all the recent trails and cycling activities that have been added" in recent years, Malone says.
WHAT YOU SCATTER
Being the grandson of one of the richest, most successful American businessmen didn't mean that Tom Walton had a particularly extraordinary childhood. It just meant that his parents had to try hard to keep it normal. They refused to keep a TV in the house, so Tom and his three siblings spent hours playing in the creek.
Most weekends, they would pack sack lunches, grab a bucket and spend afternoons fascinated with "crawdads, salamanders and all different sizes and scales of critters" there. Family trips were days of canoeing and nights of camping at the Buffalo and Kings rivers with family friends.
"Whenever I talk about Arkansas, and people ask me what do you think of, it's rivers that are the most important feature for me," Walton says. "There's something about going down a river, powered by yourself, the serenity and quiet and the reflection point that brings a smile to your face and connection with nature."
He never knew his grandpa Sam in the context of business, but first remembers him as the family man who would jump out of the canoe and swim alongside the whole way.
There were never any real business conversations or obligations to follow in the family tradition. More important were coachings centered on integrity, becoming a well-rounded person and developing the ability to connect with people.
"I know a lot of people felt like anybody could go up and talk to Sam," Walton says. "They weren't intimidated by his approach or the way he talked. A lot of us have tried to carry that on. Like him, I value collaboration and engagement that you have from communicating with people."
In his prodigal years, those collaborations were with people like John Hickenlooper, then a business developer and now governor of Colorado, for building up downtown Denver and a number of folks for mixed-use projects in the real estate development of Austin.
For Walton, it was the expertise he needed to improve his hometown, and something he's always wanted to do. His aunt Alice Walton's plans for a museum just added the extra incentive for him to return and get around to it.
"That brought me back from the outside world to focusing on efforts here in Bentonville," Walton says. He serves on the board of directors there, too, and loves that regional excitement it's created around art.
Walton has a large legacy to carry on, and it's the words of his grandmother Helen that inspire him to continue giving back to his community.
"'It's not what you gather in life, it's what you scatter,'" he says. "When I think of the work we do here in the home region and downtown, I use that as a guiding compass."