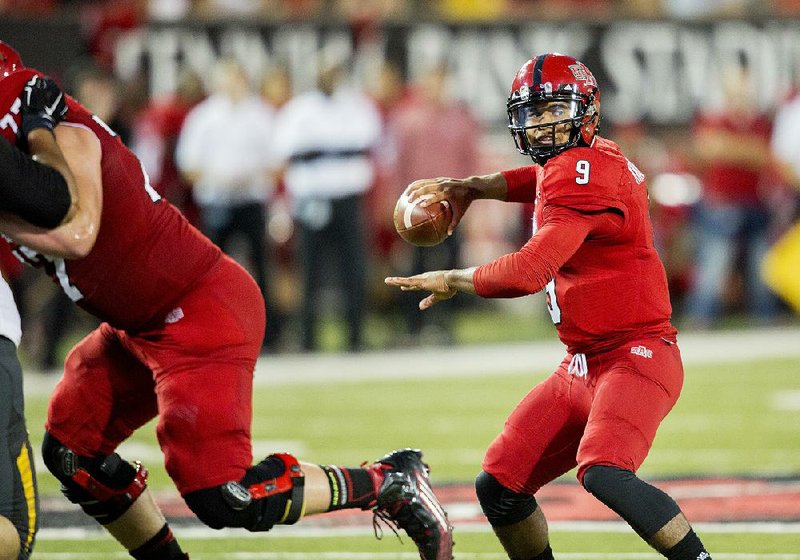 Arkansas State quarterback Fredi Knighten passes the ball into the end zone during an NCAA college football game, Saturday, Sept. 12, 2015, in Jonesboro, Ark. (AP Photo/Gareth Patterson) ( FR170364 AP / Gareth Patterson)
JONESBORO — Another week, another injured starter for Arkansas State.
ASU guard Daniel Keith will miss next week's game against South Alabama after having what Coach Blake Anderson described as a "procedure" to repair a high-ankle sprain Monday. Keith's injury, suffered during the second half of Saturday's victory over Idaho, is similar to what cost Keith 11 games last season, but to a different ankle.
Anderson said one game might be all Keith misses, though.
The procedure conducted Monday was done in hopes that he could return in "nine to 14 days," Anderson said. Keith is expected to return for ASU's Oct. 31 game against Georgia State, but Anderson said he could even return the week before, Oct. 20 against Louisiana-Lafayette.
"We've been through this with him before, and he responded well," Anderson said. "It's going to be more about swelling and pain tolerance than anything. Structurally, he'll be fine."
Anderson also said Monday that quarterback Fredi Knighten will return to lead the top offense for Tuesday's practice and is "99 percent" sure he'll return as starter Oct. 13 against South Alabama.
Knighten, a senior and preseason first-team all-Sun Belt Conference pick, hasn't played since injuring his groin Sept. 12 against Missouri. The Little Rock native returned to practice last week, but watched Saturday as James Tabary made his third career start.
"All indications were [Sunday] that he should be ready to go this next week," Anderson said. "I expect that unless there's some kind of setback that he's going to be our guy from this point on."
Tabary, a redshirt freshman, completed 16 of 25 passes for 188 yards with 1 touchdown and 1 interception in Saturday's victory. In three starts, Tabary completed 67.1 percent of his passes while averaging 222.0 yards per game with 4 touchdown sand 4 interceptions.
Read Tuesday's Arkansas Democrat-Gazette for full details.
Sponsor Content