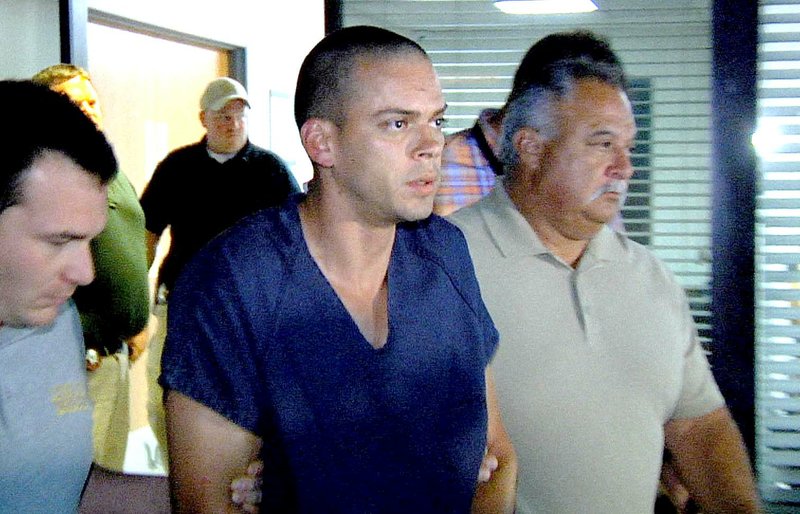 FILE — Arron Lewis is escorted by authorities at the Pulaski County sheriff's office in this September 2014 file photo. ( Ron Blome / NBC News )
Accused killer Arron Michael Lewis will mount an insanity defense, despite state doctors twice finding him mentally sound, his lawyer Bill James announced in court Monday.
James has also filed 28 motions on his client's behalf. Half of them challenge evidence in the case: the abduction and killing of real estate agent Beverly Carter.
Pulaski County Circuit Judge Herb Wright set a Nov. 16 hearing to consider the motions. The other motions are routine or deal with technical points of law.
Lewis, 34, was in court for about four minutes Monday. He did not speak and his arms and legs were shackled.
He was guarded by four deputies, two of whom held him by his arms during Monday's proceeding. At least once, the deputies pulled his arms back when he tried to pick up documents that James had left on the podium while addressing the court.
It was Lewis' fifth circuit court appearance, but his first time in court with James as his state-appointed lawyer.
Lewis had represented himself for about three months after firing his first lawyer, an attorney who said he volunteered his services, in March.
State doctors have examined Lewis twice to determine whether he is mentally ill. James said he had the second test done last month as part of his trial preparation.
Lewis is scheduled to stand trial in January over Carter's death. The 50-year-old married mother of three disappeared in September 2014 after telling her husband she was going to show a Scott home to a client.
The house was empty when Carter's husband arrived to check on her 3½ hours after he last heard from her. Carter's 2014 Cadillac, with her purse inside, was still parked at the house.
Her body, bound with duct tape, was found four days later buried behind the concrete plant in Cabot where Lewis worked.
Lewis, already in custody and accused of kidnapping Carter, was charged with capital murder that same day.
Prosecutors are seeking a life sentence.
Lewis' wife, Crystal Hope Lowery, pleaded guilty to first-degree murder for her role in Carter's death and accepted a 30-year prison sentence in July with the promise to testify against Lewis.
Lowery helped plan the kidnapping of Carter and helped dispose of her body after Lewis killed her, prosecutors state in court filings.
Authorities allege that Lewis abducted Carter in a scheme to hold her for ransom.
But the defense has moved to prevent Lowery from testifying, citing marital privilege. In Arkansas, the Rules of Evidence prohibit a spouse from divulging "confidential communications" related during the marriage, according to a defense motion.
The couple were married in April 2014, but Lowery filed for divorce in October 2014, about two weeks after Lewis was arrested.
Lowery stated in her divorce petition that they had split up a month before Carter disappeared, after 17 weeks of marriage.
Lowery did not state why they separated, but she complained that Lewis had not disclosed his criminal past of seven felony convictions to her.
Three days after Carter disappeared, Lewis crashed his car, a 2012 black Ford Fusion, while under surveillance by sheriff's deputies as a person of interest in the case.
James has moved to block prosecutors from introducing any evidence obtained from the one-car wreck.
The attorney has also challenged the legality of deputy interviews with Lewis before he was charged with murder. One interview occurred on the road after the crash. The second was an an interrogation lasting several hours.
James also has petitioned the court to suppress the results of searches of Lewis' Jacksonville home and the Fusion during which investigators seized a Fuji camera, a silver iPhone and an IBM laptop.
Authorities reportedly found Carter's cell phone in Lewis' home and duct tape, a baseball bat and a rope in the car.
The defense also has asked the court to make authorities return a computer thumb drive, a watch, iPad, a second cell phone and a Gateway laptop seized during the investigation. The items are not being used as evidence, the defense states.
Prosecutors will have to prove to the judge that the searches and interrogations were lawful.
In a federal lawsuit, Lewis, acting as his own lawyer, maintains he was tortured by authorities to the point of serious injury while he was being questioned.
Prosecutors have filed notice that they intend to use phone records that show text messages and phone calls were exchanged between Carter's and Lewis' phones.
The defense has challenged those records too, asking the judge to make prosecutors prove the legitimacy of any text messages or emails purportedly between Lewis and Carter that they want to use as evidence.
The defense has asked the judge to bar prosecutors from using any evidence they might have acquired through subpoenaing AT&T and Google, arguing that prosecutors don't have sufficient authority to make the companies turn over any records. Those subpoenas are "illegal," James said.
The defense also wants the judge to block prosecutors from soliciting testimony that dust on Carter's shoes shows she walked around the area where her remains were found.
There's no scientific basis for that claim, so prosecutors shouldn't be able to make that assertion at trial unless they can prove it ahead of trial, Lewis' attorney argues.
The defense makes the same argument regarding prosecution testimony about tracking phones through cell tower "pings."
Prosecutors should have to prove the scientific basis of that claim before they can present such evidence at trial, the defense states.
Metro on 10/06/2015
MORE TOP STORIES IN TODAY'S DEMOCRAT-GAZETTE
Print Headline: Plea to be insanity in Realtor's murder
Sponsor Content