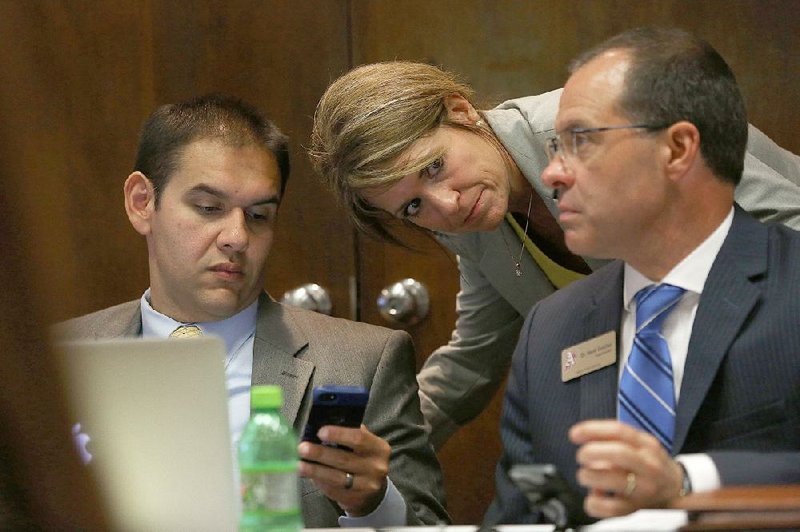 Mark Gotcher (right), the Education Department's deputy commissioner is shown with ADE Assistant Commissioner of Learning Services Dr. Debbie Jones, center, and Mike Hernandez, Deputy Commissioner for Arkansas Department of Education, left, in this file photo. ( Melissa Gerrits)
An Arkansas Department of Education panel gave preliminary approval Wednesday to a proposed charter high school in which students would have opportunities for concurrent college credit and workplace internships in areas of student interest.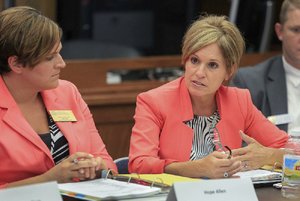 Photo by Rick McFarland
Debbie Jones (right), asst. commissioner, learning services for the state Department of Education, speaks during a meeting of the state Board of Education in Little Rock Wednesday.
The Charter Authorizing Panel's unanimous vote for the Future School of Fort Smith will go to the Arkansas Board of Education later this year for the final action needed to open in the 2016-17 school year.
The panel made up of top-level staff members at the state Education Department acted on the Future School -- on track to become the first open-enrollment charter school in Fort Smith -- at a meeting in which it tabled a decision on the proposed Arkansas Connections Academy statewide virtual charter school and denied an application for the Redfield Tri-County Charter School.
The proposed Future School of Fort Smith would open initially to 150 10th-graders and add 11th- and 12th-graders in subsequent years, eventually serving as many as 450 students.
Trish Flanagan, a former Teach for America teacher and founder of Future School, said the school would be a part of Big Picture Learning, a 20-year-old network of 56 schools in the United States and three international schools. Big Picture Learning promotes individualized education plans and workplace experience for students -- particularly underserved urban students.
The Fort Smith campus received support from city businesses, lawmakers and the Fort Smith School Board. It would provide students with four choices of concentration: arts and letters, technology and industry, entrepreneurship, and education and public service, Flanagan said.
Classwork would be feature hands-on, cross-curricular projects. Each student would be provided with a laptop and software for schoolwork, she said.
School-based advisers and workplace mentors would be another feature of the school.
Students could be expected to graduate with college course credit and/or career technical education from the University of Arkansas at Fort Smith or Western Arkansas Technical Center, also in Fort Smith. Each student also would graduate with a portfolio exhibiting high school accomplishments and demonstrating growth and grit, Flanagan said.
Mark Gotcher, a panel member and the Education Department's deputy commissioner, said he thought the school would lead to retaining residents in Fort Smith and an improved economy.
Debbie Jones, the department's assistant commissioner for learning services, said she has high expectations for the campus.
"We very much need a real model that's practiced for personalized learning plans," Jones said. "I believe with the agreements and relationships they have with apprenticeships and with higher ed, they have a legitimate plan that can be successful."
Jennifer Liwo, an attorney in the department and a member of the panel, said she liked the idea that students can explore career fields of interests as interns "without paying for it," in contrast to paying tuition in college for a field of study they may not like.
Annette Barnes, the department's assistant commissioner for accountability and a panel member, praised the school plan for giving opportunities to all students for leveling the playing field.
"It inspires hope," Barnes said.
In other action, the board tabled the Arkansas Connections Academy in order to get more information from the school planners.
The virtual school is designed to serve up to 3,000 students statewide in kindergarten through 12th grades. It would have its headquarters in Bentonville and would contract with Connections Education, which provides academic courses and the student learning management system for 30 Connections schools in 26 states.
Dennis Beck, a professor of education technology at the University of Arkansas at Fayetteville and president of the board of directors for the proposed Arkansas school, told the charter panel that the Connections courses are nationally accredited in contrast to courses offered at the already existing Arkansas Virtual Academy charter school.
Beck also said the existing school is close to reaching its enrollment cap, yet there is ongoing parent demand for virtual education programs.
Charter panel members asked for further development of proposed school's budget, in part showing all revenue sources and anticipated expenditures for gifted education, special education and services for non-native English language learners.
In addition, they asked for national achievement data for the Connections schools. Members also had questions about the adequacy of the school's $17.50-per-month Internet service subsidy to low-income families and about the Arkansas school's plan to pay half of its anticipated annual budget to the national charter organization.
The panel denied the application from the Redfield Tri-County Charter School, citing a lack of evidence that the school for up to 400 in fifth through 12th grades can carry out a science, math and technology program that planners proposed.
A lack of a defined curriculum in those subjects and a lack of formalized partnerships with higher education and businesses were a concern. The panel members also expressed doubts about the school's financial viability, and a couple of the panel members said they feared the school plan was was one for the past, not one for preparing students for the future.
Amanda Kight, a board member for the school, said the planners have demonstrated their commitment and their resources in part by applying for the charter in three consecutive years.
Kight added that the small school would provide students with personal relationships, experienced educators and opportunities not universally available at larger schools. She said the school planners would be able to raise greater resources once they have an approved charter.
The Charter Authorizing Panel had on its agenda for Wednesday's meeting two proposed open-enrollment kindergarten-through-eighth-grade charter schools for Little Rock: Friendship Lead Academy and Friendship Aspire Academy. Both applications were withdrawn by the sponsoring organization, said Mary Perry, assistant to the administrator in the Education Department's learning services division.
Additionally, the panel was to consider this week an application from Academics Plus Charter School Inc., which operates a charter school in Maumelle, for a charter school in the Scott community in east Pulaski County. That charter application was withdrawn to be resubmitted as a proposed amendment to the existing Academics Plus school's state charter, Perry said.
Metro on 10/15/2015
Print Headline: Charter-school bid gets OK, but panel tables 1, rejects 1
Sponsor Content