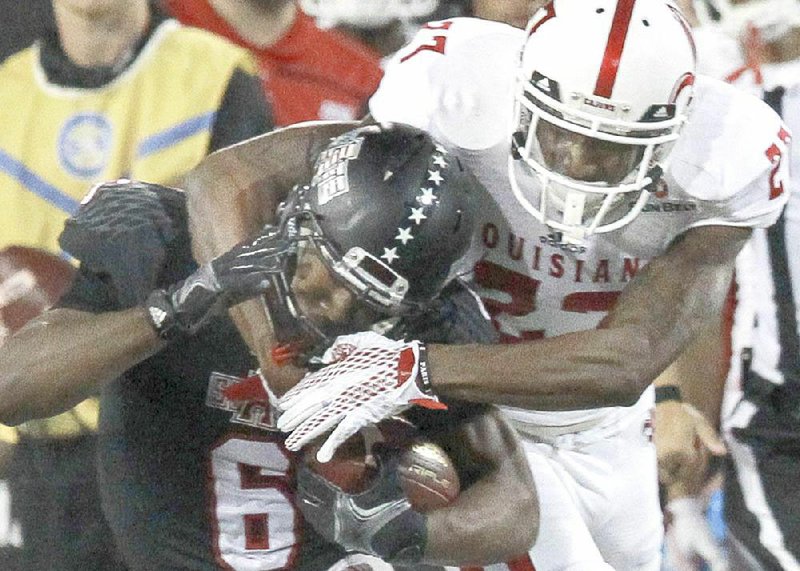 Arkansas State running back Warren Wand (6) tries to escape Louisiana-Lafayette's T.J. Worthy in the second quarter of the Red Wolves' 37-27 victory Tuesday night in Jonesboro. ( Benjamin Krain)
JONESBORO -- Arkansas State had endured two years of frustration delivered by their newly minted rivals to the south.
Gallery: Arkansas State vs. Louisiana-Lafayette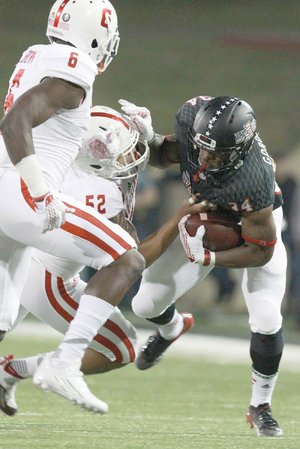 Photo by Benjamin Krain
Arkansas State running back Michael Gordon (right) tries to gets past Louisiana-Lafayette linebacker Dominique Tovell (52) and defensive back Savion Brown (6) during Tuesday's game at Centennial Bank Stadium in Jonesboro. Gordon finished with 73 yards and 1 touchdown on 14 carries to help the Red Wolves win 37-27 and move into a tie for first place in the Sun Belt Conference standings.
That all ended Tuesday night when ASU stuck to the ground while scoring four first-half touchdowns and its opportunistic defense held off a late rally to beat Louisiana-Lafayette 37-27 in front of 20,495 at Centennial Bank Stadium.
[PHOTOS: Gallery from Arkansas State-Lousiana-Lafeyette game]
The victory kept ASU (4-3, 3-0) among three unbeaten teams in the Sun Belt Conference, but likely just as important it avenged two consecutive losses to the Ragin' Cajuns (2-4, 1-1) in front of ESPN2 audiencess.
"We finally got them," said senior Fredi Knighten, who completed 9 of 18 passes for 105 yards with 2 touchdowns and 1 interception and rushed for 72 yards.
"Payback," linebacker Xavier Woodson-Luster said. "It feels good to finally beat them."
It didn't come without some stress in the fourth quarter.
ASU essentially eliminated Elijah McGuire from the Ragin' Cajuns running game. McGuire ran for 265 yards in last season's matchup but was held to a season-low 32 yards rushing Tuesday night. Still, he helped Louisiana-Lafayette chip its way back into the game by catching 10 passes for 134 yards, including a 20-yard touchdown that pulled the Cajuns to within 37-27 with 11:02 left.
McGuire was stopped on the two-point conversion run, and ASU's defense -- which gave up 485 yards but came up with two key interceptions of Jalen Nixon -- forced the Cajuns to turn it over on downs on their final two possessions.
It ended with a sigh of relief for ASU, which lost 23-7 to Louisiana-Lafayette in 2013 and 55-40 last season, both of which essentially knocked the Red Wolves out of winning outright conference titles.
"Whew," ASU Coach Blake Anderson said. "That sucker finally finished. ... Luckily toward the end of the fourth quarter guys stepped up and made some plays."
The latest installment of the rivalry didn't look to be much of a game at first.
Michael Gordon scored on a 2-yard run to put ASU ahead 6-0, then Johnston White darted around the right end of a 21-yard score to make it 13-0.
Warren Wand 's 39-yard run then set up Knighten's 2-yard pass to Darion Griswold, and by the time safety Cody Brown returned and interception 30 yards for a touchdown, ASU's lead was 27-0. The Red Wolves took a 34-14 lead into halftime.
With a passing game a bit erratic, the Red Wolves went to the ground for a third consecutive game, gaining 306 yards on 52 rushes. Wand finished with 98 yards on nine carries, while Gordon had 73 and White finished with 62.
"We came out with the right mentality," said Gordon, who was limited in practice by a knee injury. "We worked this all week and the O-Line got great push for the majority of the night. It's kind of easy on us when they get great push like that."
Anderson said ASU needed contributions from all three backs.
"I think altogether they make one really, really good running back," he said.
Knighten added a 46-yard touchdown pass to Chris Murray to go up 34-14 going into halftime, but Anderson and Knighten acknowledged a letdown in the second half.
The Red Wolves were held to J.D. Houston's 42-yard field goal in the second half. Among their five other possessions in the second half, two ended in a punt, one ended in a missed field goal and another with a Knighten interception.
Of the Red Wolves' 435 total yards, only 165 came after halftime.
Part of the letdown could have had to do with Nixon, Louisiana-Lafayette's quarterback who took over starting duties three games ago.
While ASU was bottling up McGuire, Nixon ran for 201 yards and broke loose on a read keeper that covered 75 yards and pulled the Ragin' Cajuns to within 27-7 in the second quarter. Nixon was 6 of 22 passing in the first half, but he found an outlet in McGuire in the second half and finished 17 of 44 for 253 yards. He became the first Cajuns quarterback to pass and run for 200 yards since 1987.
Anderson called Nixon "a load" and Woodson-Luster said his ability caught ASU off guard.
It wasn't enough to prevent ASU from beating Louisiana-Lafayette for the first time since 2012, though, or from improving to 3-0 in the conference for the first time since 2011. Now, ASU has at least 10 more days to stay among the Sun Belt unbeatens.
"They're becoming our rival now," Knighten said. "At the end of the day it's just another game. Trying to be undefeated in the conference, and it's just a step to it."
Sports on 10/21/2015
Print Headline: Red Wolves run through Cajuns
Sponsor Content