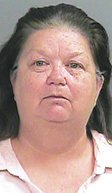 Connie Ramey
The driver fired from a West Fork preschool last month after a child spent more than seven hours in the preschool's van pleaded innocent Tuesday night to a misdemeanor charge of endangering the welfare of a minor.
The child spent much of the day Sept. 9 in a van belonging to Growing God's Kingdom preschool, according to a West Fork police report. The preschool is owned by state Rep. Justin Harris, R-West Fork, and his wife, Marsha Harris.
Connie Ramey, 56, of West Fork pleaded innocent, and Ben Catterlin was appointed as her public defender, said Pauletta Welch, chief clerk at West Fork District Court.
Ramey's trial has been set for Dec. 1.
Ramey surrendered to police Oct. 9 after learning a warrant had been issued for her arrest. She was booked into the Washington County jail in Fayetteville but was not detained. She was cited and released without having to post bail.
Ramey was fired from her job at the preschool Sept. 10.
According to the police report, Ramey picked up the 3-year-old girl about 7:15 a.m. on Sept. 9, unloaded children at the preschool at 8 a.m. and then made a second run to pick up more children. She unloaded the second group of children at the preschool around 9 a.m.
The 3-year-old girl was overlooked both times the 2014 Chevrolet van was unloaded, according to the report.
Ramey told police she parked the van in the shade after unloading the second group of children. She said she did paperwork for 15 minutes, then walked to the back of the van to shut off the alarm, which is standard procedure. She "cracked both windows," locked the van and went into the preschool building, according to the report.
Ramey told police she returned to the van that afternoon to find the child still in the vehicle.
Justin Harris told police Ramey called his wife at 2:26 p.m. on Sept. 9, and Marsha Harris instructed Ramey to take the child into the air-conditioned preschool building.
Police Chief Bryan Watts said the child was conscious and talked to paramedics when they arrived about 2:30 p.m.
It was 81 degrees that day in West Fork, and the child's temperature was 97 degrees when she was discovered in the van, according to the report by West Fork police officer John Paul Nelson.
An exam by Dr. Laurie Anderson of Northwest Physicians clinic in Springdale "did not find anything wrong" with the child, according to the report.
Metro on 10/22/2015
Print Headline: Driver pleads innocent over kid forgotten on bus
Sponsor Content