The lobbying firm founded by former state Rep. Bruce Hawkins lent $30,000 on April 20 to Senate Revenue and Taxation Committee Chairman Jake Files, who repaid the loan last week, Files and Hawkins said Wednesday.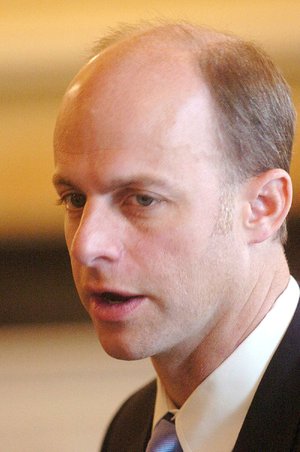 Photo by Democrat-Gazette file photo
Senate Revenue and Taxation Committee Chairman Jake Files is shown in this file photo.
Hawkins' lobbying firm -- DBH Management Consultants -- disclosed the loan made to Files in an amendment to the firm's second-quarter lobbying report and its third-quarter lobbying report filed Oct. 15 with the secretary of state's office.
"I am not going to circumvent the rules by not reporting it," said Hawkins, of Morrilton.
He added that he contacted the Arkansas Ethics Commission about the matter "in an abundance of caution."
Graham Sloan, director of the Ethics Commission, said he talked with Files about reporting the loan, and Hawkins might have had a conversation with a commission attorney about reporting the loan. State law allows lobbyists to make loans to lawmakers but requires their disclosure by lobbyists, Sloan said.
Files, a Republican from Fort Smith, has served in the state Senate since 2011 and been chairman of the Senate Revenue and Taxation Committee since 2013. He was in the state House of Representatives from 1999-2003.
Hawkins founded his lobbying firm in 1995, according to its website. Hawkins served as a Democrat in the state House from 1983-95.
Files, a real estate developer and contractor, said at the end of this year's regular session, his J3 Partners construction company needed a loan. He received several suggestions of people to call, including Hawkins.
He said he called Hawkins.
"We worked out a loan and signed a note, and it was a regular business transaction at that time," Files said. "I have banking relationships, too. Why I didn't use a bank on this one? I don't know."
The interest rate was 5 percent, and the term was six months, the men said.
Asked why he didn't get the loan from someone else, Files said that "hindsight is 20/20."
"It wasn't anything improper," he said. "It was a normal business transaction on my end, so I didn't think anything of it. I would not do it again just for appearances."
Files said he is unaware of any other lawmakers that have taken loans from lobbyists.
Hawkins said he's not aware of any other lobbyists lending money to lawmakers, and he's never provided another loan to a lawmaker. Sloan said he doesn't recall the issue coming up previously.
Hawkins declined to explain why his firm loaned $30,000 to Files or what the loan was for, referring those questions to Files.
"Jake is a good man," Hawkins said. "He's a friend."
Files said he's unaware of any legislation he sponsored at Hawkins' request this year, and the loan "was not" tied to any legislative action. Hawkins said his lobbying firm's loan to Files was not and will not be tied to any legislation.
DBH's clients include the Arkansas Ambulance Association, Arkansas Association of Chiefs of Police, Arkansas Foundation for Medical Care, Arkansas Homebuilders Association, Arkansas Vending Council, Conway County Legal Beverage Association, Delta Dental of Arkansas, Southland Park Gaming & Racing of West Memphis, Southwestern Energy Co. of Houston, Selected Funeral and Life Insurance Co. of Hot Springs, Southern Pioneer P & C Insurance Co. of Jonesboro, Farm & Home Mutual Insurance Co. of Paragould, United Home Insurance Co. of Paragould and Reliance Health Care of Conway, according to its lobbyist registration in the secretary of state's office.
The firm's other clients include the Bernstein, Litowitz, Berger & Grossman law firm in New Orleans; Community Health Solutions of America in St. Petersburg, Fla.; Copart Inc. of Fairfield, Calif.; Cox Communications of Wichita, Kan.; Crown Cork & Seal Co. of Philadelphia; CVS-Health of Washington, D.C.; Distilled Spirits Council of the U.S. in Washington, D.C.; Leads on Line/Leads on Lab of Plano, Texas; Motorola Solutions of Framingham, Mass.; Plains Pipeline LP of Houston; SAS Institute of Cary, N.C.; Shelter Insurance of Columbia, Mo.; Vimo Inc. of Palo Alto, Calif.; and Verus Financial of Waterbury, Conn.
Metro on 10/22/2015