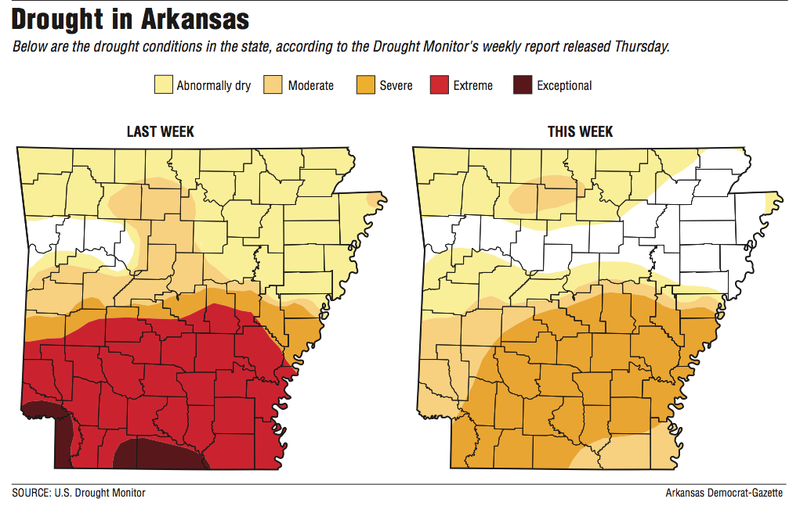 A map showing drought conditions in Arkansas last week and this week. (Arkansas Democrat-Gazette / Source: U.S. Drought Monitor )
Rains that began last week from the remnants of Hurricane Patricia -- the largest storm ever recorded in the eastern Pacific Ocean -- helped quench Arkansas' excessively dry conditions, a weekly report on U.S. drought conditions released Thursday indicated.
The National Drought Mitigation Center at the University of Nebraska-Lincoln said 76.7 percent of Arkansas remains in drought, down from 95.7 percent last week.
Three to 6 inches of rain fell on southern Arkansas over four days, after drought stages had been rapidly growing in severity. The rest of the state saw 2 to 4 inches of rain from Oct. 22 through Tuesday.
"You couldn't have had better conditions in place for this rain," said Brad Rippey, a U.S. Department of Agriculture meteorologist who wrote this week's drought report. "Everything came together just right."
Last week's rains were triggered by the remnants of Patricia, a Category 5 hurricane that hit the western edge of Mexico on Oct. 23 and then wobbled its way across the country, into the Gulf of Mexico and into Texas and Louisiana.
A cold front from the southwest collided with the storm's remnants over Oklahoma and Texas, drawing more moisture from the Gulf of Mexico and creating sustained rainfall. Corsicana, Texas, received 20 inches and experienced extensive flooding.
In Arkansas, Lewisville saw the most rain, with 6.32 inches. Magnolia recorded 6.2 inches of rainfall. Louisiana's Union Parish, just across the border from Arkansas' Union County, measured up to 9 inches of rain over four days.
Union County logged the worst drought rating last week when the center deemed it was in "exceptional" drought, meaning the area was deficient of 5 or more inches of rainfall over a 30-day period.
This week, the area was classified as being in "severe" drought, meaning it was 2 to 3 inches deficient of rain over a 30-day period.
It generally takes a storm system with heavy rainfall to "bust" a drought, Rippey said. Because last week's rains were gentle and sustained, it soaked the parched soil instead of running off of it quickly.
"It takes a tropical event to give the 'knockout blow' to a drought," he said.
A similar situation set up in 2012, when remnants of Hurricane Isaac dropped up to 10 inches of rain on Arkansas, easing drought conditions.
On Aug. 28, 2012, 75 percent of the state was considered to be in either "exceptional" or "extreme" drought -- the two highest classifications of drought issued. A week later, after Isaac's rains deluged the state, 59 percent of the state was rated to be in one of the two classifications.
The Arkansas Forestry Commission said the rains also reduced fire danger across the state, spokesman Adriane Barnes said. The entire state was rated as being low for wildfire danger Thursday.
No counties have burn bans, either. When Little River County lifted its ban Thursday, it was the last in the state to do so. Last week, county judges in 61 of the state's 75 counties had mandated burn bans.
The commission has not reported a wildfire in the state since last Friday, Barnes said.
"This has been the longest time this season we've not had a fire," she said. "These signs usually mean the end to this fire season. The [weather] is following its usual pattern. We're having higher humidity and milder temperatures.
"More than likely, we won't see fires increase again until the next season in January or February."
In Miller County, where farmers have battled extremes in weather conditions all year, the rain is being hailed as a blessing -- provided too much more doesn't follow. National Weather Service forecasters are calling for 1 to 2 more inches of rain tonight and Saturday.
"I wouldn't dare say we're out of the drought," said Jennifer Caraway, a Miller County extension agent. "But we've seen a lot of improvement. Everyone was waiting for this rain."
Farmers in southwest Arkansas have endured a difficult year, she said. Heavy rains at the beginning of the year delayed planting of soybeans. Then, in May, record rainfall deluged Oklahoma and Texas and sent the Red River into flood stage, soaking fields, damaging crops and ruining farmland.
In July, the "flash drought" began, killing many of the crops that made it through the flooding, Caraway said.
"It's been a horrible year for producers," she said. "It's been incredibly difficult."
Dry conditions have been common for the southwest corner of the state. Texarkana is 73.1 inches deficient in rainfall over a five-year period.
"At this point, any rain will help," said National Weather Service meteorologist Davyon Hill of Shreveport. "Southwest Arkansas is still well below normal for the year, but a couple more rains will take the drought to the next lower level.
"The rain this week should improve our standing with the drought."
Arkansas should see widespread rain beginning later today and lasting through Saturday, said National Weather Service meteorologist Chris Buonanno of North Little Rock.
There is a chance for some light thunderstorms along the southern edge of the state, he said.
"I think we're basically returning to an end-of-year pattern," he said. "We're expecting several systems that can bring rain coming over the next few weeks."
State Desk on 10/30/2015
Print Headline: Patricia's rains help to quench drought in state
Sponsor Content