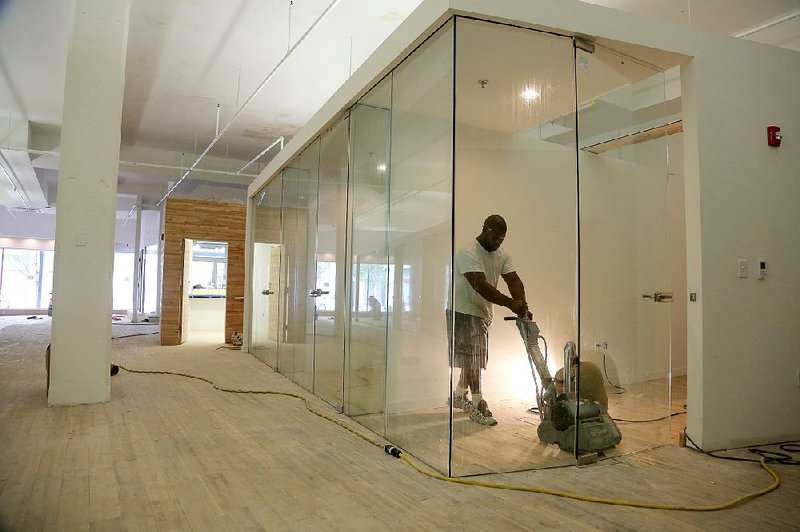 Frederick Blalock sands the oak floors inside the MM Cohn building Tuesday. The owners have had multiple offers on the property that will house the Arkansas Symphony Orchestra on a portion of its first floor. ( Stephen B. Thornton)
Owners of the former MM Cohn Co. department store building at 510 Main St. are close to striking a deal to sell the historic property to the Little Rock-based Chi Hotel Group, which is developing an Aloft hotel next door.
Little Rock Mayor Mark Stodola said this week that the Chi family, which owns a chain of hotels and local restaurants, is planning to buy the MM Cohn landmark and turn it into additional hotel space, including conference and meeting rooms.
Jacob Chi, speaking for the family's development business, said the $22 million to $24 million-hotel project is delayed from its anticipated opening date of late 2015. the hope now is to open sometime between the second and third quarter of 2016, Chi said.
A pool was once planned for the roof, but that proved cost prohibitive, so the Chis are relocating it to a lower level. Bringing the building up to code has taken more time and money. The developer has changed architects, as well.
The hotel has other partners, but they are silent, minority partners, Chi added.
"He's ready to go," the mayor said of Chi. "They have the money, they have the plans. He's apparently made an offer on [MM Cohn] and is close to closing on that."
"He said he thought the acquisition of MM Cohn was in short order. That's what he said," Stodola added.
The contract needs signatures from additional partners, he said.
Chi would not confirm any plans to buy the fivestory, 75,600-square-foot structure, which is for sale through Flake & Kelley Commercial for nearly $3.8 million. The building is owned by a limited liability company led by Scott Reed of Portland, Ore., retired attorney Wooten Epps of Little Rock and a third outof-state investor who Reed declined to name when contacted at the MM Cohn building Tuesday.
Reed — dressed Tuesday in work clothes and covered in dust from ongoing construction at the 1940s building — said he and his partners had sunk about $500,000 into project renovation. One door to the former department store remains boarded and chained; the other leads to the offices and rehearsal space for the Arkansas Symphony Orchestra, though the symphony's space is still not complete.
Reed said he and his partners have had multiple offers on the MM Cohn building but would not say whether they had accepted any of the offers.
"I couldn't confirm any contract on any property until it closes," he said.
The timetable on the hotel project has been wavering for a while, Chi said.
"We have a hard time trying to execute a $22 [million] to $24 million project without knowing what's going to be happening with the rest of the block," he said, speaking of the MM Cohn owners.
"We've been in that position for six to eight months. We've been trying to get some definitive closure from our neighbors and others up and down Main Street as to what is going to occur on the remainder of the 500 block of Main."
Chi still had few answers as of Monday, but said meetings with other property owners, including the MM Cohn owners were ongoing, sometimes daily.
"As of right now the Little Rock downtown Aloft is moving forward. It's going to be a project that comes to fruition," Chi added. "From our standpoint, the project is ready to go."
Before Reed and the others put the former department store on the market with Flake & Kelley in July, they had intended to sink another $4 million to $5 million into it, Reed said. Upper levels were to be high-end luxury lofts.
Reed Realty paid $1.5 million for MM Cohn, the Boyle building and two others they are developing on Main Street then later sold the Boyle building to the Chis for redevelopment into the Aloft. The Chis paid $4.6 million for the Boyle building.
Reed said he and his partners decided to sell MM Cohn and other downtown properties after the Arkansas Legislature changed the number of historic-project tax credits developers can use on a single property.
However, Flake & Kelley's marketing materials for MM Cohn have been approved for tax credits.
Print Headline: Deal called near for MM Cohn site
Sponsor Content