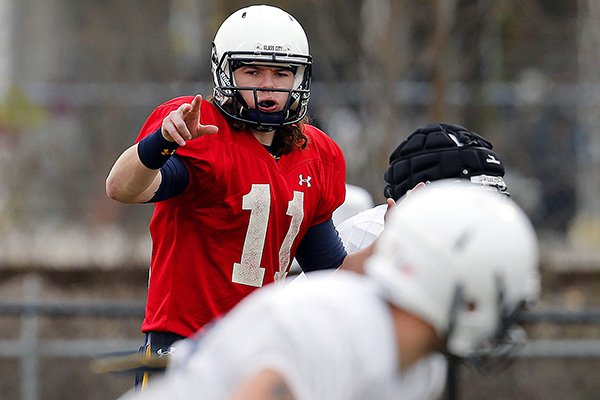 Toledo quarterback Logan Woodside (11) and directs his teammates during NCAA college football practice, Thursday, Jan. 1, 2015, in Mobile, Ala.
FAYETTEVILLE -- After opening the season at home against Stony Brook, the Toledo Rockets bring a 0-0 record to Little Rock for Saturday's game against Arkansas.
The Rockets and Seawolves weren't able to complete their game Thursday night because of lightning and thunderstorms, so it officially was canceled after the second quarter with Toledo leading 16-7.
Toledo proposed finishing the game Friday, but Stony Brook -- which still received a $325,000 guarantee -- declined because it would have meant driving 623 miles back home to New York rather than flying on a chartered airplane.
So there was no winner or loser, and the game statistics don't officially count.
The Rockets outscored the Seawolves 16-0 in the second quarter after a delay of more than three hours.
"Obviously, we'd have loved to finish the game and get credit for a win, but those are things we can't control," Toledo Coach Matt Campbell said Monday. "What we could control was coming out of that delay and playing really well, and I thought our guys did a great job of that."
Toledo, picked by members of the media to win the Mid-American Conference championship after finishing 9-4 last season, will play the Razorbacks without two starters.
Junior tailback Kareem Hunt, who rushed for 1,620 yards and 12 touchdowns in 10 games last season -- including 271 yards and five touchdowns in the Rockets' 63-44 victory over Arkansas State in the GoDaddy Bowl -- and senior defensive end Allen Covington were suspended for the first two games this season for an unspecified violation of team rules.
Campbell said he doesn't expect the suspensions will adversely affect the Rockets.
"I'll be real honest, we've got great depth at both of those positions," Campbell said. "I don't think it has much impact on our football team, other than the fact that there are two bodies that aren't in the rotation of what we do.
"But certainly two good players and we look forward to having them back soon."
Minus Hunt, Toledo's tailback rotation includes sophomore Terry Swanson (113 carries for 732 yards and 6 touchdowns last season) and juniors Damion Jones-Moore (80 for 460) and Marc Remy (42 for 219).
Jones-Moore had 5 carries for 70 yards and 2 touchdowns against Stony Brook on runs of 37 and 7 yards.
Covington -- who had 29 tackles last season and returned a fumble 67 yards for a touchdown against Arkansas State -- is being replaced by senior Keenan Gibbs, who had 13 tackles and 2 1/2 sacks last season.
While Toledo officially hasn't played a game, Campbell said getting in a half against Stony Brook was productive.
"We got to get some really quality reps, got some of the first-game jitters out," said Campbell, who has a 26-13 record in his fourth season at Toledo. "For us, it's continuing our process and knowing the growth that can happen between week one and week two. You certainly have to grow fast when you go play a great Arkansas team."
The 18th-ranked Razorbacks opened Bret Bielema's third season as their coach with a 48-13 victory over Texas-El Paso last Saturday.
"After watching college football last weekend, they're probably one of the elite teams right now in the country," Campbell said. "Coach Bielema's done a great job of taking what he built at Wisconsin and taking it down to Arkansas.
"You can certainly see it's a really well-coached team on both sides of the ball."
The Rockets are playing an SEC opponent for the fourth time. They opened the 2013 season by losing at Florida 24-6 and Missouri 38-23. They lost to Missouri 49-24 at home last season.
"We've tried to schedule that way because I think we like to measure ourselves [to see] where are we and where's our program at," Campbell said. ""We know what it's like to play in those environments. The key is you can't beat yourself. You can't put yourself in a situation where you add fuel to the fire."
Toledo has a former SEC quarterback in senior Phillip Ely, a transfer from Alabama. Ely is back as the Rockets' starter after suffering a season-ending knee injury against Missouri in the second game last season. He completed 17 of 34 passes for 202 yards against the Tigers.
As an Alabama backup in 2012, Ely completed 2 of 3 passes for 15 yards in the Crimson Tide's 52-0 victory at Arkansas.
"Nothing extra," Ely said of playing an SEC team when he met with reporters Monday. "We all kind of go into the games the same way, prepare the same way.
"We have to make an improvement from Week 1, even if it was just a half."
Ely completed 8 of 16 passes for 61 yards with 1 interception against Stony Brook.
"We have this feeling inside of us like, 'Man, we left a lot on the field,' " Ely said. "We started getting going after that first delay and really started hitting on all cylinders."
Campbell said Ely is humble, but a dynamic leader for the Rockets.
"He has a great grasp of who we want to be offensively," Campbell said. "I think he has the ability to continue to keep the chains moving. He creates a big-play threat at all times and has got the athletic ability to make things happen with his feet as well."
Sports on 09/08/2015
Print Headline: Rockets still eager after short opener
Sponsor Content