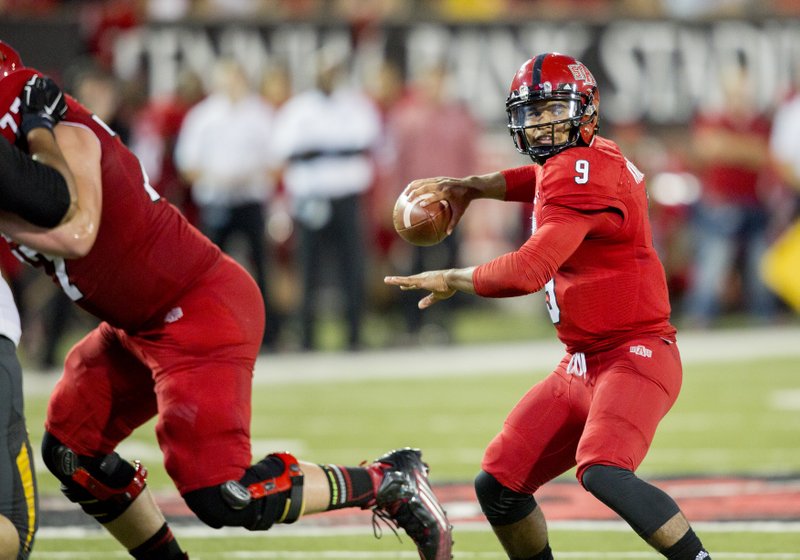 Arkansas State quarterback Fredi Knighten passes the ball into the end zone during an NCAA college football game, Saturday, Sept. 12, 2015, in Jonesboro. ( Gareth Patterson / The Associated Press )
JONESBORO — Fredi Knighten might not practice much this week, but Coach Blake Anderson fully expects the senior quarterback to play when Arkansas State travels to Toledo for its final nonconference game Saturday night.
Anderson said during his weekly news conference Monday that the pulled groin that kept Knighten out of Saturday's victory over Missouri State could limit him in practice Tuesday and Wednesday, but that coaches expect him to be on the field against Toledo (2-0).
"We do expect him to play and expect him to play well," Anderson said. "We're going to be smart with his reps this week, and he'll be limited. They re-evaluated him again [Sunday], and he's doing better than expected. So, we'll expect him to be ready to roll."
Knighten pulled his groin in the third quarter of a Sept. 12 home loss to Missouri. He watched from the sideline Saturday as redshirt freshman James Tabary made his first start and led ASU (1-2) to a 70-7 victory over Missouri State.
Tabary completed 21 of 24 passes for 255 yards and threw touchdowns to three different receivers Saturday. Anderson said Tabary "did a great job," but both Anderson and offensive coordinator Walt Bell said Monday that they don't expect to play two quarterbacks Saturday.
Anderson said a handful of other players who missed Saturday's game with minor injuries are expected back, too.
Linebacker Xavier Woodson (hamstring), tackle Jemar Clark (ankle), center Devin Mondie and cornerback Blaise Taylor (ankle) are all expected to play, Anderson said.
Toledo, which beat ASU 63-44 in the GoDaddy Bowl last season, beat Arkansas 16-12 on Sept. 12 in Little Rock and Iowa State 30-23 in two overtimes Saturday, the first time in program history it has won two games over teams from major conferences in the same season.
The Rockets are receiving votes in both major polls this week.
"They're probably riding high at this point, and getting to play at home in front of their crowd just presents a lot of issues for us," Anderson said.
Read Tuesday's Arkansas Democrat-Gazette for full details.
Sponsor Content