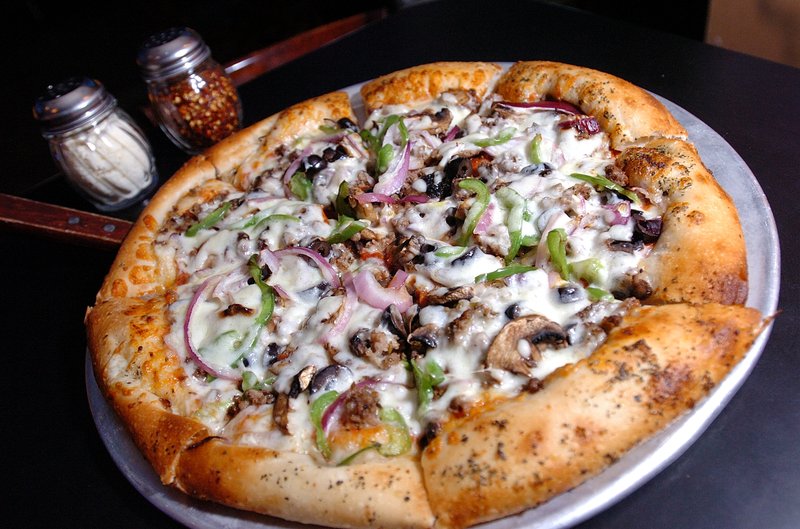 Hand-tossed supreme pizza at Damgoode Pies on Cantrell Road. (File photo)
Damgoode Pies' Chief Operating Officer Roddy Crawford says there's now an Oct. 5 target date for the reopening of the original Hillcrest location, 2701 Kavanaugh Blvd., Little Rock, which has been undergoing renovations for several months. Owner Jeff Trine told our colleagues at Sync a couple of weeks ago that the building "was in pretty rough shape." Among the holdups was the need to replace most of the electrical system and all of the windows and the decision to replace the upstairs "beer closet" with a bar and keg cooler, which will allow the bringing in of kegs of its own beer line from the new River Market brewpub. The phone number for all the Little Rock Damgoode locations -- the one on Kavanaugh plus 6706 Cantrell Road, 10720 Rodney Parham Road (take-out and delivery only) and 500 President Clinton Ave. -- is (501) 664-2239; the website, which as of Tuesday still said the Kavanaugh site is "still on track to open in mid- to late August" (a spokesman for the mini-chain promised somebody in the office would take a look at that), is damgoodepies.com.
The target opening date for La Terraza Rum and Lounge, in the former Acadia space at 3000 Kavanaugh Blvd., Little Rock -- or at least the target for a soft-opening participation in Hillcrest's First Thursday event -- is Oct. 1. They're also planning to announce their grand opening on that occasion. Venezuelan couple Carlos Valdivieso and Ana Lara, co-owners with Armando and Sarah Bolanos, their son and daughter-in-law, respectively, are essentially transplanting the restaurant they've been operating for 20 years in Caracas to Little Rock. Sarah Bolanos says the lunch menu will be primarily sandwich-based, including arepas, a stuffed corn-flour pocket sandwich (similar, we're told, to the Mexican gordita and the Central American pupusa), and Reina Pepiada, an arepa with shredded chicken, avocado and a housemade mayonnaise/mustard blend. On the Latin American-Mediterranean dinner menu you'll find, among the authentic dishes made with plantains and yucca, Pabellon Criollo, shredded beef and black beans over rice that has been called the national dish of Venezuela, and Cachapa, cornmeal pancakes folded around queso fresco. There will also be some Italian-style items, including a lasagna with Italian sausage and bechamel and meat sauces, and "some Spanish influence," up to and including paella. The drink menu will include a lot of rum-based drinks (mojitos, Cuba libres). Tentative hours for the kitchen will be 11 a.m.-10 p.m. with the lounge staying open (and probably serving some late-night tapas-type items) until legally mandated closing time (2 a.m. most nights, 1 a.m. Saturdays), contingent on demand. They may or may not be closed on Mondays. No phone number yet.
The watch continues for the reopening of Jerky's Spicy Chicken and More in its new location, 521 Center St., Little Rock. As of Tuesday's deadline, there were still no updates on a date by phone (501) 246-3096, "Jerkys Jamerican" Facebook page or website. We'll continue to monitor.
And as the first anniversary approaches of our October 2014 report on the supposed return of legendary Little Rock barbecue outlet The Shack at 402 E. Third St. in Little Rock's River Market District, while we'd love to be able to provide an update, we can't. The phone number, (501) 404-2020, still returns the identical voicemail message it did last fall, saying they'll be "opening soon" and to keep checking back for updates -- which, by the way, we have been doing each and every week since. The windows are covered with brown paper and the door is locked (we check that every week, too) and there is yet no sign of a sign. Moreover, the website, theshackisback.com, still bears, unchanged since May 13, 2014, the notice "The Shack BBQ Opening Soon in the River Market District," with the promise, "Stay tuned for grand opening details." Our response to all inquiries on this subject, as it has been for nearly 12 months: "Please rest assured, restive folks, that the moment we get any new word whatsoever, we'll keep you posted."
Cache Restaurant, President Clinton and River Market avenues, Little Rock, is marking National Beer Day Monday with a 5:30 p.m. four-course all-Arkansas Beer Pairing Dinner, with the exclusive launch of a new Diamond Bear brew, plus beers from Lost Forty, Stone's Throw and Hot Springs' Superior Bathhouse, paired with (first course) a charcuterie plate featuring cheese by Kent Walker and Hillcrest Artisan Meats, (second course) house-made sausages, (third course) "Buffalo chicken entree" and (dessert) Diamond Bear root beer float and Le Pops & Lost Forty mini-pops. Cost is $60, including tax and gratuity. Call (501) 850-0265 or visit tinyurl.com/cachebeer.
Lost Forty Brewing, 501 Byrd St, Little Rock, will host its first "Farm & Foam: A Rustic Fall Dinner in the Brewhouse," 6:30 p.m. Tuesday. Executive Chef Scott McGehee will highlight locally raised, seasonal root vegetables and proteins in four courses, each paired with a Lost Forty brew, culminating with a special dessert by local pastry chef Zara Abbasi Wilkerson and the debut of the new barrel-aged Nighty Night Barrel-Aged Imperial Stout. Cost is $70, including take-home tulip glassware to take home, all taxes, and gratuity. Visit tinyurl.com/farm-foam.
The American Heart Association will hold its 12th annual Festival of Wines, 6-8:30 p.m. Oct. 1 at Dickey-Stephens Park, 400 W. Broadway, North Little Rock. Billed as the state's largest wine festival, it features hundreds of wines from around the world and hors d'oeuvres from area restaurants. The "patio party" encompasses the entire Dickey-Stephens concourse and features silent and premier auctions, entertainment and a local artist painting during the festival. Presenter is CHI St. Vincent; sponsors are TRG Foundation, radio station KLAL-FM, 107.7 (Alice 107.7) and KATV, Channel 7; wine sponsors are Moon and Central distributors. Tickets are $60 in advance, $75 at the door/day of the event. Visit heart.org/festivalofwines.
The Downtown Little Rock Partnership organizers say a record 44 of 'em are now registered for the fifth annual Main Street Food Truck Festival, 11 a.m.-4 p.m. Oct. 3 along Little Rock's Main Street between Third and Eighth streets. For more information, or to sign up to be a volunteer, busker or street vendor, call (501) 375-0121 or visit mainstreetfoodtrucks.com.
The third annual Governor's Culinary Challenge, 6:30 p.m. Oct. 19 at the Capital Hotel, 111 W. Markham St., features gourmet bites from eight of Arkansas' top chefs (Payne Harding, Cache; Capi Peck, Trio's; Marc Guizol, Capital Hotel; Matthew Bell, South on Main; Stephen Burrow, Forty Two; Diana Bratton, Cafe 1217 and Taco Mama in Hot Springs; Jamie McAfee, Pine Bluff Country Club; and Cassidy Johnson, Samantha's Taproom and Wood Grill), signature cocktails from three local mixologists (Jared Teague, Heights Taco & Tamale; Luiggi Uzcategui, Big Orange; and David Richmond, Skinny J's) and jazz by Dr. Danny Fletcher and company. Celebrities and local personalities — artists Kevin Kresse and James Hayes; North Little Rock Mayor Joe Smith; Little Rock Mayor Mark Stodola; Margaret Ellerbee, president, Pulaski Technical College; KATV film critic and anchor Renee Shapiro; KATV anchor Chris Kane; David Bazzel, host, KABZ-FM. 103.7 The Buzz; Jason Harper, media personality; Angela E. Thomas, editor, AY Magazine; and radio host Lisa Fischer, KURB-FM, B98.5 — will assist the chefs and mixologists. Tickets are $100; proceeds benefit Thea's scholarship program. Call (501) 379-9512 or visit governorsculinarychallenge.com.
Has a restaurant opened — or closed — near you in the last week or so? Does your favorite eatery have a new menu? Is there a new chef in charge? Drop us a line. Call (501) 399-3667 or
(501) 378-3513, or send a note to Restaurants, Weekend Section, Arkansas Democrat-Gazette, P.O. Box 2221, Little Rock, Ark. 72203. Send email to:
Send email to:
Weekend on 09/24/2015
SHARE THIS STORY
Print Headline: TRANSITIONS
Sponsor Content