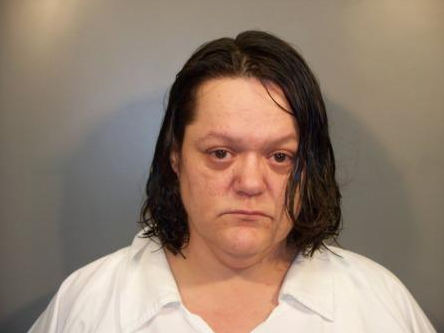 Melissa McCann-Arms ( Arkansas Department of Correction )
An attorney for a De Queen woman serving a prison sentence for giving birth to a baby with drugs in his system told the Arkansas Supreme Court that the law used in the woman's conviction did not apply to her, and not reversing her conviction would result in "absurd consequences."
Arguing on behalf of Melissa McCann-Arms, an attorney from the National Advocates for Pregnant Women, Farah Diaz-Tello, told the state's high court Thursday that McCann-Arms' 20-year sentence was the result of overreach by prosecutors and the lower court, arguing that the law used was intended to prosecute date-rapists and not mothers.
"The law prohibits the introduction of a controlled substance to another person, for example, giving someone a 'knock out' drug," Diaz-Tello said. "There is no mention of placenta, or umbilical cords ... or infants for that matter, that would put a woman of reasonable intelligence on notice that what she was doing could potentially break the law."
But state Solicitor General Lee Rudofsky said that the plain letter of the state statute that criminalizes giving drugs to another person applies as a matter of common sense.
Once McCann-Arms' son was out of the womb, he and his mother both tested positive for methamphetamine.
"Was there a substance or controlled substance in [the baby's] body when he was a person? The answer to that is yes," Rudofsky said. "He was clearly a person after birth whatever we think before birth. Who was the cause of that substance being in his body? The answer to that is again undisputed. Under this statute, that is all that is necessary."
McCann-Arms, now 39, arrived at the Mena Regional Health System to give birth in November 2012. Nurses noticed she was acting erratically.
The child was born and after staff members told investigators that the child was "jittery and shaky" and barely responsive, they found that both she and the child tested positive for methamphetamine.
McCann-Arms admitted to investigators from her hospital bed that she had used the drug several times during the pregnancy including just days before she went into labor.
Andy Riner, Polk County prosecuting attorney, signed off on charging the woman -- already on probation for a theft conviction -- with a crime called Introduction of Controlled Substance into Body of Another Person, which can be a Class C to a Class Y felony and be punishable by up to 40 years in prison.
Riner has obtained convictions against two other women for the same crime.
McCann-Arms' attorney, Randy Rainwater, asked for the charge to be dismissed because there is no mention of the unborn, or newly born, in the statute, Annotated Code of Arkansas 5-13-210 which reads:
"It is unlawful for any person to administer or cause to be ingested, inhaled, or otherwise introduced into the human body of another person a controlled substance."
In January, the Arkansas Court of Appeals upheld McCann-Arms conviction, writing that "even assuming" the statute doesn't apply to unborn children, McCann-Arms still transferred the drug to her child in the moments between its birth and when medical personnel cut the umbilical cord.
Diaz-Tello told the court that, though state law includes the unborn as people, it only does so in the section of criminal laws related to murder.
She also said that lawmakers' passage of Garret's Law in 2005, which sets up a mechanism for child welfare investigations by social service workers when children are born with drugs in their system, showed lawmakers considered the issue a matter of child endangerment and not one of criminality.
During arguments Thursday, Justice Robin Wynne asked if there was evidence that McCann-Arms passed traces of the drug through placenta or the umbilical cord in the moment between birth and the cutting of the cord.
"There was evidence that [McCann-Arms] and the child tested positive for a controlled substance but there was no evidence presented, expert, scientific evidence or otherwise that would have shown there was any movement of drugs during that particular moment," Diaz-Tello said.
Diaz-Tello warned the court that if it upheld McCann-Arms' conviction and agreed that the law applies to pregnant women, then any pregnant woman, or even her doctor, could be liable for criminality if she takes prescribed controlled substances, including an epidural during labor.
Rudofsky argued that would not be the case and that doctors account for a woman's pregnant state when they prescribe drugs.
During questioning, Rudofsky conceded there was no specific scientific expertise used against McCann-Arms to show that the drugs passed into the child after the moment of birth.
"Don't you have to have some proof that the transfer to the baby, there's no doubt that there was a transfer from the mother's blood stream to the infant's at some point. We just don't know when, correct?" asked Justice Karen Baker.
"We certainly don't know it down to a scientific certainty," Rudofsky said. "There is more than enough recorded evidence for the jury to conclude that that happened at least in part after she entered Polk County."
Rudofsky went on to argue that the court needn't consider the "magic moment" argument referred to by Diaz-Tello because ultimately McCann-Arms knowingly "caused" the drugs into the child's body.
Metro on 09/25/2015
Print Headline: Justices hear woman's case of baby born on meth
Sponsor Content