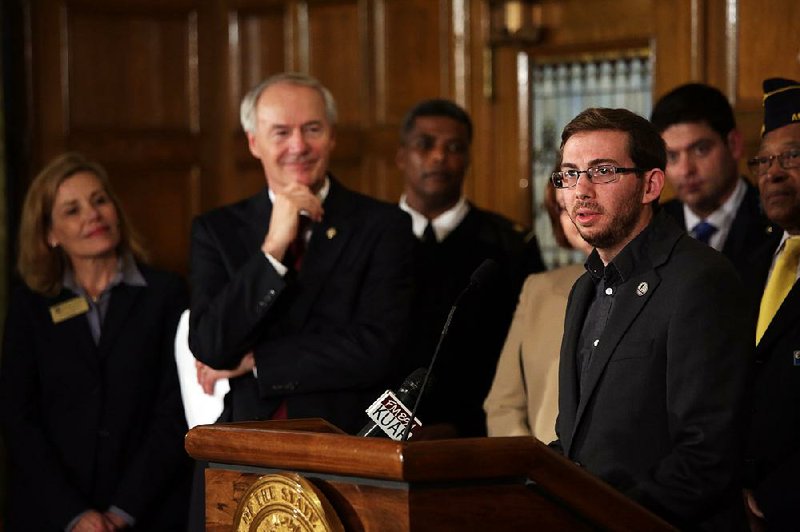 Joseph Weishaar, a member of the winning design team for a World War I monument to be built in Washington, D.C., speaks at an event at the state Capitol on Thursday. (Arkansas Democrat-Gazette / MITCHELL PE MASILUN )
Arkansas native and 26-year-old World War I national memorial designer Joe Weishaar says he wanted to be a mechanical engineer before a Fayetteville High School art teacher pushed him to develop his creative side.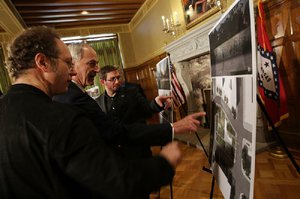 Photo by MITCHELL PE MASILUN / Arkansas Democrat-Gazette
Sculptor Sabin Howard of New York (left) and Joseph Weishaar (right), a member of the winning design team for a World War I monument, speak with Gov. Asa Hutchinson at the state Capitol on Thursday.
And when he first attended the University of Arkansas, he said he was certain he wanted to become an architect before his first class ended.
"I signed up for the program at the U of A and day one, just instantly knew within the first 10 minutes, this is what I want to do for the rest of my life," Weishaar said in an interview.
He said his education in Arkansas led him to Gov. Asa Hutchinson's conference room on Thursday.
There, the governor issued an executive order to establish the World War I Centennial Commemoration Committee, which will coordinate events and memorials celebrating the war's centennial in 2017 and 2018. The dean of the Fay Jones School of Architecture and Design is a member of the committee.
How professors taught Weishaar played a pivotal role in his design of the proposed national World War I memorial, he said. When he started college, the school required students to hand sketch everything for the first two years-̶-̶ ̶a̶ ̶p̶o̶l̶i̶c̶y̶ ̶i̶t̶ ̶h̶a̶s̶ ̶s̶i̶n̶c̶e̶ ̶a̶b̶a̶n̶d̶o̶n̶e̶d̶.*
Weishaar -- along with co-designer and 52-year-old sculptor Sabin Howard -- said that planning with a pencil and paper instead of a computer helped their proposed plan capture the human cost of "industrial massacre."
"Things that are done by hand have so much more intention behind them. It's easy to see the attention when it's done by hand," Weishaar said. "This is designed for experience."
"The human element is hidden behind technology," Howard added.
The team beat about 350 others from around the globe to design the memorial, which still requires $45 million from private donors and approval from about a dozen federal and local boards and agencies to become a reality.
The memorial, which would be built a block from the White House, incorporates an existing statue of World War I Army Gen. John J. Pershing. The design incorporates three walls with quotes about the war and etchings of figures.
In the center, Howard will create a new sculpture.
"From the very beginning, both of us established that this was not a glorification of war, but it was a glorification of humanity and a glorification of society -- of all the different groups from the country that had to partake in this atrocity," he said.
Surrounding the park, there's a tree for every battle the United States fought in. "Blaze of glory" maple trees will turn red in early November, around the anniversary of the Nov. 11, 1918, armistice.
"It's tied very much to the other memorials," Weishaar said. "It's in that family."
The World War II memorial is large and prominent. There is a pillar for every state. Gold stars depict the number of dead.
Stone soldiers creep through the Korean War memorial in a corner of Washington, D.C.'s West Potomac Park.
The Vietnam memorial is a scar in the ground. The names of the dead appear on a black wall. Visitors see themselves reflected back behind the names.
"Vietnam and Korea -- those memorials are about time in a lot of ways. Especially Vietnam, with the elongation of the walls and how they shrink back, they taper," Weishaar said. "It's about moving forward to the center of the conflict and ending back in a slow retreat at the end. Our three walls, they also grow with time as the conflict grows and recede at the end."
Every 20th century war has a memorial in Washington, D.C. -- except World War I.
"History remembers not only the numbers and dates, but the millions of stories of brave men and women across the globe who fought for what they believed in," Hutchinson said before signing the proclamation.
There were 71,000 Arkansans who served in World War I, it notes.
"Now, nearly a century later, we honor these brave individuals by telling these stories, remembering their sacrifice and preserving an important part of national and global history," Hutchinson said.
Weishaar thanked the governor for enacting the commission.
"Let me just underscore just how significant it is that Joseph was selected for the design of the memorial," Hutchinson said. "That is a source of great pride for Arkansas."
Metro on 04/01/2016
*CORRECTION: While the Fay Jones School of Architecture and Design has moved to introduce students to computer modeling earlier in their education, there is still an emphasis on hand drawing and sketching throughout the curriculum. This story incompletely described the use of hand drawing by students at the school.
Print Headline: Memorial's designer honored
Sponsor Content