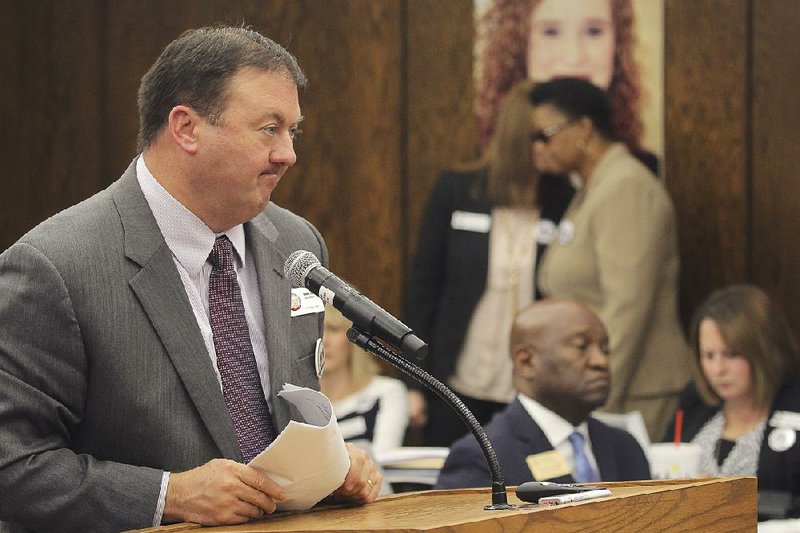 Hope Public School Superintendent Bobby Hart reacts in disappointment Thursday in Little Rock as the state Board of Education denies an appeal of the academic-distress designation for Hope High School. ( Benjamin Krain)
The state has labeled three school districts and 24 schools as academically distressed because of chronically low student test scores.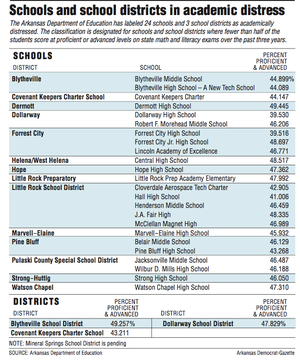 Photo by SOURCE: Arkansas Department of Education / Arkansas Democrat-Gazette
Information about schools and school districts in academic distress.
Schools in academic distress
| District | School Name |
| --- | --- |
| Blytheville | Blytheville High School - A New Tech School |
| Blytheville | Blytheville Middle School |
| CovenantKeepers Charter School | Covenant Keepers Charter |
| Dermott | Dermott High School |
| Dollarway | Dollarway High School |
| Dollarway | Robert F. Morehead Middle School |
| Forrest City | Forrest City High School |
| Forrest City | Forrest City Jr. High School |
| Forrest City | Lincoln Academy of Excellence |
| Helena/W. Helena | Central High School |
| Hope | Hope High School |
| Little Rock Preparatory | Little Rock Prep Academy Elementary |
| LRSD | Cloverdale Aerospace Tech Charter |
| LRSD | Hall High School |
| LRSD | Henderson Middle School |
| LRSD | J.A. Fair High |
| LRSD | McClellan Magnet High |
| Marvell-Elaine | Marvell-Elaine High School |
| Mineral Springs | Mineral Springs High School* |
| Pine Bluff | Belair Middle School |
| Pine Bluff | Pine Bluff High School |
| PCSSD | Jacksonville Middle School |
| PCSSD | Wilbur D. Mills High School |
| Stong-Huttig | Strong High School |
| Watson Chapel | Watson Chapel High School |
*pending appeal
Districts in academic distress
Blytheville School District
CovenantKeepers Charter School
Dollarway School District
The Arkansas Department of Education made those classifications Thursday on the basis of the past three years of test scores, which included two years of students taking the Benchmark and End of Course exams and one year of them taking Partnership for Assessment of Readiness for College and Careers exams, or PARCC.
The agency weighted the scores so as to compare results from the PARCC tests with those of the earlier tests in making its distress determinations.
Many of the 24 schools were also on last year's distress list because fewer than half of their students scored at proficient levels on state exams in math and literacy for the three-year period of 2013-15.
This year's list includes five Little Rock schools -- Cloverdale and Henderson middle schools; and J.A Fair, Hall and McClellan high schools. It also includes two Pulaski County Special district schools -- Jacksonville Middle and Mills High.
The list includes three schools in Forrest City and two each in Dollarway, Pine Bluff and Blytheville. The other campuses with the designation are in the Dermott, Helena-West Helena, Hope, Marvell-Elaine, Mineral Springs, Strong-Huttig and Watson Chapel districts. Covenant Keepers Charter School in Little Rock is also on the list.
Last month, the Education Board removed the distressed designation from Little Rock's Baseline Elementary and from Pine Bluff's now-defunct Oak Park Elementary.
Also last month, the board tabled action on four schools that would have qualified as being academically distressed but were not given that designation because they are alternative education centers. Those centers were created to help students who are not successful in regular schools for various reasons.
Those alternative centers were Badger Academy (with students testing at 21.8 percent proficient) in the Beebe School District; Belle Point Alternative Center (29 percent proficient) in the Fort Smith School District; North Little Rock Academy (15.8 present proficient); and the Summit school (23.5 percent proficient) in the Hot Springs School District.
The Education Board held off Thursday on giving the distressed label to SIATech, an open-enrollment charter school (at 8.2 percent proficient) in Little Rock, saying it also is considered an alternative education center. The Education Department currently is developing accountability criteria for such schools.
On Thursday, the Education Board rejected appeals from three districts challenging the academic-distress designation. Those districts were: the Hope School District for Hope High; the open-enrollment charter school Little Rock Preparatory Academy for its elementary school; and the Marvell-Elaine School District for its high school.
A fourth district, Mineral Springs School District, withdrew its appeal after its attorney, state Rep. John Walker, requested a hearing delay. Hearings before state agencies can be postponed for 30 days after the General Assembly adjourns if the attorney in question is a state legislator, according to Arkansas Code Annotated 25-15-103.
The Legislature convened Wednesday for the fiscal session.
Walker, D-Little Rock, has filed suit against Education Commissioner Johnny Key, the Education Department and the Education Board on behalf of Mineral Springs Superintendent Curtis Turner and the Mineral Springs School Board.
In the suit, Walker alleges that state education officials incorrectly labeled the district as fiscally distressed in 2013 and "knowingly diminished" the quality of education for black students in that school system. As of Thursday, the defendants had not responded to the suit.
In the three other districts' appealing Thursday, district officials contended that during the first year of the three-year period, students were taking Benchmark and End of Course exams that were not aligned with the state's curriculum. During the second year, they said, the curriculum was aligned with the state's Common Core standards, but the students were taking the Benchmark and End of Course exams.
The third year, they said, should be voided because the Education Department hadn't aligned the student performance thresholds with the PARCC exams that all students were then taking. PARCC tests measured students' achievement on the basis of five performance levels, while the previous tests used four performance levels.
"Certainly, every student in public school in Arkansas required to test took PARCC," department attorney Kendra Clay said. However, she said, the state didn't have to immediately align the performance thresholds with the PARCC exam because the PARCC exam wasn't yet fully operational in the state. "For academic distress, we can't look at one year. For PARCC to be fully operational, it would have had to be taken by everybody for three years, and that just didn't happen."
Bobby Hart, superintendent of the Hope district, said he wasn't defending the performance levels at his district's high school.
"Our kids and our teachers scored what they scored, and we knew that there was going to be substantial dips in the data going into PARCC tests," he said. "I just don't feel like full support and full transparency occurred."
Tripp Walter, a staff attorney at the Arkansas Public School Resource Center who was assisting the Hope district, said it is hard to argue that PARCC exams weren't "fully operational," because the Education Board was using the PARCC scores to identify schools and districts that were in academic distress.
Hart said the PARCC scores were released Nov. 15. He cited Education Department rules that the state agency must notify the districts within 30 days of receiving test results. The Hope district, he said, received the notification letter Jan. 27.
Annette Barnes, assistant commissioner for public school accountability, said the November results were preliminary. The final test results were published Jan. 26, she said.
Education Board member Jay Barth of Little Rock said Hope High School students scored in the mid-50s percent proficiency before the PARCC exams were taken but dropped after taking that exam.
"That suggests to me that your high school had gotten pretty good at teaching to the old test, and when faced with an exam that was tied to the standards ... that y'all dropped," he said. "It's not a bad strategy if you wanted to stay out of academic distress, but it's not a sustainable strategy because you knew all along that an exam was going to come online that was tied to the standards."
Hart said the school's curriculum had not been aligned "to the depth of knowledge and amount of rigor" of the PARCC tests, and the faculty hadn't been prepared to teach at that level either.
"It sounds like a form of academic distress to me in terms of things not clicking on these new standards," Barth said.
For Marvell-Elaine, the distress classification for the district's high school was a shock, Superintendent Joyce Cottoms said.
The district in Phillips County had become the Education Board's darling after its elementary school -- which had long been on the state's in-need-of-improvement list -- earned an A grade from the state in 2015.
"I heard from all over the state, 'if Marvell-Elaine can figure it out, why can't everyone else?'" said Education Board member Diane Zook of Melbourne. "So I do know that there are good things going on there, and I know that you're serious about educating the children. And I do appreciate the fact that this is unfortunate at this time," she said of the distress designation.
In 2013, 52.4 percent of Marvell-Elaine high school students scored at a proficient level, but the percentage dropped the next year. In 2015, the proficient percentage dropped to 38.8.
Education Board member Vicki Saviers of Little Rock asked if the district had given students tests during the course of the year that were aligned with the curriculum and that would have given district officials an indication of how students would score on the PARCC exams.
"We were shocked," Cottoms said. "Our formative test scores were not that low."
Hart and Cottoms asked the Education Department for help Thursday with curriculum alignment and student achievement.
Barth raised concerns later about Covenant Keepers Charter School in southwest Little Rock. The open-enrollment charter school has been on the academically distressed list for three years. At what point does the board take steps to get that school on the right path, Barth asked.
A school can have the designation for five years before the board takes further action. For example, six schools in the Little Rock School District were chronically classified as in distress before the state eventually took them over.
"I want to give this school the best possible chance of succeeding because I think we all saw the gifts of this school in the way that students in this school are taken care of," Barth said of Covenant Keepers. "I think they are going to reach a point where it's not justifiable to maintain flatness in terms of academic growth. I think we need to think about being as assertive as possible to try to turn it around short of closing the school. The ideal is to get a school there that's working well."
In schools like Covenant Keepers, the aggregate scores may be overshadowing the benefits to students, Key said. For example, if a school has high turnover, the aggregate scores wouldn't reflect the achievement levels of current students, he said.
"That may be one of the multiple measures that we may look at as we are designing the new accountability system," he said. "Those are all considerations that we will be giving a lot of thought to."
Metro on 04/15/2016
Print Headline: 3 districts, 24 schools on distressed list
Sponsor Content