RIO DE JANEIRO — For beating Allyson Felix, Shaunae Miller got a gold medal. Maybe they should give her a cape, too.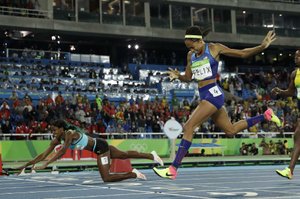 Photo by MATT SLOCUM / AP
Shaunae Miller (left), of the Bahamas, dives over the finish line just ahead of Allyson Felix, of the United States, to win the gold medal in the Olympic women's 400-meter fi nal Monday night. The silver medal gives Felix seven career Olympic track and fi eld medals, the most for a woman. She'll get a chance to add to her total in the 1,600 relay.
It took a head-first dive, Superwoman-style, for Miller to spring an Olympic upset Monday over America's top female sprinter in the 400 meters and deny her a record fifth gold medal.
Miller, a 22-year-old from the Bahamas who finished second to Felix at the world championships last year, took an early lead, then held off her charge along the straightaway. Neck-and-neck with two steps to go, Miller sprawled, dove and tumbled across the line to win by .07 seconds.
Instead of a coronation for Felix, it's a celebration for Miller, whose dive will go down as one of the most dramatic images we've seen at these, or any, Olympics.
"This is the moment I have been waiting for," Miller said. "I just gave it my all."
And she didn't even get the evening's biggest roars. Those went to pole vaulter Thiago Braz da Silva, who gave Brazil its first medal in track and field by setting an Olympic record (19 feet 9¼ inches) to upset world-record holder and defending champion Renaud Lavillenie of France.
But outside of Brazil, they'll be talking about The Dive.
Starting from Lane 7, Miller expanded the lag, instead of getting gobbled up the way most women do when Felix is on the track.
Stride for stride they ran down the last 100 meters, until the last few steps. Felix, classically trained by Bobby Kersee, made a textbook lean into the finish line. Miller tried something else. The dive is something no coach would ever teach. Then again, amazing things happen with a gold medal on the line.
"I was just focused on myself," Felix said when asked about the dive. "I didn't really have too many thoughts on it."
As Miller lay on her back, gasping for breath and maybe even stunned herself at what she'd done, Felix sat on the ground stone-faced. Ten seconds passed. Then 20.
While Miller jumped with her arms flailing forward, the rules say the victory is determined by which athlete has any part of her torso cross the line first. The photo finish showed the negative image of Miller's sprawled-out body. Her shoulder barely beat Felix to the line.
The result popped up on the scoreboard: Miller won in 49.44 seconds. The bronze went to Jamaica's Shericka Jackson.
It marked quite a disappointment for Felix, whose season just didn't turn out the way she planned it.
"I don't think I ever quite had a year this tough," Felix said, as her eyes welled with tears.
With the silver, Felix became the most decorated U.S. female track and field star, with seven overall medals, including three in the relays.
But this was Miller's night.
The flagbearer for her country in the opening ceremonies, Miller came into the games 5 for 5 in her races this season, including Diamond League meets in Shanghai, Eugene and London.
Now she's 6 for 6.
Middle distance runner David Rudisha won gold in the 800 — but didn't get a world record this time.
The Kenyan won his second Olympic title in a row on Monday by swerving into the lead just after halfway and using his long strides to kick for home.
The only one to keep close was Taoufik Makhloufi, the 1,500 gold medalist at the London Games four years ago.
Between the two middle distance champions, Rudisha never gave the Algerian a chance and won in 1 minute, 42.15 seconds, over a second off the time he set at the Olympics four years ago.
Makhloufi ran an Algerian record of 1:42.61 and Clayton Murphy of the United States set a personal best of 1:42.93 for bronze.
Brazil's Thiago Braz da Silva broke the 6-meter barrier to upset defending champion Renaud Lavillenie and win pole vault gold with an Olympic record of 6.03 (19 feet, 9¼ inches).
Lavillenie, of France, took silver with 19-7½ and American Sam Kendricks had bronze with 19-2¼ .
Anita Wlodarczyk of Poland recorded the two best marks in history to win the Olympic women's hammer throw final, improving the world record to 269-11¾ .
The 31-year-old world champion twice threw beyond her previous world-record mark of 266-0.
Zhang Wenxiu of China won the silver medal with her season-best 251-9¾ and Sophie Hitchon of Britain moved into the bronze medal position with her last attempt of 244-6¾ .
Sports on 08/16/2016