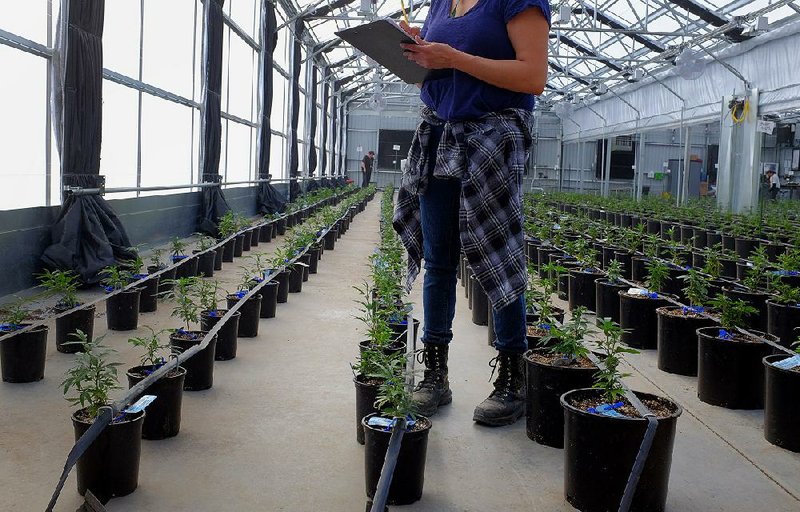 A marijuana greenhouse in Avondale, Calif., is shown earlier this year. The limited availability of property for marijuana outfi ts has driven up the price of warehouse space in states where marijuana has been legalized. (Bloomberg News / MATTHEW STAVER )
It took Chris Abbott six stressful months to find a new space for his growing company.
The 10,000-square-foot warehouse on the outskirts of Portland, Ore., was once used to store industrial-strength compressors. Now the gritty space, its cinder walls repainted white, resembles a cross between a high-end laboratory and an industrial bakery.
It's the home of Botanica, Abbott's edible-marijuana company.
The new lease, which will let Botanica expand its business from nearby Washington into the Beaver state, didn't come cheap. In the Portland area, most companies can rent industrial space for about $5 a square foot annually. Cannabis companies, however, pay a premium ranging from $12 to $18 a square foot.
"We were willing to pay above-market value to have a space there," Abbott said. "I see the biggest barrier to entry in Oregon as getting real estate."
The short history of legalized marijuana in the U.S. is rife with tales of tight supply and above-market leases. Local rules on where cannabis businesses can operate, combined with restrictions that prevent them from using bank financing, have limited the property available to entrepreneurs such as Abbott.
Warehouse owners, on the other hand, are cashing in. In November, voters approved ballot measures legalizing recreational marijuana in California, Nevada, Massachusetts and, tentatively, Maine. A handful of other states, including Arkansas, approved marijuana for medical uses.
It didn't take long for those votes to ripple through industrial real estate markets. Last year, the Santa Barbara, Calif., cultivator Canndescent paid $360,000 for a 2.5-acre parcel in Desert Hot Springs. Someone recently offered the company $1 million for the same lot, owner Adrian Sedrin said.
"If you have the right parcel with utilities in the right jurisdiction, your land will definitely appreciate as a result of Prop 64," he added, referring to the state's recreational-marijuana provision.
A comparable rush could shortly be under way in Maine, where the state is currently recounting votes after a recreational-marijuana ballot measure narrowly passed.
[EMAIL UPDATES: Sign up for free breaking email alerts and other Democrat-Gazette daily news updates]
Before the measure was proposed, a 60,000-square-foot former tire-distribution center near Portland, Maine, sat empty for years. This spring, an investor closed on the warehouse for $30 per square foot, well below the going rate for the area, and started upgrading the power, water, and ventilation systems in a speculative bet that a new marijuana law would spark a wave of demand from growing operations.
The investor stands to make a pretty penny if legalization passes. "I think it will work out for him," said Justin Lamontagne, a partner at NAI the Dunham Group, a commercial real estate firm in Portland.
There are good reasons for landlords to charge growers a premium. They must be willing to take on the increased security and neighborhood scrutiny that comes with leasing to a cannabis business. There's a hodgepodge of rules governing where cannabis operations can be located. Growers require high-end power, water, and heating and air-conditioning systems.
Also, while noncannabis tenants can rent from just about anyone, cannabis tenants are typically forced to rent from landlords who own their buildings outright. Landlords who finance their buildings through a federally insured bank could be in legally murky water if they choose to rent to a cannabis tenant because the plant is still illegal under federal law. As a result, landlords demand higher rent from a cannabis venture than from, say, a paper company.
The short supply of viable real estate has been a boon for investors who can pay cash and tolerate the risk. In Oregon, all-cash investors rushed into buy 10,000- to 30,000-square-foot buildings in 2014, Brooks said, with the plan of renting them to cannabis companies upon legalization. Investors did the same in Colorado, said Paul Kluck, first vice president at CBRE, a real estate services company. Colorado growers paid up to 10 times the going market rate for first-rate industrial spaces, Kluck said.
The scarcity of space has led some marijuana businesses to plow profits back into real estate, said Amanda Gonzalez, chief executive officer of Kaya Cannabis in Denver. "Owning your real estate is crucial," she said. "I think it's more crucial because the laws change so frequently. You feel particularly vulnerable."
While the ballot measure victories in November offered good news for cannabis businesses and their landlords, they also offered a cause for caution. President-elect Donald Trump offered qualified support for legalization while on the campaign trail, positing that medical marijuana "should happen" and that laws regarding recreational usage should be left in the hands of the states. But Sen. Jeff Sessions, the Alabama Republican whom Trump tapped for U.S. attorney general, has been an outspoken opponent of marijuana laws.
As usual, the outlook for the legal weed business is unclear. Smart Approaches to Marijuana, an organization that advocates against legalization, has suggested that the appointment should halt new investment in the industry. The National Cannabis Industry Association quickly issued a statement reminding Sessions that while he is anti-marijuana, he is pro-states-rights.
So far, it's business as usual. Abbott said he is plowing ahead with his expansion into Portland, confident that the ballot measures will hold regardless of who holds executive office.
Business on 12/01/2016
Print Headline: Votes for 'pot' lift warehouse rents
Sponsor Content