From mulled cider and wine to cocktails made with the fruits of the season, beverages are just as much a part of holiday entertaining as the food. Whether it's to welcome and warm guests coming in from the cold or to soothe a scratchy throat, a hot beverage is the way to go. Even television's most lovable, socially awkward scientist (Sheldon Cooper) knows a warm beverage is the perfect way to calm frazzled nerves.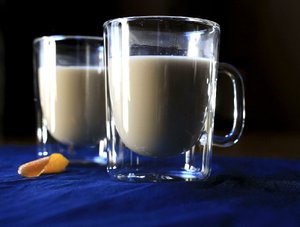 Photo by Staton Breidenthal
Mama's Remedy is a soothing milk punch reminiscent of eggnog but without the eggs.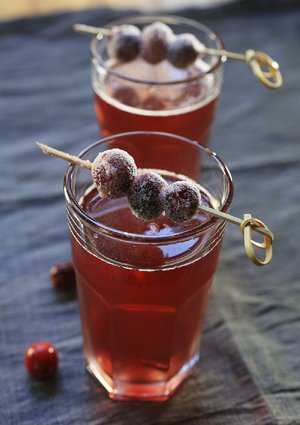 Photo by Staton Breidenthal
Sugared cranberries provide a puckery sweet-tart garnish to a St. Germain-Vodka-Cranberry cocktail.
Except when you need something cool and refreshing -- Arkansas weather can be fickle, after all.
KEY TERMS
Muddle: To mix ingredients by crushing with a wooden spoon or muddler.
Muddler: Small club used to crush or mash ingredients. A hand-held citrus reamer with a long handle works well too. Or simply use the back of a large spoon.
Mull: To heat with spices and/or sweetener.
STOCKING THE BAR
What types of alcohol you choose to keep in a home bar depend mostly on personal taste, but the following is a basic list of what you'll need to make the drinks in this story.
Bitters: Made from the distillation of aromatic herbs, seeds, roots, barks, flowers and other plants, bitters are used (by the dash or drop) to flavor cocktails, aperitifs and foods. They are also sometimes used as digestive aids and appetite stimulants.
Bourbon: American whiskey made from corn and aged in new oak barrels
Brandy: a distilled wine, usually made from grapes with caramel color added; often served as an after-dinner drink and in eggnog
Rum: Made by distilling the juice of crushed sugar cane, rum is available in light, dark, silver, spiced and flavored varieties
Scotch: Whisky (without the "e") is usually made from malt (traditionally barley) and is produced only in Scotland.
Vodka: a colorless, neutral-flavored distilled spirit usually made from grains such as barley or produce such as potatoes
Whiskey: distilled alcohol made from grain (corn, wheat, rye, barley) and aged in wood barrels; can refer to bourbon, rye, Scotch or a blend.
Many (but not all) of the following drinks can be made without alcohol.
For a different, but familiar take on mulled cider, consider swapping pear for apple.
Mulled Pear Cider
64 ounces unsweetened pear juice
8 ounces dark rum, optional
1 generous pinch freshly grated nutmeg
3 cinnamon sticks
1 apple studded with 2 teaspoons whole cloves
1/4 to 1/2 cup brown sugar
Combine all ingredients in a slow cooker and heat on low, stirring occasionally, for several hours, or until flavors have married. To serve, set cooker on warm. Ladle into mugs.
Makes about 8 servings.
Recipe adapted from The Forest Feast Gatherings: Simple Vegetarian Menus for Hosting Friends and Family by Erin Gleeson
This versatile drink can be made with Scotch or bourbon or both.
Smoky, Hot Apple Cider Whisk(e)y
1/2 cup apple cider
1 teaspoon honey
1 cinnamon stick
1 (1-inch-by-2-inch) strip lemon zest/peel
1 ounce bourbon OR single malt unpeated Scotch
1 teaspoon peated Scotch or smoked whiskey
1 1/2 teaspoons freshly squeezed lemon juice
In a small saucepan, combine the apple cider, honey, cinnamon stick and lemon peel, stirring until honey is dissolved and mixture is hot, 3 to 5 minutes.
Remove from heat. Add both liquors and the lemon juice and stir to combine. Transfer to a mug or toddy glass and garnish with the cinnamon stick and lemon peel.
Makes 1 drink.
Recipe adapted from chowhound.com
This hot milk punch reminds us of eggnog without the egg. For an alcohol-free version, omit the rum and brandy and add about 1 teaspoon rum flavoring.
Mama's Remedy
4 cups whole milk
1 cup dark rum
1 ounce brandy
1/4 cup honey
2 cinnamon sticks
Zest/peel of 1/2 orange (see note), plus a few strips for garnish
In a medium saucepan, combine the milk, rum, brandy, honey, cinnamon sticks and orange zest and heat over medium-low heat, stirring to dissolve honey. Reduce heat to low and cook until mixture is hot and bubbles are just beginning to form around the edges of the pan.
Using a lighter or match, carefully run the flame along the remaining orange peel to release its oils. Rub the flamed side of the peels along the rim of four mug or toddy glasses. Pour or ladle hot milk mixture into mugs. Serve with a sprinkle of ground cinnamon.
Makes 4 servings.
Note: Use a vegetable peeler to remove the orange peel, avoiding the bitter, white pith.
Recipe adapted from Winter Cocktails by Maria Del Mar Sacasa
Fans of German gluhwein will likely enjoy this English version, which includes tea. Double the ingredients to serve a larger crowd.
English Christmas Punch
1 cup sugar (see note)
2 cups water
4 black tea bags
2 cinnamon sticks
2 teaspoon whole cloves
1 (750-mL) bottle red wine (see note)
1 1/2 cups spiced rum
1/2 cup fresh orange juice, strained
1 tablespoon lemon juice
2 clementines or small oranges, thinly sliced into rounds
In a medium saucepan, combine the sugar and water and bring to a simmer over medium heat. Stir until sugar is dissolved. Remove from heat, add tea bags, cinnamon sticks and cloves. Cover and steep for 15 minutes.
Meanwhile, in a large saucepan, combine the wine, rum, orange juice and lemon juice and bring to a boil over medium-high heat. Immediately reduce heat to lowest setting; add clementines and heat 10 minutes.
Strain tea mixture into wine mixture, squeezing tea bags to release liquid. Discard solids. Stir well. Transfer to a slow cooker set on warm or a thermal carafe. Serve in mugs or toddy glasses.
Makes about 6 servings.
Note: The amount of sugar is for a dry red wine. If using an off-dry or sweet red, reduce the sugar.
Recipe adapted from Winter Cocktails by Maria Del Mar Sacasa
While this drink does have booze in the name, it can easily be made without the bourbon for a drink everyone can enjoy.
Boozy Cider Slushy
3 cups apple cider
1/2 cup bourbon
1/2 cup ginger beer or ginger ale
1/2 cup brewed chai tea, chilled (see note)
Juice of 1/2 orange
Freeze apple cinder in ice cube trays until solid, 8 to 12 hours.
Once they're frozen, transfer the cubes to a blender with the remaining ingredients and blend into a smooth, slushy consistency. Divide between glasses and serve.
Makes 4 to 6 servings.
Note: Chai tea is a black tea with spices added that's popular in India. It is often served sweetened with a bit of milk. It is available in bags on the tea and coffee aisle of most grocery stores. If you can't find it, or don't want to buy a whole box, make your own: combine 1 black tea bag (Darjeeling preferred) with 4 cracked black peppercorns, 2 whole cloves, 1 crushed cardamom pod (or a pinch ground) and a tiny pinch cinnamon and steep in just-boiled water for 5 minutes. Strain, discarding solids.
Recipe adapted from Tasting Table
St. Germain's sweet, floral flavor complements tart cranberries in this cocktail.
St. Germain-Vodka-Cranberry
Ice
2 ounces vodka
1 ounce St. Germain or other elderflower liqueur
Cranberry juice
Fresh cranberries, for garnish
Sugar, for garnish
Fill a cocktail shaker with ice. Add the vodka, St. Germain and cranberry juice (3 ounces or more, depending on how strong you like your drink). Shake until well chilled. Strain into a glass and garnish with sugared cranberries.
To make sugared cranberries: roll damp fresh cranberries in granulated sugar to coat. Skewer onto a cocktail pick.
Makes 1 drink.
Fruit butter isn't normally on my cocktail shopping list, but this drink, inspired by Johnny Swet of The Rickey in New York City, calls for combining fruit butter with muddled ginger, fruit juice and rum for an unusual but delicious seasonal drink. To make this drink alcohol-free, substitute apple or pear juice for the rum.
Gingered Apple (or Pear) and Rum Cocktail
1/4 inch piece fresh ginger root, peeled
2 ounces gold, spiced or dark rum (see notes)
3/4 ounce cinnamon syrup (see notes)
1/2 ounce orange juice
Squeeze of lime juice, optional
2 teaspoons apple or pear butter
3 dashes Angostura bitters
Ice
Freshly grated nutmeg, for garnish
Orange twist, for garnish
In a cocktail shaker, muddle the ginger. Add the rum, cinnamon syrup, juices, fruit butter, bitters and ice. Shake well, then strain into an ice-filled rocks glass. Garnish with nutmeg and orange twist.
Makes 1 drink.
Notes: For an alcohol-free version, replace the rum with apple or pear cider or juice.
To make cinnamon syrup, bring 1 cup sugar, 1 cup water and 1 cinnamon stick to a boil over medium heat, stirring to dissolve sugar. Remove from heat and let steep until cooled. Remove cinnamon stick and transfer to a jar. Will keep for several weeks (or months) in the refrigerator.
Food on 12/07/2016