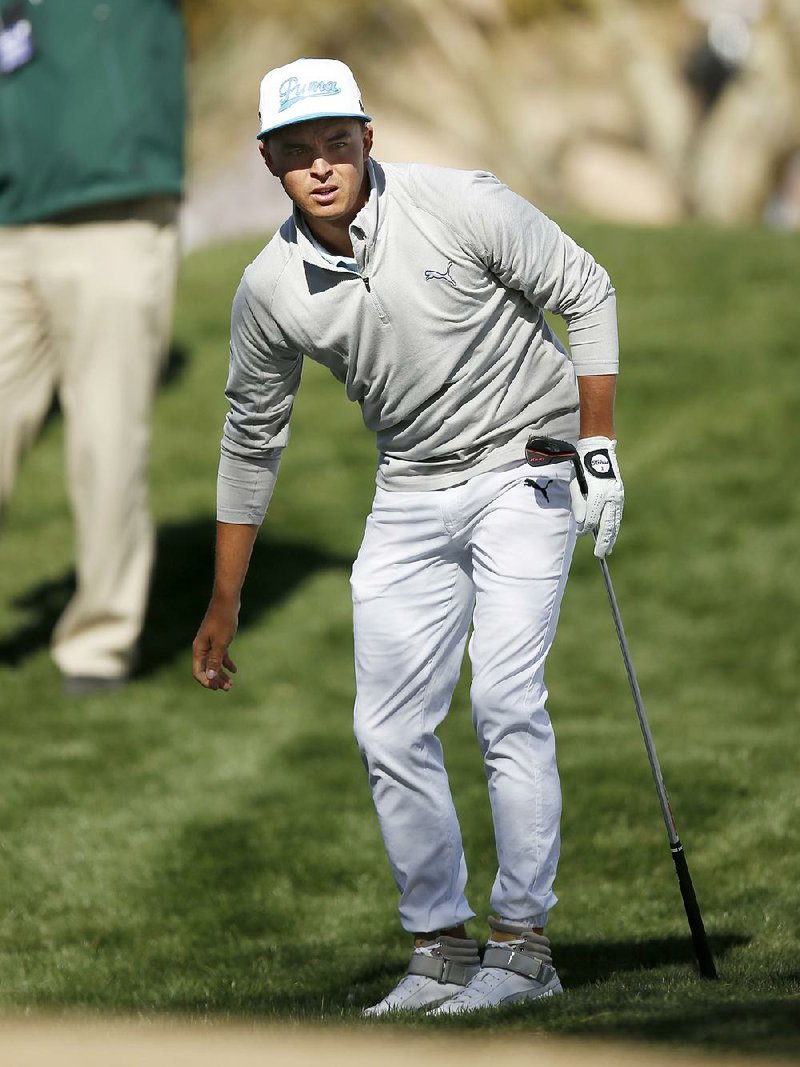 Rickie Fowler on the second hole during the first round of the Phoenix Open golf tournament, Thursday, Feb. 4, 2016, in Scottsdale, Ariz. (AP Photo / Rick Scuteri )
GOLF
3 in lead at Phoenix
Rickie Fowler, Shane Lowry and Hideki Matsuyama shared the lead at 6-under 65 on Thursday in the suspended first round of the Phoenix Open at Scottsdale, Ariz. After an hour-long frost delay at chilly TPC Scottsdale, Fowler played the first six holes in 5 under. Lowry birdied seven of his first 13 holes, then bogeyed the next two. Matsuyama was in one of the last groups to finish before play was stopped because of darkness. Anirban Lahiri was a stroke back at 66, and Bryce Molder (Conway) also was 5 under with two holes left when play was suspended. Phil Mickelson settled for a 69 after dropping four strokes in a two-hole stretch. On his back nine, Mickelson bogeyed the par-3 fourth and followed with a triple bogey on the par-4 fifth. Through 17 holes, David Lingmerth (Arkansas Razorbacks) was at even par with four birdies, two bogeys and a double bogey. Ken Duke (Arkadelphia, Henderson State) had one birdie and five bogeys for a 4-over 75.
• Lydia Ko played enough golf Thursday to catch up to the lead, but not enough to finish the rain-delayed second round of the Coates Golf Championship at Ocala, Fla. Ko was 4-under par for the round and had a 15-foot birdie putt on the ninth hole at Golden Ocala when the horn sounded to stop play because of thunderstorms in the area. Ko, the No. 1 player in women's golf making her 2016 debut, was 7 under for the tournament. She was tied with Ha Na Jang, who opened with a 65 and was not scheduled to tee off until Thursday afternoon. The forecast was for rain the rest of the day. Haru Nomura of Japan made seven birdies in her round of 66 and finished two rounds at 6-under 136. Gaby Lopez (Arkansas Razorbacks) and Stacy Lewis (Razorbacks) were unable to finish their rounds. Play will resume at 6:30 a.m. Central today.
• Rory McIlroy started the defense of his Dubai Desert Classic title with a bogey but battled back to post a 4-under 68 on Thursday, leaving him two shots off the lead. McIlroy bogeyed two of the easiest holes on the course -- the par-5 10th, which was his first hole, and the driveable par-4 second -- but also had six birdies to put him close behind leader Alex Noren of Sweden. Ernie Els, the most successful player in the history of the tournament with three titles and eight other top-10 finishes, matched McIlroy's 68. The four-time major champion hit 17 greens and putted well with his new grip. Four players were tied at 5-under 67 -- Sweden's Peter Hanson, Spain's Rafael Cabrera-Bello, Australia's Brett Rumford and South African Trevor Fisher Jr. Henrik Stenson of Sweden, playing alongside McIlroy, opened with a 3-under 69.
• Miguel Angel Carballo of Argentina had eight birdies and a bogey for a 7-under 64 Thursday to lead the first round of the Club Colombia Championship at the Bogota Country Club. Kyle Thompson, Trey Mullinax, Alex Prugh, Denny McCarthy, Matt Fast, Andrew Putnam and Zack Fischer (Little Rock) were all at 5-under 66 and tied for second place. Lightning delayed Thursday's play, with half the field unable to finish their rounds. Austin Cook (Jonesboro, Arkansas Razorbacks) shot a 1-over 72. Scott Gardiner (Farmington), Tag Ridings (Razorbacks) and Matt Atkins (Henderson State) were unable to complete their rounds. First-round play will resume at 7 a.m. today.
BASEBALL
Smyly wins case
Tampa Bay Rays pitcher Drew Smyly (Little Rock Central, Arkansas Razorbacks) has won baseball's first salary arbitration case this year. The three-person panel decided Thursday in Smyly's favor, dealing the Rays their first loss in seven arbitration hearings. The 26-year-old lefty asked arbitrators Elizabeth Neumeier, Andrew Strongin and Phillip LaPorte for a raise from $2.65 million to $3.75 million during a hearing Wednesday. The Rays argued for $3.2 million. Smyly was 5-2 with a 3.11 ERA in 12 starts last year. He started the season on the disabled list because of left shoulder tendinitis, made three starts and then went back on the DL until mid-August because of a torn labrum in the shoulder. Tampa Bay had prevailed over pitcher Esteban Yan (2002), catchers Josh Paul (2006 and 2007) and Dioner Navarro (2009), outfielder Melvin Upton Jr. (2010) and pitcher Jeff Niemann (2012). Hearings are scheduled through Feb. 19. Teams were 8-6 last year, the most hearings since 2001. Clubs are 301-222 since arbitration began in 1974.
BASKETBALL
Ginobili out
Spurs guard Manu Ginobili is out for at least a month after surgery Thursday for a groin injury he suffered during the team's victory over New Orleans earlier this week. Ginobili took a knee to his groin with 2:26 remaining in the game Wednesday night. New Orleans forward Ryan Anderson had his back turned to Ginobili as he working toward the basket when he spun quickly and struck the 38-year-old guard squarely in the groin with his right knee. Ginobili tumbled to the floor and remained on the court for about a minute before exiting the court holding his side and clutching a towel to his mouth. Ginobili dropped to the floor in pain as he was walking to the locker room. The Spurs (41-8) are second in the Western Conference standings.
MOTOR SPORTS
Stewart has surgery
Tony Stewart underwent surgery Wednesday in a Charlotte-area hospital after suffering a burst fracture of the L1 vertebra in an all-terrain vehicle accident Sunday. Stewart, 44, will miss the first part of the NASCAR season, according to a release by Stewart-Haas Racing. Stewart was transported Tuesday to a Charlotte-area hospital from the west coast, where he was on vacation when the accident happened. Stewart was awake and alert and has been able to move his extremities. According to a news release from Stewart-Haas Racing, Stewart is expected to return to racing this year, which is to be his final season as a Cup driver. Plans for an interim driver have not been finalized. The season begins Feb. 21 with the Daytona 500, a race the three-time Cup champion Stewart has never won. Stewart broke his leg in 2013 during a sprint car race and missed 15 Cup races. He missed three races in 2014 after he was involved in a sprint car accident that claimed the life of another driver on a dirt track in upstate New York.
FOOTBALL
NFL to play Mexico
The NFL is planning to play a regular-season game in Mexico City this year, a person familiar with the decision told The Associated Press. The person spoke on condition of anonymity because the NFL has not announced the game officially. Commissioner Roger Goodell is expected to do so in his Super Bowl news conference today. Oakland would host Houston on a date not yet determined; the NFL schedule comes out in the spring. No NFL game has been played in Mexico since a regular-season match between Arizona and San Francisco in 2005 drew more than 103,000 to Azteca Stadium. The NFL also has played seven preseason games there, none since 2001. ESPN.com first reported the matchup.
• The NFL will require that female candidates be interviewed for all vacant executive positions, Commissioner Roger Goodell said Thursday at a league- sponsored women's event that was part of the run-up to Super Bowl 50. The new policy will be akin to the NFL's so-called Rooney Rule, a 2003 edict that requires teams to interview at least one minority candidate for open head coaching positions. Goodell and the NFL have come under fire in the past few years for their handling of women's issues -- including criticism of the league's response when Baltimore Ravens running back Ray Rice was caught on video punching his fiancée repeatedly. The Institute for Diversity and Ethics in Sport at the University of Central Florida gave the NFL a C-plus grade for its gender-hiring practice in its most recent annual report card. The NFL received a C-minus grade in 2013.
Sports on 02/05/2016
Print Headline: Off the wire
Sponsor Content