There's one day of early voting left before Tuesday's special bond election to benefit the Arkansas Arts Center in Little Rock.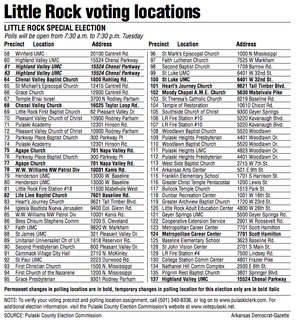 Photo by SOURCE: Pulaski County Election Commission / Arkansas Democrat-Gazette
Information about Little Rock voting locations.
Voters in the city are being asked to approve bonds of up to $37.5 million to fund improvements to and expansion of the Arkansas Arts Center and renovations to the MacArthur Museum of Arkansas Military History.
As of 5 p.m. Friday, 612 people had cast early ballots on the bond issue.
Monday is the last day for early voting. Registered Little Rock voters can cast early ballots between 8 a.m. and 5 p.m. downtown in the Pulaski County Election Commission building at 501 W. Markham St.
All Little Rock polling places will be open from 7:30 a.m. to 7:30 p.m. Tuesday, election day.
If approved, the bonds to benefit the Arts Center will be secured and paid back with revenue from a 2 percent tax increase on hotel rooms.
The Little Rock Board of Directors has already approved the tax increase, collection of which began Jan. 1, so this election has no say on whether it's collected. What voters are deciding is whether to allow the city take out the bonds to get the money upfront in a lump sum.
If voters fail to pass the measure, the city would receive the money over time, having access only to the amount that is collected each month from the tax.
Officials have said the benefit of the upfront money is that it can be paired with private donations to pay for a large-scale construction project at the Arts Center.
The center and its foundation would need to raise almost as much in private funds as would be acquired from the bond in order to do substantial improvements or expansion, officials have said.
"We know that to achieve our goal, the public dollars will need to be coupled with private funds to produce something aspirational and transformational for the community," Arts Center Executive Director Todd Herman said.
Herman and others have steered clear of announcing any specific plans or making concrete promises on how they will spend the funds. They have said needs include updating the heating-and-air system, adding vault storage and education spaces, and renovating the Children's Theatre and studio spaces.
"The final budget and priorities will be determined once the bonds are approved," Herman said.
The ballot measure states that funds can be spent for improvements to MacArthur Park, where the military museum and Arts Center are located, "without limitation," particularly for renovations, additions, furnishings and equipment "including any necessary parking, landscaping, signage, drainage, lighting, road and utility improvements."
Ahead of this week's election, a campaign group called Committee for Arts and History has been advocating for passage of the ballot issue.
The committee's first financial report, filed with the Arkansas Ethics Commission last week, reported receiving $29,850 in contributions and spending $28,092.12 with a week to go before election day.
The committee has spent most of its money on direct mailers. It purchased those and podium signs from Arkansas Graphics for $11,842 -- the largest expense by the campaign so far.
Another $10,500 was paid to Markham Group for campaign management, $4,000 was paid to Turtle Target LLC for website creation and design, and $1,750 was paid to the Arkansas Times for advertising.
Several Little Rock public officials contributed to the campaign, according to finance reports filed with the state Ethics Commission.
Little Rock Mayor Mark Stodola is listed as giving $500. City Manager Bruce Moore gave $125. At-large City Director Dean Kumpuris donated $1,000 -- as did his brother -- and Ward 3 City Director Kathy Webb gave $100.
The largest single amount given was $1,000. In addition to Kumpuris and his brother, Andrew Kumpuris, 12 other people gave that amount.
They are: Charlotte Bradbury, who is on the Arkansas Arts Center board of trustees; Remmel Dickinson, a Little Rock native and the Broadway producer behind War Horse and Memphis The Musical; Haskell Dickinson, president of Granite Mountain Quarries; Harry Erwin III of Erwin and Co. certified public accountants; Ron Fuller of Fuller Enterprises, who serves on the Committee for Arts and History; Rush Harding III, chief executive officer of First Security Finance and founder of Crews and Associates; L. Steven Middleton, a financial adviser at Stephens Inc.; John Riggs IV of Riggs CAT; J. Shepherd Russell III, managing partner at Friday, Eldredge and Clark; Gary Smith, president of Glass Erectors, who also serves on the campaign committee; Bobby Tucker, chairman of the Arkansas Arts Center Foundation; and P. Mark White, chief executive officer of Arkansas Blue Cross and Blue Shield.
Also, the following businesses gave $1,000 contributions: CDI Contractors LLC; Centennial Bank; Cromwell Architects Engineers Inc.; VCC LLC; and First Security Bank.
Thirteen other companies made donations: the Janet Jones Co.; Bailey Holding Co. LLC; Fuller Enterprises; Right At Home; the Hathaway Group; Colliers International; Tappan Land and Water; Crews and Associates; Clark Contractors; The Peacock Group LLC; Jordan P Johnson Consulting LLC; Little Rock Violin Shop; and Flake and Kelley.
The committee's next financial report is due 30 days after the election.
Metro on 02/07/2016