Gail Bruna's dog, Lucky, doesn't need much persuasion to go trucking.
All Bruna has to do is ask the cairn terrier if he wants to go.
"He knows what that means, and he'll be running out my front door," said Bruna, a USA Truck driver who lives in Daphne, Ala.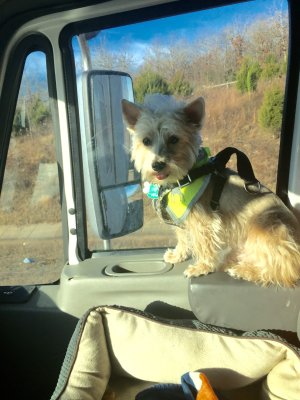 Photo by Special to the Democrat-Gazette
Lucky, a cairn Terrier, keeps his owner, Gail Bruna, company while she drives a rig for USA Truck.
Lucky gets to ride in the cab of a big rig with Bruna anytime he wants now, thanks to a policy put in place by USA Truck in November. The Van Buren-based company introduced what it calls the "Pet Pass" program, joining a growing number of trucking companies that are allowing drivers to take their furry companions with them as they haul freight nationwide.
Billy Cartright, USA Truck's vice president of safety and recruiting, said the policy is part of the plan to be known as a "driver friendly" company in a competitive industry. A few requirements must be met to receive a pet pass -- including a $500 nonrefundable deposit -- but Cartright said the program has been a success the past two months, and he believes its popularity will grow.
"Our drivers are out on the road, some are out months at a time. And if not, most weeks at a time," Cartright said. "So we wanted to give them the opportunity to have some of those comforts of home and have a pet on board with them. It's something that's been important. The drivers have been asking for this, and it was something we decided we wanted to provide for them."
Bruna, 67, is one of the company's drivers who had been hoping to take a pet on the road -- again.
She has been a USA Truck driver since 2000 and said there was a time earlier in her career when the company did allow pet companions. So, her previous dog traveled with her. But the practice was suspended after some drivers took advantage of the policy, hauling multiple pets at the same time.
USA Truck didn't allow pet companions last Thanksgiving, when Bruna was off duty and found Lucky hiding under a car in the parking lot of a rural store. She decided to adopt the dog anyway, named him Lucky, and the two have become inseparable.
USA Truck's decision to restore its pet program made that possible. Bruna doesn't have to hand Lucky off to her daughter when she climbs into her truck any longer. The two can travel together.
"I'm thrilled to have him," Bruna said. "He's a lot of company. To me, it's just like having another person. This little dog is just like family to me now. Not putting him into the aspect of being like your child or grandchildren, but he's like family. You treat him as if he were just like you."
Bruna's bond with her dog isn't unusual. A Harris Poll conducted in July indicated that 62 percent of Americans have at least one pet in their households. Of that number, 67 percent are Millennials (people born around 2000), and 71 percent are Generation X (those born from the early 1960s to the early 1980s). In addition, the poll showed that 95 percent of all pet owners said they considered their pets to be members of the family.
So Sandra Barker, who is the director of Virginia Commonwealth's Center for Human-Animal Interaction, said it's a "progressive move" for companies that allow drivers to travel with their pets as long as the animals' safety is carefully considered and their needs are met.
Barker has studied the interaction between humans and animals since 1988. Research has shown that interaction with pets has mental and physical health benefits, including a reduction in anxiety, stress and loneliness. All are concerns in an industry where drivers can spend hours behind the wheel and weeks away from home hauling freight.
"Employees appreciate the companies that allow them to recognize the importance of their pet's presence," Barker said. "So with increased job satisfaction, you could potentially assume that down the road there's more commitment to that company. Perhaps less burnout. We don't have those long-term studies, yet, but certainly the potential is there. So you have more satisfied employees. More healthy employees. That translates into dollar savings because burnout is very expensive to the industry."
USA Truck's pet program is the next layer of revamped driver recruiting and retention efforts. The company announced on June 1 that it was increasing pay in hopes of attracting more experienced drivers. USA Truck also began its "Choose Your Hometime" program in August, promising to give drivers the option to choose when and where they take their weekly time off within the company's network.
"This is just another benefit that really puts a straw in our cap that we can offer our drivers and say, 'Hey, we have a pet policy' and all the other benefits on top of it," said Cartright, who was hired in October. "For some drivers, it is a determining factor if they want to come to work for a company."
USA Truck isn't the only company to allow its drivers to take pets along for the ride in an industry doing everything it can to combat the ongoing driver shortage.
Cartright also said his previous employer, Con-way Inc., has a pet policy that has become "real popular." J.B. Hunt Transport Services Inc., announced last month that its truckload drivers could have a pet companion beginning Dec. 8, but officials there declined an interview request for more details. LTI Trucking Services, a St. Louis-based company, said nearly 40 percent of its drivers take their pets along for each route.
CalArk International Inc., which is based in Little Rock, has allowed its drivers to travel with pets for more than a decade, according to Vice President of Safety Dennis Hilton.
"Any accommodation that you can make today to a driver and still meet your customers' needs and things, I think people need to do it or seriously consider it anyway," Hilton said.
Bruna encounters plenty of other drivers who travel with pets, but she said most are owner-operators who own their equipment and don't have to adhere to company policies. So, she and Lucky are thankful for USA Truck's program, which specifies that drivers can take one dog or one cat on the road.
There is a 50-pound weight limit, and the animal's shots and vaccinations must be up to date before a driver can receive the pet pass, which is a sticker placed on the door of the truck.
Cartright said 10 drivers have received pet passes so far, but he expects more to apply after the holidays. Lucky was one of the first pets approved for a pet pass by USA Truck and has had no trouble adjusting to life on the road -- eating, sleeping and riding with Bruna.
He'll sit in his spot in the passenger seat and watch other trucks pass by for hours. When he's tired of riding up front, Lucky climbs to the back of the cab and rests on the bed while Bruna keeps driving.
Bruna said the dog let's her know when he needs to go out for a walk and helps keep her on schedule, acting as an alarm clock. He's also a source of comfort and protection at truck stops at night, barking if someone approaches the door of her cab.
Bruna said she hated it when USA Truck stopped the pet policy several years ago, but she never considered leaving the company because it had been good to her. She's even happier driving for the company now with the new pet policy in place, allowing Lucky to go with her.
"I never get lonely," Bruna said. "I'm a person who has always been able to be by myself and stuff. But it helps a lot to have a companion on the truck. It helps your day go by faster."
SundayMonday Business on 01/03/2016