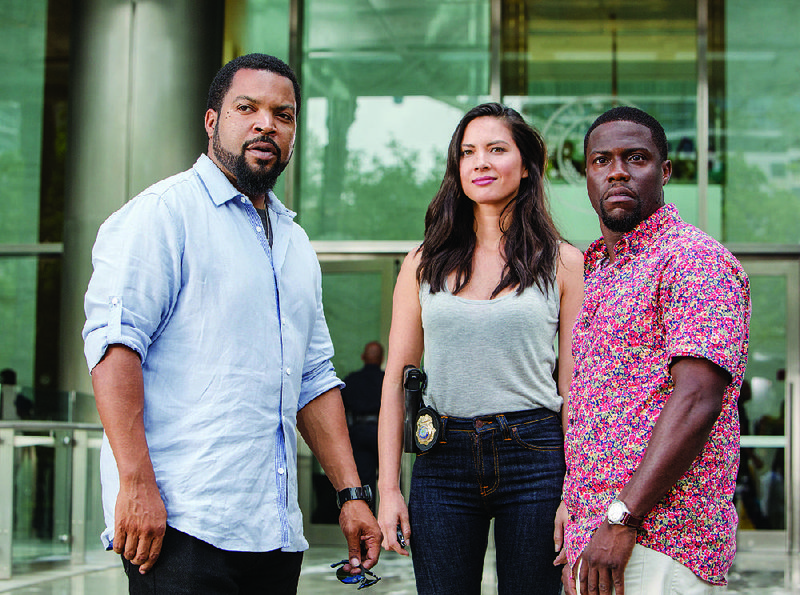 Super cop James (Ice Cube) and his future brother-in-law Ben (Kevin Hart) team up with Miami detective Maya (Olivia Munn) in Tim Story's Ride Along 2, the sequel to the 2014 buddy comedy.
Arriving exactly two years after its predecessor, Ride Along 2 follows in the indifferent footsteps of its predecessor. It features all the mediocre stunt work and tepid plotting of its predecessor and evaporates any hope of making a decent comedy team out of Ice Cube and Kevin Hart.
The manic Hart is a solid stand-up comic, and pairing him with the eternally scowling Ice Cube could have resulted in solid laughs. Instead, director Tim Story repeats every mistake he made with the previous movie and loads the film with a sense of resignation instead of mirth.
Ride Along 2
76 Cast: Ice Cube, Kevin Hart, Olivia Munn, Ken Jeong, Benjamin Bratt, Tika Sumpter
Director: Tim Story
Rating: PG-13, for sequences of violence, sexual content, language and some drug material
Running time: 101 minutes
Hart's shtick also has a sell-by date. His constant jabbering gets more irritating as the film progresses. After a while, a viewer wishes that Ice Cube could pistol whip him into silence or that the ferocious alligator in one sequence might really make a feast out of him. Because Ben (Hart) gets so few things right, it's hard to root for him when he gets a rare attack of common sense. If he were more of a partner instead of an affliction for James (Ice Cube), their movies might be a great deal more entertaining.
In this installment, Ben is finally getting ready to walk down the aisle with Angela (Tika Sumpter), but he's making life even more difficult for his occasional partner and future brother-in-law James.
When an Atlanta dealer points a gun at James during a sting operation, Ben predictably overreacts and sets off a chain of events that leads to lots of property damage and obvious stunt double use. The bust results in a wounded suspect and a hospitalized officer, but Ben and James discover a thumb drive on the scene that indicates their local dealer is part of a larger operation based in Miami.
Because Ben is getting on James' nerves and irritating his fussy wedding planner (Sherri Shepherd), Angela convinces her brother to take the overly enthusiastic Ben to Miami with him. James thinks that the dangerous world of Miami drug kings might finally scare Ben off the force.
Apparently the detail-oriented James can't remember the plot of the first movie.
While Phil Hay and Matt Manfredi are credited with the screenplay, it's tempting to wonder if a Xerox machine had authored the script. Even within its own running time, there's a sense that Ride Along 2 is less of a movie and more of a room full of mirrors. After hearing Ice Cube and Olivia Munn (as a Miami cop) telling Hart to keep his focus for the 15th time, it's tempting to wonder if the film is stuck in some type of digital loop.
Because the identity of the allegedly mysterious uber boss is revealed in the movie's opening sequences, there isn't any sense of suspense to make up for the lost opportunity for a gotcha reveal.
Because of the relentless deja vu, Ride Along is free of any sense of wit or excitement. Ken Jeong has a couple of decent moments as A.J., a hacker who reluctantly cooperates with the future brothers-in-law. A.J. doesn't let his time behind a keyboard get in the way of some hard-core partying or wooing legions of women.
Despite the bright Dade County locations and the noisy soundtrack, Ride Along 2 ends up having roughly the same effect as a heavy dose of melatonin. There have to be some more economical sleep aids out there.
MovieStyle on 01/15/2016
Print Headline: Ride Along 2
Sponsor Content