A University of Arkansas System committee gave the Fayetteville campus an initial green light for adding more premium seating at Donald W. Reynolds Razorback Stadium.
UA-Fayetteville will begin soliciting donations to expand the north end zone and add some 3,200 seats, said Jeff Long, the school's athletic director. UA has estimated that the upgrades and expansion will cost $160 million, and now the university has the green light to get more detailed design and cost projections.
The university received unanimous approval from the system's board Wednesday, with trustee and former U.S. Sen. David Pryor of Little Rock abstaining from the vote. Pryor said he had questions about the project and wanted to ensure that trustees were being good stewards of taxpayer money.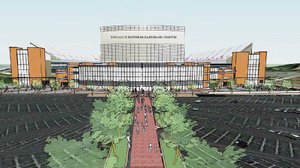 Photo by Special to the Democrat-Gazette
This artist's rendering shows how Reynolds Razorback Stadium would look after a proposed expansion that would include enclosing the north end of the stadium and adding more premium seating.
"This is the beginning of a public discussion," Pryor said. "A bond issue is a debt of the University of Arkansas. It is a debt of the people of Arkansas, and ultimately, if something goes wrong, who's responsible? And that's the people. That's why we're trustees — to examine these issues and to examine the transparency, to examine them with everything that we can, to show due diligence. I hope that we show equal due diligence that you have shown in bringing this issue to our attention today."
He added: "We're not trying to blow the train up, we're just trying to slow it down a little bit so that we can go toward the right answer."
UA will have to take the project back to the system board for final approval.
Long said he hopes that the upgrades and expansion can be finished by the 2018 football season, the last season that UA has to hold one game at War Memorial Stadium in Little Rock. He added that the game contract isn't something UA is looking at at this point.
For years, UA has wanted to fully enclose the 78-year-old campus stadium, which currently seats 72,000.
In 2009, the athletics department hired consultants to produce a facilities master plan. The plan says that the stadium doesn't have enough premium spaces to keep up with demand for tickets, suites and club spaces.
According to the UA, all 134 suites in the stadium were sold out last season, and 98 percent of the club seating was sold out.
"That is why in this instance we didn't find it necessary to expand the north end zone to accommodate the maximum number of seats, but rather utilized the space to maximize the premium amenities in the end zone and provide a fan experience that the consumer base does not currently have available for Razorback Football," the plan states.
In 2013, the university went a step further by calling for a feasibility study on enclosing the north end-zone and a market study for seating and amenities. Just more than 7,000 Razorback Foundation donors, football season ticket-holders and occasional football ticket-buyers were surveyed for the study, which among other things gauged interest in a new north end-zone club seat.
Most respondents — about a third in each of the four groups — said they were "possibly interested" in club seating depending on the location and amenities and before prices were introduced, the study shows. Nearly half of the respondents said they were not likely to lease a north end-zone club seat at a $1,500 annual donation, excluding the cost of game tickets. That amount would be among the lower club seat prices in the Southeastern Conference, according to the study.
Preliminary estimates project the addition of 2,297 club seats, 384 suite seats and 368 box seats.
The project includes a new game-day locker room and training room, along with new suites, box seats, club seats and club areas, and new entrances. The box seats would consist of a cluster of four to eight seats separated from others by a partition. The new seating area will connect the concourse to the east and west walkways, improving the stadium's safety and security systems, Long said Wednesday.
UA also will add new elevators at the northeast and northwest corners, and a new video board at the south end of the stadium. The project also calls for redoing the Broyles Athletic Center, which is at the north end-zone and will extend out into the parking lot.
The expansion would be the first since 2001, when UA added about 21,000 seats for $110 million by enclosing the south end-zone and adding some club seating.
Pryor pointed out to trustees that the north end-zone project is expected to cost more than that project and have fewer seats. UA's athletics department is expecting to raise $40 million, leaving the university to raise $120 million from a bond issue.
"As a board member, he should be worried about any bond activity," Long said of Pryor's concerns. "So, I'm not concerned by that."
Currently, the athletics department has just shy of $65 million in debt and expects to have no debt after 13 years, said department chief financial officer Clayton Hamilton.
UA's total athletic revenue reported for 2014-15 was just more than $101 million, according to the Department of Higher Education. Its total expenditures over the same period were $90.5 million.
Trustee Jim von Gremp of Rogers lauded the department for its "conservative" budgeting, adding that it could be good to add on the north end-zone as the other debt peels off.
Trustee Reynie Rutledge of Searcy said the Razorback Foundation, a nonprofit that helps support Razorback Athletics, has been instrumental in raising money, and that he was confident they would do well with this project.
"We're trying to build something that will be beneficial for Arkansas, for the Razorbacks and for the University of Arkansas," Rutledge said.
The project is not the final nail in the coffin as far as whether Razorbacks games will continue to be played at War Memorial Stadium in Little Rock, Long said.
"We have three more years remaining on that contract," he said. "We have the '16,'17, '18 seasons at War Memorial, and all of our financing plans are based on six games, so it really has no impact on Little Rock at this time."
Kevin Crass, the chairman of the War Memorial Stadium Commission, did not comment on what the Razorback Stadium expansion would mean for the Little Rock stadium.
UA has played at War Memorial annually s̶i̶n̶c̶e̶ ̶1̶9̶3̶2 since 1948*. A contract between the two stadiums originally signed in 2000 had called for two Razorback games each season to be played in Little Rock through 2̶0̶1̶6̶ 2014.
In 2013, an amendment to the contract pared down the number of games in the capital city to one each season through 2018.
Under the amendment, UA will pay the commission $400,000 through the end of the 2016 football season to make up for revenue lost by having just the one game at the Little Rock stadium. Also, UA will pay the War Memorial commission $75,000 for use of the stadium and grounds through 2016, but not in 2017 or 2018.
When asked if UA would buy out the last year of the contract, Long said he hadn't even thought of that.
Payments for bonds for the project would come from ticket revenue, Hamilton said. When asked if that meant ticket prices would increase, Hamilton said payment will stem from the "general revenue off the current seats in the stadium."
During his comments, Pryor wondered if the more than 26,000 students at UA would end up paying the campus's debt for the stadium. He called the plan the largest bond issue for higher education in the state.
"Will they also be engaged in assuming a debt and debt load that is possibly precarious in our overall debt load at the University of Arkansas at Fayetteville?" he asked Long. "I think that we need to know what that debt load is. In addition, I think that we need to know if contractors are hired, if bond counsel is employed, if financial institutions are engaged. I think that we need competition, I think we need transparency, I think that we need fairness because that's what Arkansas is all about. I just hope, sir, that you remember that is something that is very important to us as a state and as a people.
"This is going to take a lot of work and a lot of study on your part, and a lot of decision-making on our part."
Information for this article was contributed by Troy Schulte and Tom Murphy of the Arkansas Democrat-Gazette.
*CORRECTION: The University of Arkansas football team played games in Quigley Stadium at Little Rock Central High School from 1932 to 1948, when the team began playing its Little Rock games at War Memorial Stadium. The University of Arkansas at Fayetteville's contract with War Memorial Stadium started in 2000 and called for games to be played there through 2014. It was amended in 2008 to extend the games to 2016, and a 2013 amendment pared down the games in Little Rock to one but extended the contract through 2018. An article in Thursday's editions had an incorrect date for when the UA began playing games at War Memorial Stadium and incompletely described its contract with the stadium.