ASH FLAT -- Kenneth Dewitt, the former chaplain at a women's state prison, sat silently and alone in the back row of a Sharp County courtroom Tuesday for about a half-hour before he heard his name called.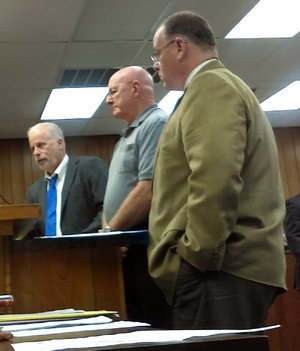 Photo by Jeannie Roberts
Kenneth Dewitt (center), a former women's prison chaplain, stands in court in Ash Flat with his attorney, Jeff Rosenzweig (left) and Chief Deputy Prosecuting Attorney Rob Ratton in this July 5, 2016 photo. Dewitt agreed to a plea deal in the assault of three female inmates and will serve five years in prison.
Four rows directly in front of him sat Wendy Kelley, director of the Arkansas Department of Correction and Dewitt's former boss. Kelley's gaze followed him, never wavering from Dewitt as he somberly walked down the aisle to the bench of 3rd Judicial Circuit, Division 1, Judge Harold Erwin.
Standing with his hands folded in front of him, 67-year-old Dewitt, sporting a clean-shaven head and face, and wearing a gray polo shirt and dark slacks, pleaded guilty to sexually assaulting three female inmates at the McPherson Women's Unit in Newport.
He quietly answered, "Yes, sir," when Erwin asked if he accepted the plea deal.
Initially charged with 50 counts that carried a possible 500 years in prison, Dewitt was sentenced to 10 years each on three counts of third-degree sexual assault, a Class C felony. The sentences are to run concurrently. The judge suspended five years of each sentence, meaning he will serve five years in the Arkansas Department of Correction.
Dewitt has until Aug. 8 to "get his affairs in order" before beginning his incarceration.
The former prison chaplain answered simply, "Yes, sir," to Erwin's rapid-fire procedural questions, then looked down at his feet.
Dewitt's head shot up and he grimaced when Erwin demanded that the attorneys spell out exactly the actions he took to merit the charges.
"Give me the facts," Erwin said.
Erwin listened as defense attorney Jeff Rosenzweig and prosecutor Henry Boyce relayed the claims of repeated forced sexual favors from the three inmates in Dewitt's chaplain's office at the prison unit.
"At the time of the offenses, he was an employee of the Arkansas Department of Corrections and used that position of authority to take advantage of these women," Boyce said.
Dewitt stared directly into the judge's eyes and said loudly, "I did not use my position."
Dewitt never made eye contact with Kelley during Tuesday's court appearance.
Gov. Asa Hutchinson handed the reins of the Correction Department to Kelley in early 2015, the first woman to hold the position. Kelley began her tenure with the prison in 2006 as the director for health and correctional programs.
Dewitt worked for the agency from 2001 until he was asked to resign last September amid allegations of sexual misconduct.
The allegations that spurred an investigation by the state Department of Correction's internal affairs office and the Arkansas State Police spanned from January 2013 to September 2014.
It happened under her watch, a fact she takes to heart.
"He didn't use his position?" Kelley asked rhetorically in an interview after the court hearing, referring to Dewitt's earlier remarks. "He took advantage of three women for several years. Tell me how that's not abusing your position."
Boyce looked at Kelley and nodded.
"He apparently has a different opinion than I do on the subject," Boyce said.
"He's rationalizing it," Kelley added.
She said she didn't see how the assaults occurred in such a visible location. Dewitt's former office was on the unit's main hallway and had a floor-to-ceiling clear glass window.
"But that clearly wasn't good enough," Kelley said, grimacing. "So we made some moves to prevent that from ever being able to happen again."
Those moves included knocking down some office walls to make visibility unavoidable. No other employees were reprimanded as enablers, Kelley said.
"He was calling the women to his office in the mornings when he knew everybody was busy," she said.
Boyce said the prosecution team prepared for the trial by interviewing witnesses and visiting the prison facilities.
"We diagrammed the office space where these crimes took place. We interviewed several other collateral witnesses within the unit who corroborated the stories of the three victims," Boyce said. "They consistently told the same stories as far as his modus operandi of how he carried out these acts in his office, which in my opinion gave our case a strong degree of believability and entered into the process of him admitting his guilt."
The three female inmates came forward only after Dewitt was forced to resign last fall when a former employee admitted to a "moral failure" with Dewitt. Former McPherson Unit inmate Stacey Smith told prison authorities the sexual relationship with Dewitt began in 2010, six years after she was paroled.
According to documents obtained under the Arkansas Freedom of Information Act, Smith continued to work with Dewitt -- first as a volunteer, then as a chaplain -- spending 40 hours a week working with inmates in the faith-based Principles and Applications for Life (PAL) program, which Dewitt founded in 1998.
Dewitt's relationship with Smith violated the department's Administrative Directive 12-33, which prohibits managers from having sexual relationships with subordinates.
Applications to the faith-based initiative is competitive. As a leader and as a chaplain, Dewitt could recommend inmates to the Classification Committee for admittance into the program. The Parole Board looks favorably on inmates who complete the program, a former prison official told the Arkansas Democrat-Gazette previously.
"He was paid a salary and he was paid to develop that program," Kelley said outside the courthouse. "And he was being paid when he took advantage of these women. As taxpayers, everyone should be appalled."
With Dewitt gone from his chaplain position, Kelley said the victims were "no longer fearful of him" and came forward.
One of the inmates told investigators that Dewitt told her that he was going to train her as a mentor for the Principles and Applications for Life program.
On her first morning of training in 2011, the 35-year-old inmate said, Dewitt told her that she "wanted to touch" him and "wanted to be with" him, according to the affidavits. Dewitt stepped from behind his desk and began touching her, the affidavits say.
From that point on, the inmate said, she and Dewitt had sexual contact -- including intercourse and oral sex.
In 2013, after having a hysterectomy, the inmate told Dewitt she wanted to end the sexual relationship. Dewitt told her "she didn't have a choice." He threatened disciplinary action and that he would ensure that she "would not ever go home," affidavits say.
The distraught inmate said she considered suicide.
A second inmate, a 40-year-old woman who was a clerk in the program, told investigators that Dewitt repeatedly forced her to perform sexual favors from 2010 until 2014. Dewitt ordered the inmate not to tell anyone and stressed that "no one would believe her" over him anyway.
Dewitt had a schedule, the inmate said, of sex with one female prisoner on Sunday, another on Monday, and then another on Wednesday.
Another inmate, also a clerk in the program, said that a sexual relationship with Dewitt began in 2010 and continued until his resignation. Dewitt began calling her to his office at 6 a.m. on Sundays.
The former chaplain would have her sit in a chair and perform oral sex on him while he stood at the door watching for anyone approaching down the hall, the inmate said.
The charges against Dewitt came on the heels of an announcement by the U.S. Department of Justice in June 2015 that it was investigating the McPherson unit after receiving "numerous allegations" of sexual abuse and sexual harassment, as well as mistreatment of transgender women.
The investigation is not yet resolved and Kelley said that she has not received any notice letters.
Kelley said Tuesday that attorneys from the federal agency told her that Dewitt's case did not spawn the investigation.
"They were not aware of it when they began," Kelley said.
Dewitt hurriedly left the courtroom Tuesday after the hearing. Rosenzweig said, "No comment," when asked about his client's feelings on the plea agreement.
Boyce was direct in why he felt a guilty plea on three counts instead of the original 50 was good enough for him.
"The average life expectancy of a man today is 77," Boyce said, pressing his lips together. "He's 67. A five-year sentence is half of his life expectancy."
Metro on 07/06/2016